Red Sox relay race decides who stays home
Betts leads squad to victory to avoid Tuesday's trip to Jupiter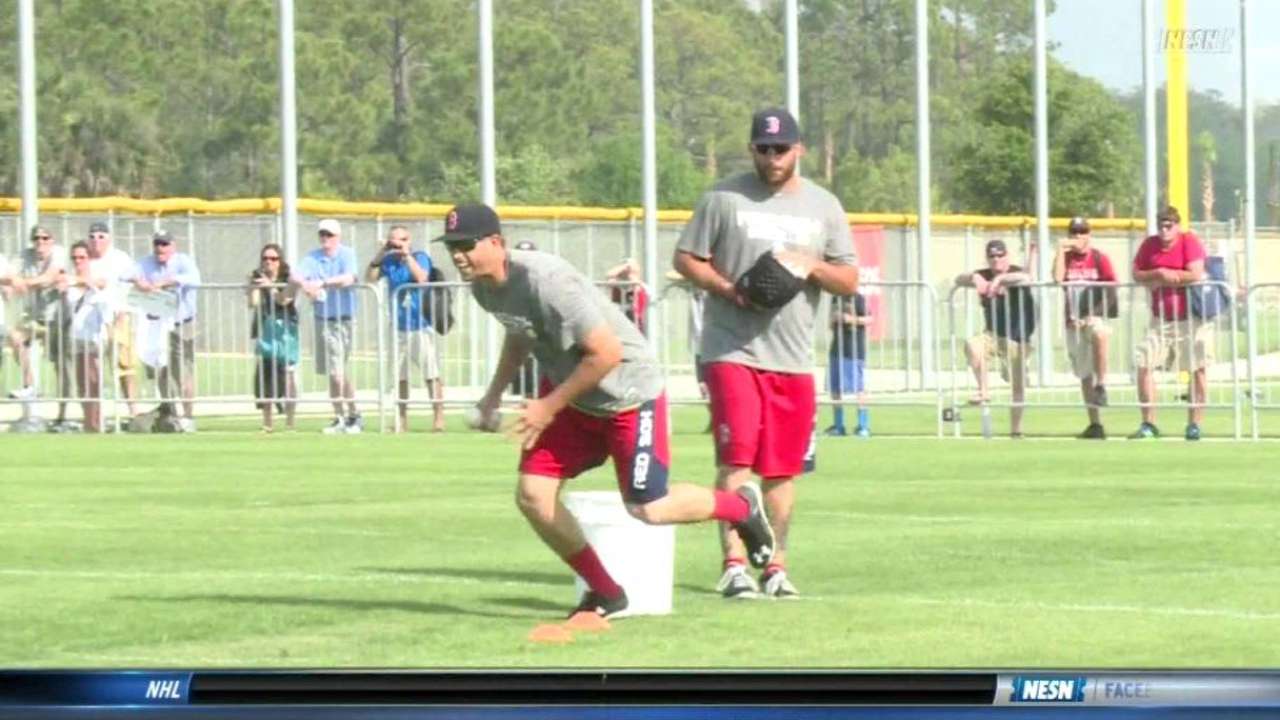 FORT MYERS, Fla. -- The Red Sox created a friendly competition on Sunday morning to break up the monotony of Spring Training. Two separate teams of position players battled in agility relay drills with this caveat: the winning squad gets to skip Tuesday's bus ride to Jupiter, Fla. The losing team has to go.
Mookie Betts finished an instant before Jemile Weeks in the final stretch, lifting his team to victory.
"It was good to win," said Betts. "It's always good to win. And it's always good to not go in the long road trip. It's kind of the best of both worlds."
Perhaps the most humorous part of the event was David Ortiz emerging from the clubhouse wearing a referee shirt and blowing a whistle. Ortiz wasn't eligible to participate in the competition as he battles back from an illness and nagging injuries.
The competition clearly had the desired effect for camaraderie, as the winning team roared with celebration, acting as if it had won a postseason series.
The winning crew on the left. Team Pedroia and Hanley - which way is Jupiter? #SoxSpring pic.twitter.com/bcTyVv6YjC

- Boston Red Sox (@RedSox) March 22, 2015
"Have fun on your trip, guys," Pablo Sandoval roared to the losing team.
Aside from running through the agility course and jumping over hurdles, the players threw balls against buckets and lifted medicine balls.
The winning team that can now skip Jupiter consisted of Betts, Sandoval, Brock Holt, Deven Marrero, Jeff Bianchi, Luke Montz, Bryce Brentz and Matt Spring.
The losing team, who must now take the 7 a.m ET bus ride across the state on Tuesday: Pedroia, Weeks, Quintin Berry, Rusney Castillo, Jackie Bradley Jr., Xander Bogaerts, Hanley Ramirez, Daniel Nava and Humberto Quintero.
"I like it," said Ramirez. "That brings everybody together and you see a lot of people smiling. That's a team. You've got everybody on the same page and everybody's happy. Chemistry is the most important thing right now on this team."
Before the competition, strength and conditioning coach Pat Sandora reminded the players that it was a friendly competition, and he told them to have fun and "Don't blow it out."
Ian Browne is a reporter for MLB.com. Read his blog, Brownie Points, and follow him on Twitter @IanMBrowne. This story was not subject to the approval of Major League Baseball or its clubs.