Hollands' MRI shows left flexor tendon strain
Injury to Phillies reliever heats up competition for bullpen spots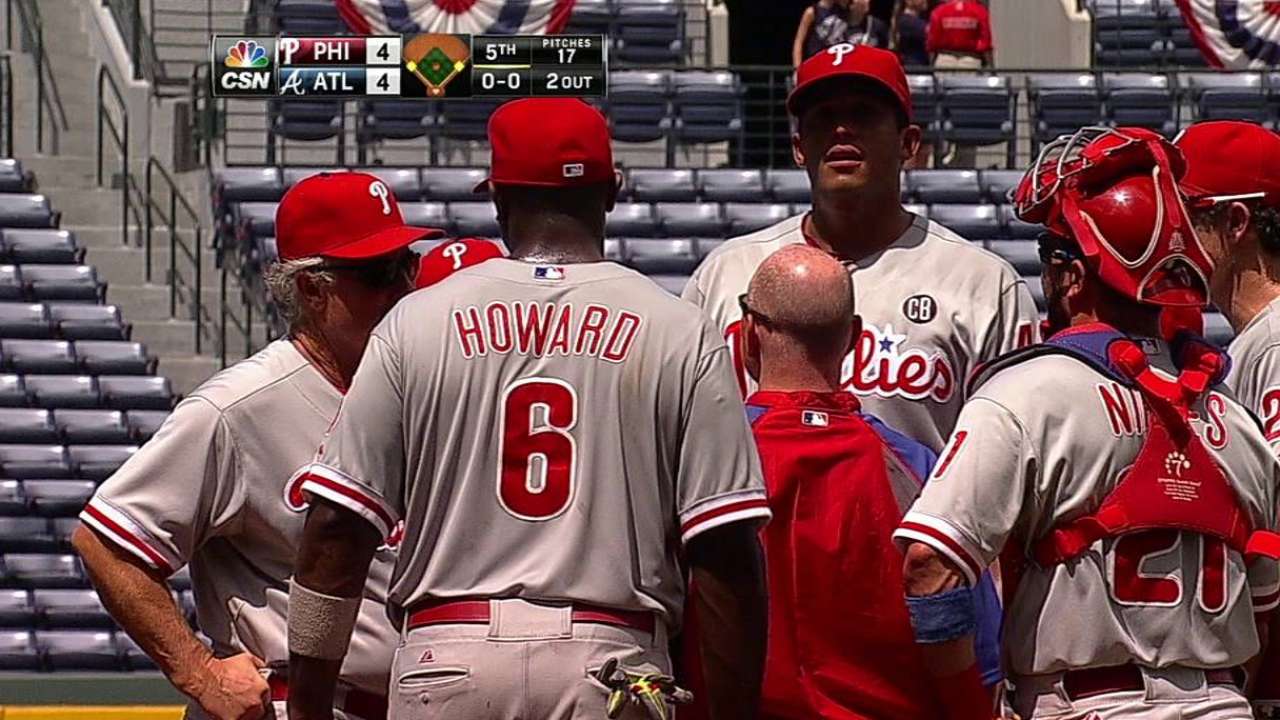 FORT MYERS, Fla. -- The list of candidates for the final spots in the Phillies' bullpen appears to be dwindling after an MRI arthrogram taken on Saturday revealed that left-hander Mario Hollands has a strained common flexor tendon in his pitching arm.
The club announced the diagnosis on Sunday morning, and it said Hollands will be evaluated by Dr. Michael Ciccotti. Once the MRI findings are reviewed, a treatment plan will be determined.
Hollands experienced discomfort on Friday at the end of his outing against the Pirates. The 26-year-old has been competing for one of Philadelphia's last three bullpen jobs, along with righties Phillippe Aumont, Luis Garcia and Jeanmar Gomez, and lefty Andy Oliver. Manager Ryne Sandberg saw him as being "in the mix" to contribute as a situational lefty.
"He really had a real good first half of the season last year, real solid. Might have run out of gas a little bit," Sandberg said. "He pitched a lot, with winter ball and with instructional league and everything, but he did a nice job."
Hollands appeared in 50 games as a rookie, posting a 4.40 ERA, but he was shut down in September with a flexor mass strain in his left forearm. This injury is not the same, according to Sandberg.
Hollands pitched in five games this spring, giving up seven runs on 10 hits. In the outing before he felt the discomfort, he tossed two scoreless frames against the Yankees on March 15.
"That's probably the best we've seen him," Sandberg said. "So yeah, it was unfortunate news for him."
Andrew Simon is a reporter for MLB.com. Follow him on Twitter @AndrewSimonMLB. This story was not subject to the approval of Major League Baseball or its clubs.