Marlins lock up Yelich with seven-year pact
Long-term deal with Gold Glove outfielder includes eighth-year option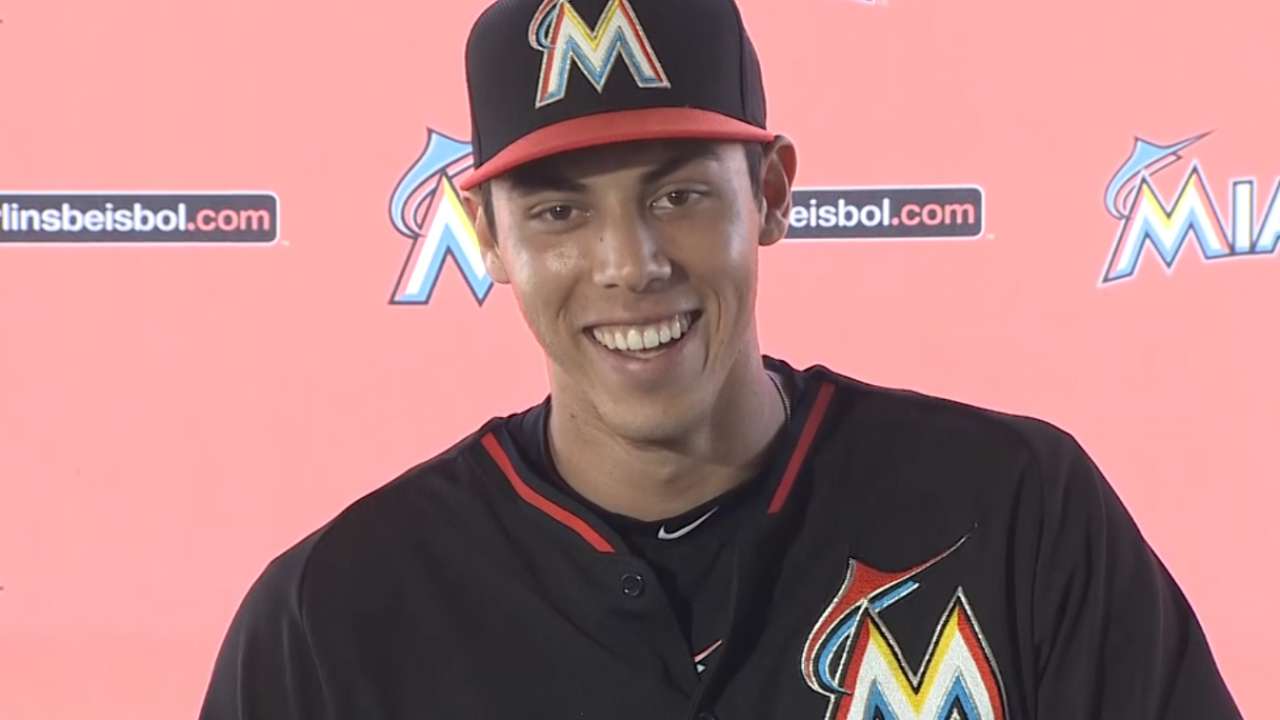 JUPITER, Fla. -- The Marlins on Sunday continued to build on the momentum they've generated over the past few months by officially locking up one of their own. At a morning news conference, the club announced the signing of Gold Glove-winning outfielder Christian Yelich to a seven-year extension.
Securing Yelich's services long-term is another example of the organization's commitment to becoming a contender for the foreseeable future.
"We believe in the young core players we have in this organization, and we want to build with that core," president of baseball operations Michael Hill said. "Our goal is to win, not just this year, but for many years to come."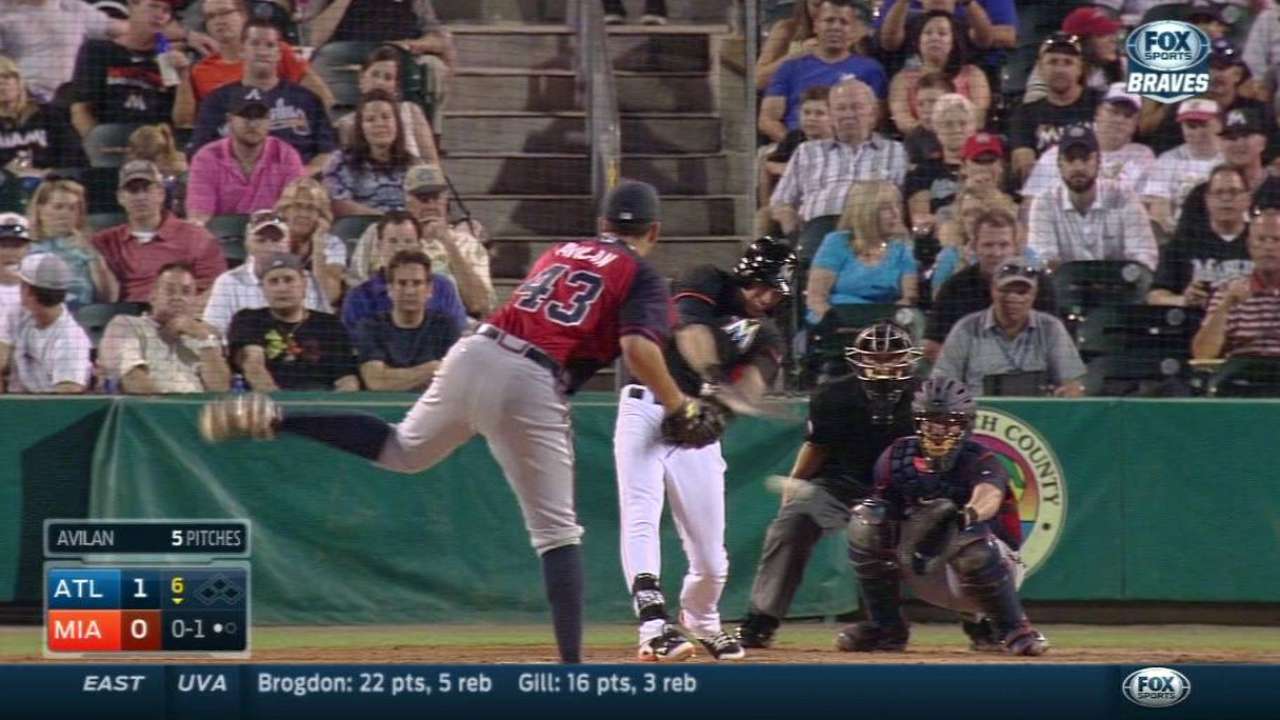 Signing a player with 1 1/2 years of MLB service time is breaking new ground for the Marlins. But the 23-year-old Yelich has shown qualities that made the organization want to retain him for the long haul.
"To have talented players you know are moving forward with you, it's exciting," Hill said. "It starts at the top, with our owner, Jeffrey Loria. He's committed to bringing a winner to South Florida. He's giving us the opportunity to put a team together that we think will allow us to win as many games as possible."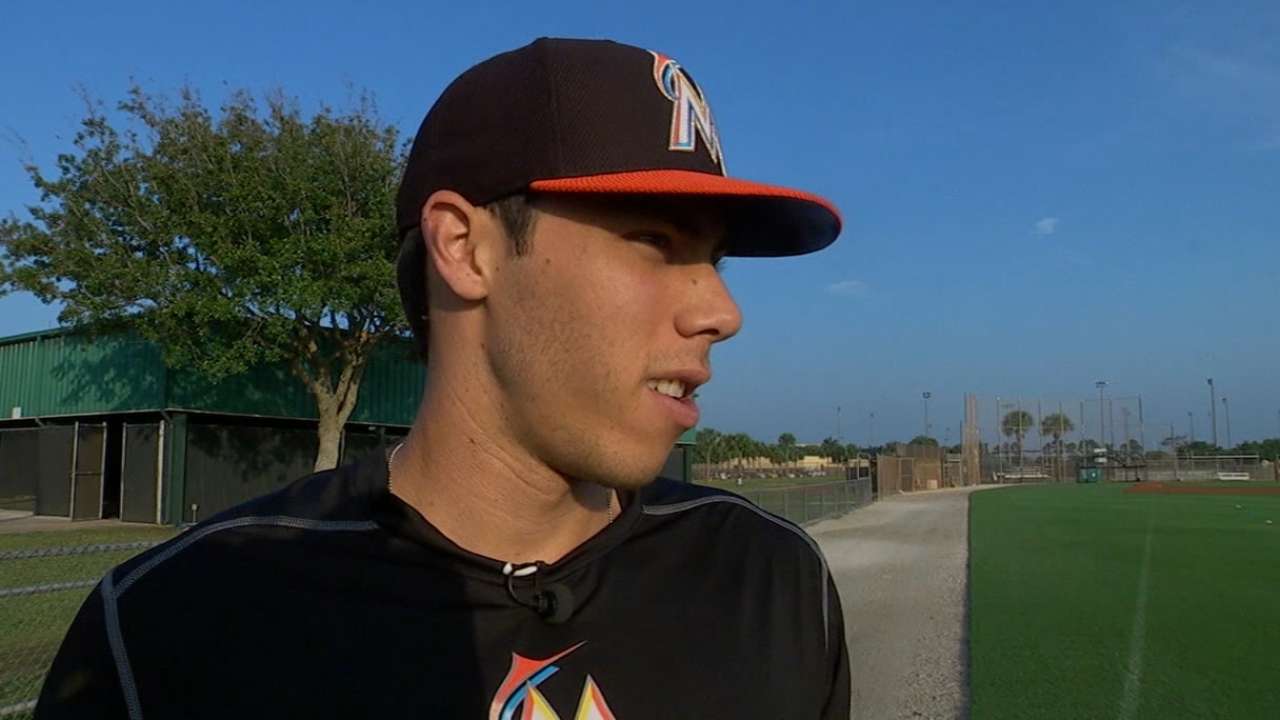 With Yelich coming to terms, the Marlins now have two-thirds of their outfield under lengthy contracts. In November, Giancarlo Stanton signed a 13-year, $325 million megadeal.
Yelich's deal is for $49.570 million, and it includes an option for an eighth season.
A source told MLB.com, the annual breakdown is $570,000 in 2015, $1 million in '16, $3.5 million in '17, $7 million in '18, $9.75 million in '19, $12.5 million in '20, and $14 million in '21.
The club option is for $15 million in '22, and there is a $1.25 million buyout.
"Once I thought everything was fair and all that, it was a no-brainer," Yelich said. "I love the guys we have on our team. I love the direction. I think we're going to be really good, this year and in the future.
"I'm honored they believe in me at such a young age to give me this opportunity. It is unchartered waters for this organization, but this is the direction that we're headed, and I wanted to be on board and be a part of this."
The left-handed hitting Yelich batted .284 with a .362 on-base percentage last season, and he belted nine home runs, drove in 54 and scored 94 runs.
"We always talk about the rhythm of a hitter," general manager Dan Jennings said. "He possessed that from the first time we laid eyes on him. I think when you look at the progression and where he is now, he reminds me of a young Don Mattingly."
Joe Frisaro is a reporter for MLB.com. He writes a blog, called The Fish Pond. Follow him on Twitter @JoeFrisaro. This story was not subject to the approval of Major League Baseball or its clubs.