Grateful to be playing, V-Mart feels good about debut
Tigers slugger goes 0-for-3, looking to slow game down as he works way back from knee surgery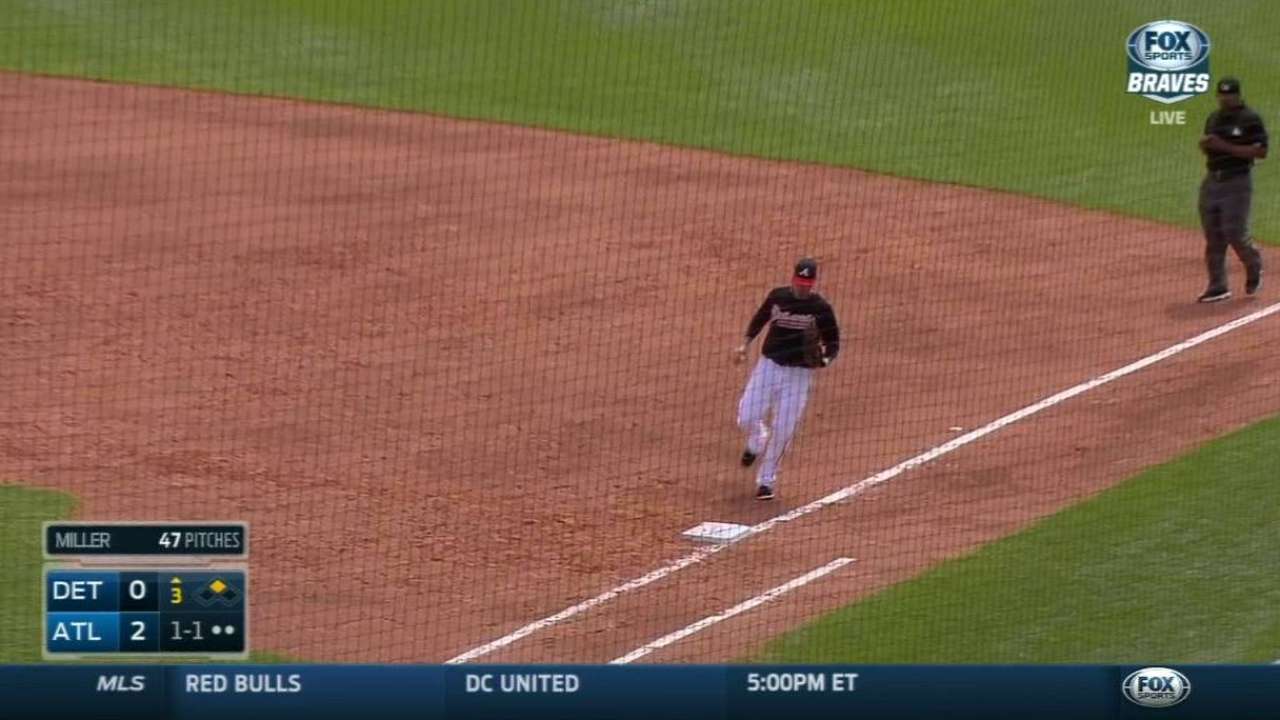 LAKE BUENA VISTA, Fla. -- Tigers slugger Victor Martinez made his highly anticipated spring debut -- albeit a rather uneventful one -- in Sunday's split-squad game against the Braves at Champion Stadium.
Martinez, appearing in his first game action since undergoing surgery this offseason to repair a meniscus tear in his left knee, went hitless in three at-bats while serving as Detroit's designated hitter in the Tigers' 5-3 loss. He struck out in his first at-bat then bounced out on routine grounders to first base in each of the next two.
Though he barely got to test the injured knee on the basepaths, Martinez was encouraged by the way it responded to the activities he did perform in Sunday's game.
"Everything felt pretty good, coming out of the box and swinging and all that," Martinez said. "I'm happy with how things went today."
Martinez's debut Sunday came one day after the slugger had logged a handful of at-bats in Minor League games on the backfields at the Tigers' complex. Facing Braves starter Shelby Miller twice and All-Star reliever Craig Kimbrel for his final at-bat, however, certainly added another element to things.
In his first at-bat against Miller, Martinez took the first two pitches he saw, one each for a strike and a ball. He then took awkward hacks at the next two pitches, missing badly on both for a strikeout. He made contact in each of his next two at-bats, including one against the hard-throwing Kimbrel, though each one resulted in a weak ground ball.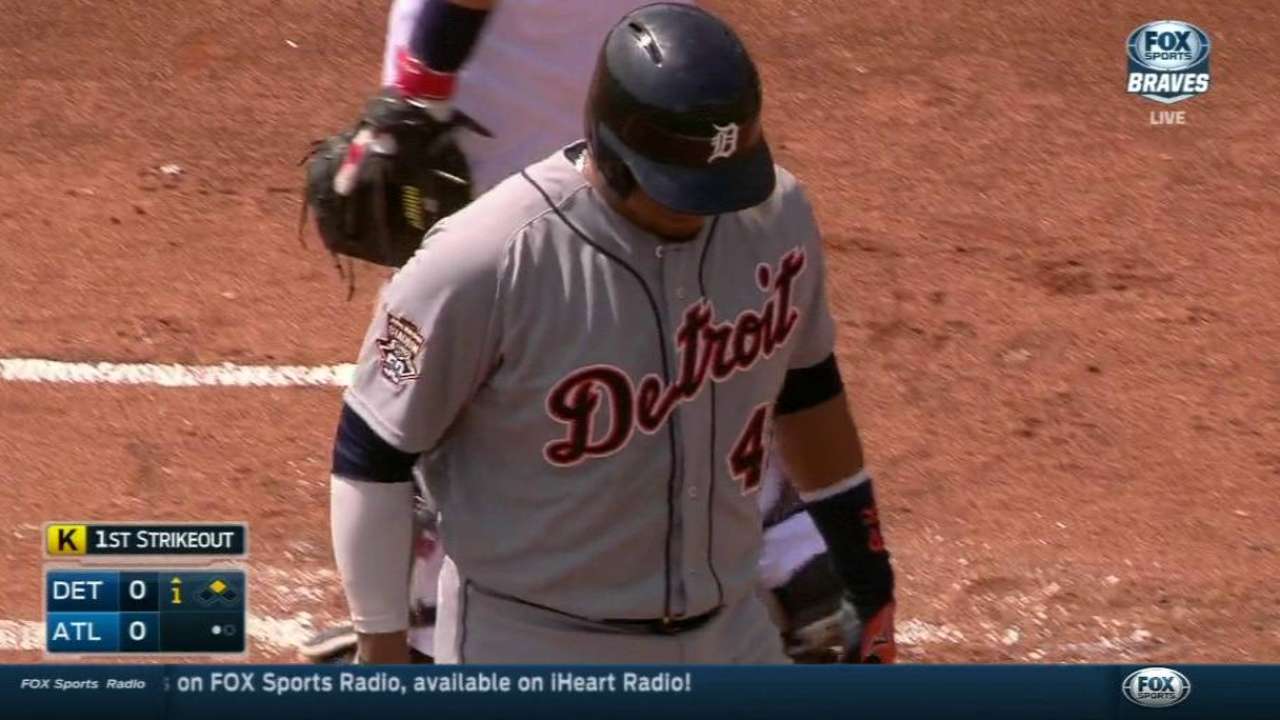 "I was seeing the ball OK, but it still looked a little too fast," Martinez said. "I'm feeling pretty good about the day today, though. It was a good start, and I'm glad this first one is out of the way."
While the results may not have been there on Sunday, Martinez is thankful to even have an opportunity to play in a game two full weeks ahead of Opening Day. Keep in mind, it was only three years ago that Martinez suffered a torn ACL during an offseason workout that forced him to miss the entire 2012 season.
"When this first happened, the first thought I had in my mind was the worst," Martinez said. "I was in a lot of pain, and the first thing that came to my head was when I lost the whole year in 2012. Thank God that wasn't the case this time, and I feel pretty good with where I am right now."
Martinez added that he could have played the whole game -- meaning another at-bat, possibly two -- but it was established beforehand that he would log just three plate appearances. The Tigers are off on Monday, and then they will have to find a way to work in both Martinez and Miguel Cabrera, who also made his debut on Sunday with the Tigers' squad that stayed in Lakeland.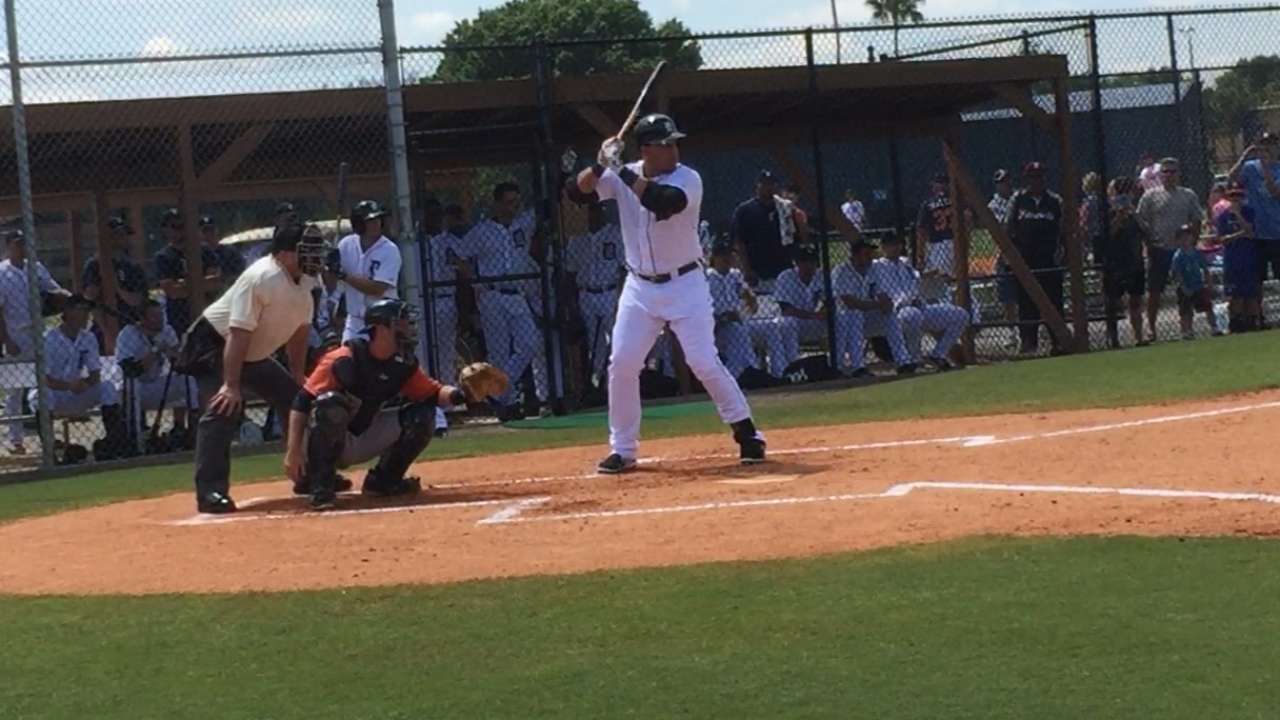 Given the fact that Cabrera is unlikely to play the field quite yet as he works his way back from surgery of his own, the Tigers will need to use one at DH in Grapefruit League games, while the other figures to get at-bats in Minor League contests. As for whether Martinez thinks he'll be ready for Opening Day, he wasn't ready to commit one way or the other following his debut.
"You know what? At this point, I just need at-bats and we'll see what happens," Martinez said. "I just need to prepare for the season now."
Paul Casella is a reporter for MLB.com. This story was not subject to the approval of Major League Baseball or its clubs.