MLB.com Columnist
Barry M. Bloom
Lincecum getting back on track for season and career
Giants righty, who worked on mechanics in offseason, rebounds after neck injury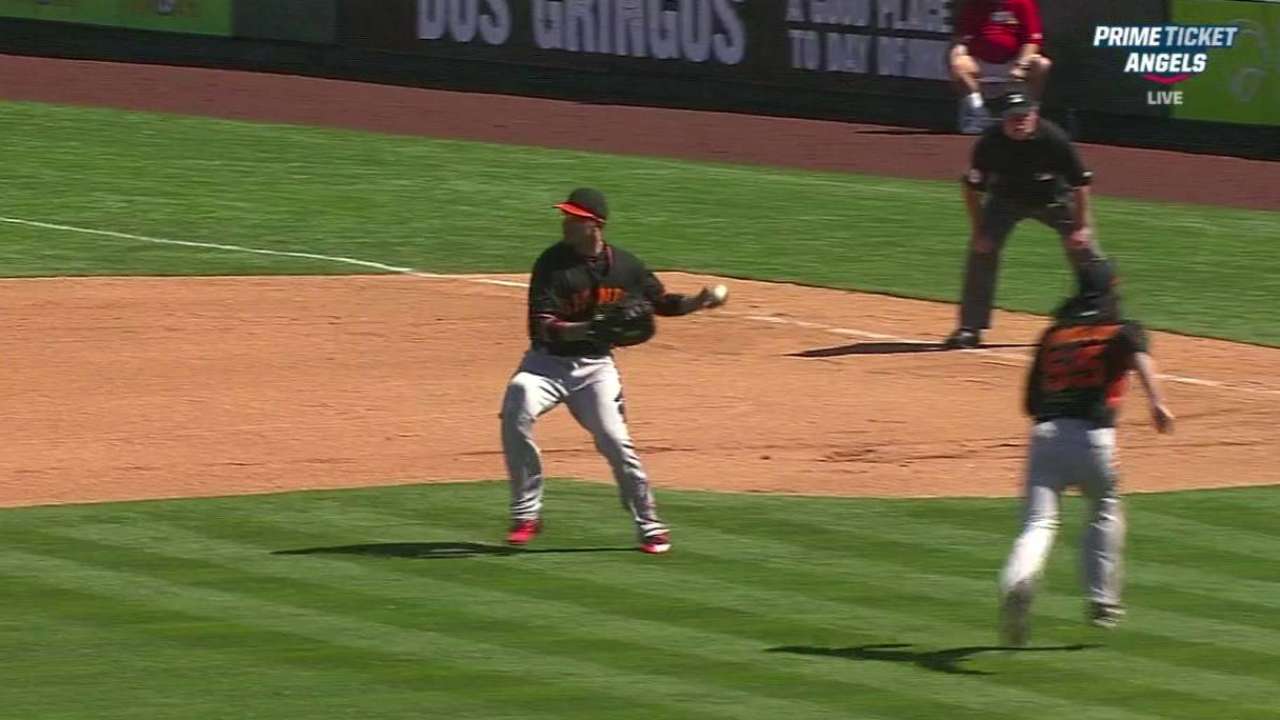 TEMPE, Ariz. -- There always seems to be some issue to overcome for Tim Lincecum. This spring it's been a stiff left side of his neck that limited him to three relief appearances and four innings before Saturday's start against the Angels at Tempe Diablo Stadium.
Lincecum said after pitching four innings of one-run, two-hit ball that he had hurt his neck while sleeping. No matter. He's still on track for the fifth slot in the Giants' rotation when they open defense of their third World Series title in five years at Chase Field in downtown Phoenix against the D-backs on April 6.
"Timmy did a good job," Giants manager Bruce Bochy said after the 3-2 loss. "Right now, [the fifth starter] would be Timmy. Hopefully, we'll have them all ready and we'll see where we're at."
If it plays out, Lincecum's first regular-season start would be against the Padres at Petco Park on April 10. And only good things happen when Lincecum faces the Padres as two no-hitters against them -- one in each of the past two seasons -- attests. But let's not get too far ahead of the matter at this point.
"I'm focused on myself and on what I've got to do," said Lincecum after coming out of the game, his first since the stiff neck limited him to one inning against the Brewers on March 11. "I feel like I've done a pretty good job this spring. My next start should push me further. Having that setback steered me wrong. I'm just trying to get back on track and keep this positive mindset."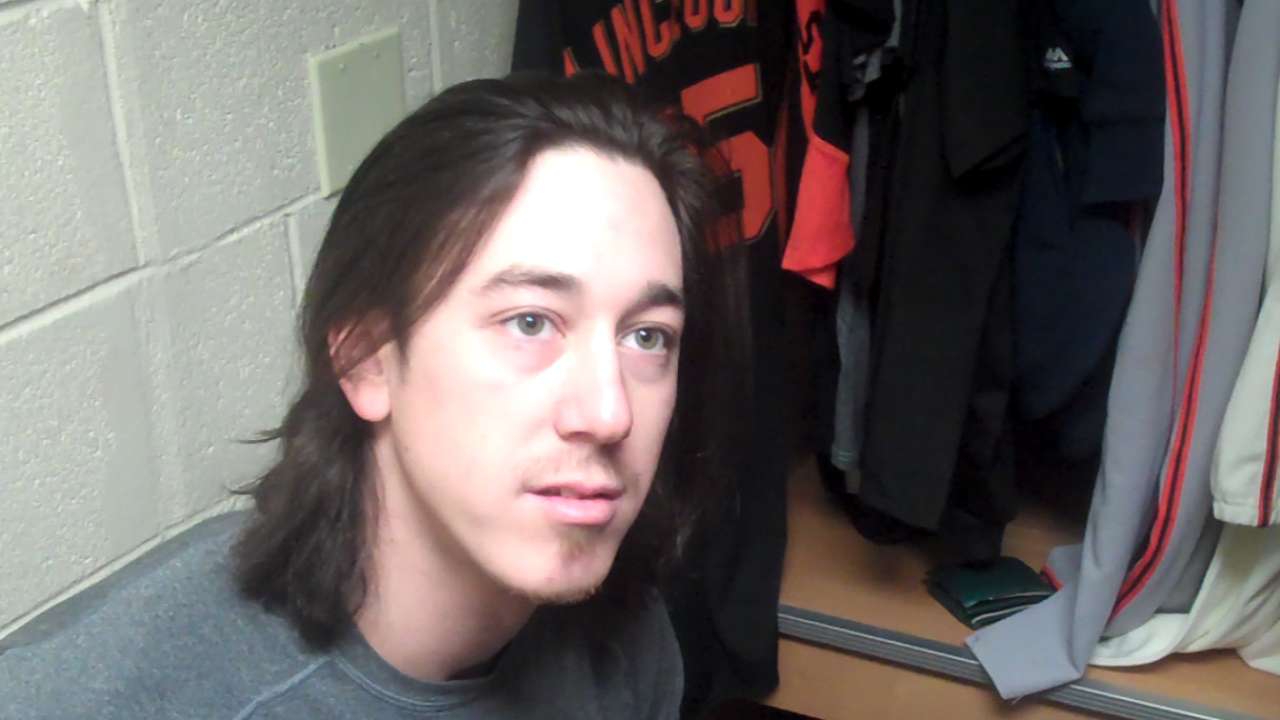 It's not as if there haven't been other problems. Lincecum was removed from the rotation this past September and spent the entire postseason in the bullpen. He made one October appearance, in Game 2 of the World Series at Kansas City, and had to come out when he wrenched his back.
The offseason was spent at home in the Seattle area working on his mechanics with his father, Chris. There was plenty of time to think about things and feel the full devastation of defeat when his Seahawks lost the Super Bowl in the final seconds to the Patriots.
"It's tough to handle when you become that invested in a team [with which] you don't play," Lincecum said. "But I'm over it now. We're in Spring Training."
He's also over the end of the 2014 season. Taking in the full breadth of his eight-year career -- all with the Giants -- Lincecum has won three World Series championships and two National League Cy Young Awards, pitched the two no-hitters and won 101 regular-season games. He's on the last year of a two-year contract worth $18 million this season. Life is good. If his career ended right now at age 30, there would be nothing to be ashamed of. But Lincecum wants more.
"Yeah, I've had plenty of time to reflect since the end of last season," he said. "That's what pushed me to go at it so hard and in a smarter, right kind of way."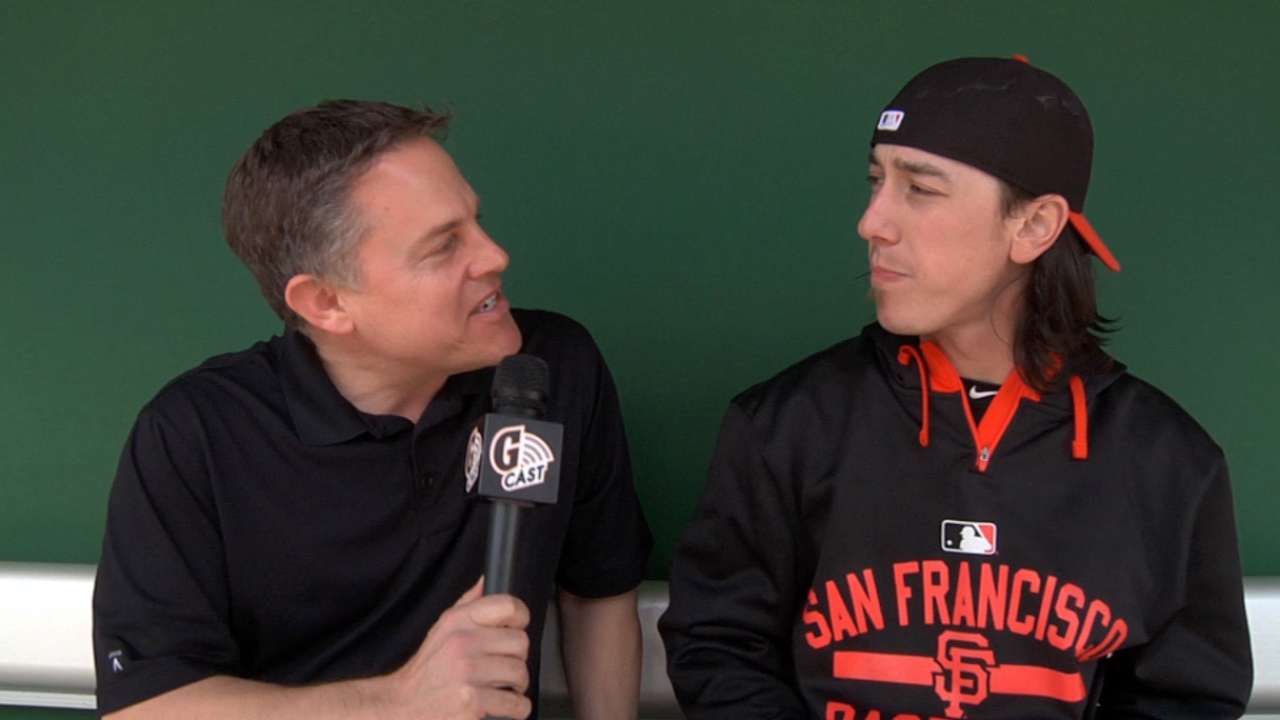 Lincecum's mechanical problems are simple to understand yet somewhat complex to fix. Mike Krukow, the former Giants pitcher who's now a radio and TV broadcaster, said when Lincecum is erratic, the motion of his right arm is behind the rest of his body as he steps toward the plate.
His arm must be fully extended as he comes over the top of his shoulder just as he hits the ground with his front foot. Control problems arise when the arm lags behind and the ball rises in the zone.
"I have a long motion anyway," Lincecum said about his trademark delivery in which the right hand reaches far behind his body as his head tilts skyward before throwing.
This is what Lincecum worked on incessantly during the offseason with his dad while home in the Northwest. It's consistency and repetition, keeping the shoulders straight and doing it the same way on every pitch.
"Easy to understand, hard to do," Lincecum said.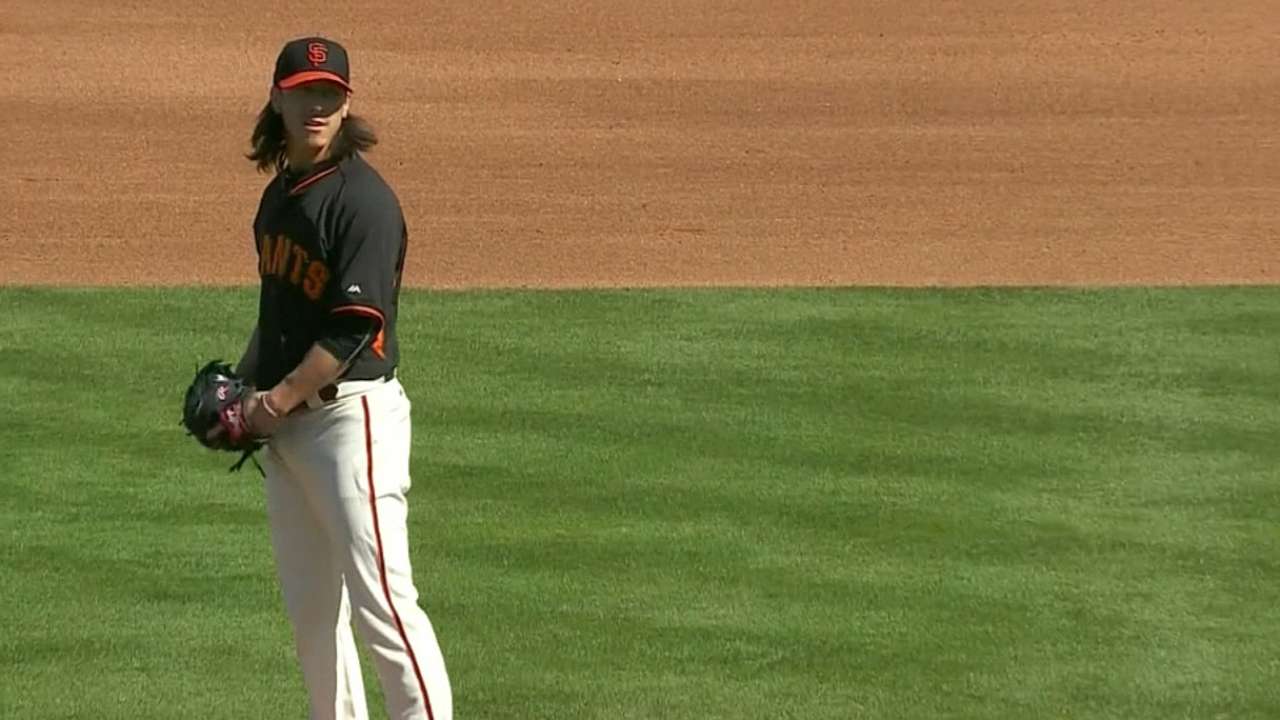 On Saturday, Lincecum said he couldn't find that consistent release point until the third inning. In the first, a double, a sacrifice bunt and a walk put runners on first and third with nobody out. He worked out of the inning, allowing only one run on a sacrifice fly.
After that, he retired nine of the last 10 batters he faced, throwing seven of his 41 pitches to three hitters in the second inning and six to get out of the fourth. He walked only the one batter and struck out none. Pretty efficient.
"I didn't feel great in the beginning," he said. "I was just going too fast in my mechanics. I really didn't gauge my rhythm until the third inning. I was just fighting myself until then."
That fight for Lincecum is ongoing. At least now he seems to have identified the problem. He's been a 45-52 pitcher since going 16-10 during the 2010 season and 4-1 as a starter in the playoffs. Two years later, Lincecum was so inconsistent that he was relegated to the bullpen for the postseason, but at least made six key relief appearances. Last October, he completely lost his compass.
It's always something with Lincecum, whether it's his mechanics or a stiff neck. Right now, he is standing at the precipice without much margin for anything else to happen.
Barry M. Bloom is a national reporter for MLB.com and writes an MLBlog, Boomskie on Baseball. Follow @boomskie on Twitter. This story was not subject to the approval of Major League Baseball or its clubs.