MLB.com Columnist
Mike Bauman
Cubs phenom Bryant letting his play speak volumes
MLB's No. 2 overall prospect tearing up Cactus League this spring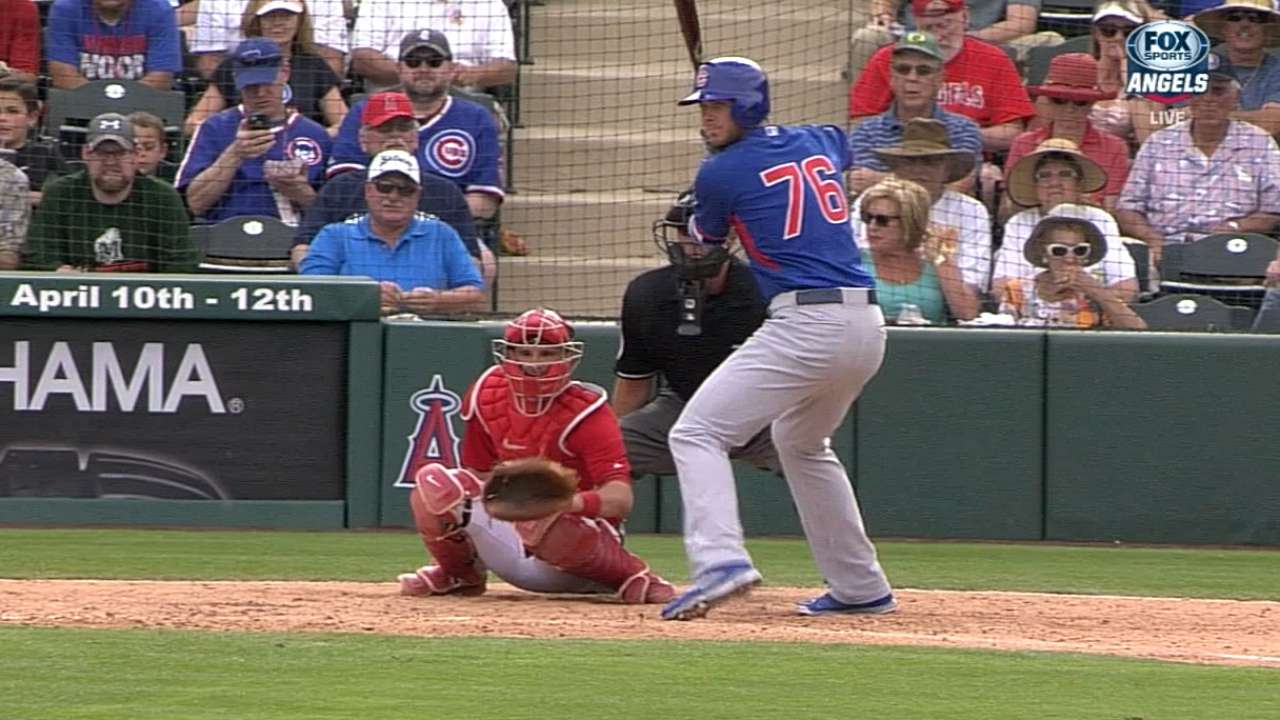 MESA, Ariz. -- Kris Bryant is making the kind of mark that Spring Training usually isn't quite big enough to accommodate.
Saturday afternoon at Sloan Park, the game's No. 2 overall prospect, per MLB.com, climbed to another summit, hitting two more home runs, the first a towering two-run homer off Seattle's Felix Hernandez. King Felix's credentials require no further polishing here. Bryant's was a significant hitting accomplishment, Cactus League or not. The home run was on a 2-2 changeup and it made a magnificent arc as it traveled against the backdrop of the blue Arizona sky.
"Those are the type of homers that you live for," Bryant said. "It hit the fat part of my bat. It felt really good. I like the ball down and in, and I put a good swing on it.
"[Hernandez] is a Cy Young Award winner, and he's their ace. That definitely gives me a lot of confidence heading into the season. I don't care if it's Spring Training or October, I go out there and play as hard as I can."
Bryant also walked against Hernandez in the third. In the fourth, Bryant hit a three-run homer, this one off veteran right-hander Kevin Correia. It wasn't the best day of March for Hernandez. Cubs shortstop Addison Russell homered off him, as well. But Bryant leads the Majors in home runs this spring with eight, in merely 25 at-bats. His numbers are stratospheric. His slash line is .480/.552/1.520. Of course, the sample size is small, but that is what you get with Spring Training.
Oh, and Bryant also looked the part of a Major Leaguer in the field. He was returning to third base after a nine-day absence brought on by shoulder fatigue. He didn't come up short in this phase of the game, either.
In the first, Bryant got the Cubs out of the inning by starting a 5-4-3 double play. In the second, he ranged to his left to make a play on a ball that he turned into the third out. On a series of throws, he showed, rather than shoulder fatigue, arm strength.
"I try to go out there and play hard, I throw as hard as I can," Bryant said. "That's the way I play, and it works for me."
The ongoing question about whether Bryant will open the season at Wrigley Field or at Triple-A Iowa has not been answered. One way or another, Bryant is going to be in Chicago soon, and for a considerable length of time after that. If the Cubs choose to temporarily place Bryant in Triple-A in order to delay his potential free agency by one year, there will be shouts of protest. But it is impossible to imagine Bryant, with the performance he is staging, staying in Triple-A any later than the required mid-April.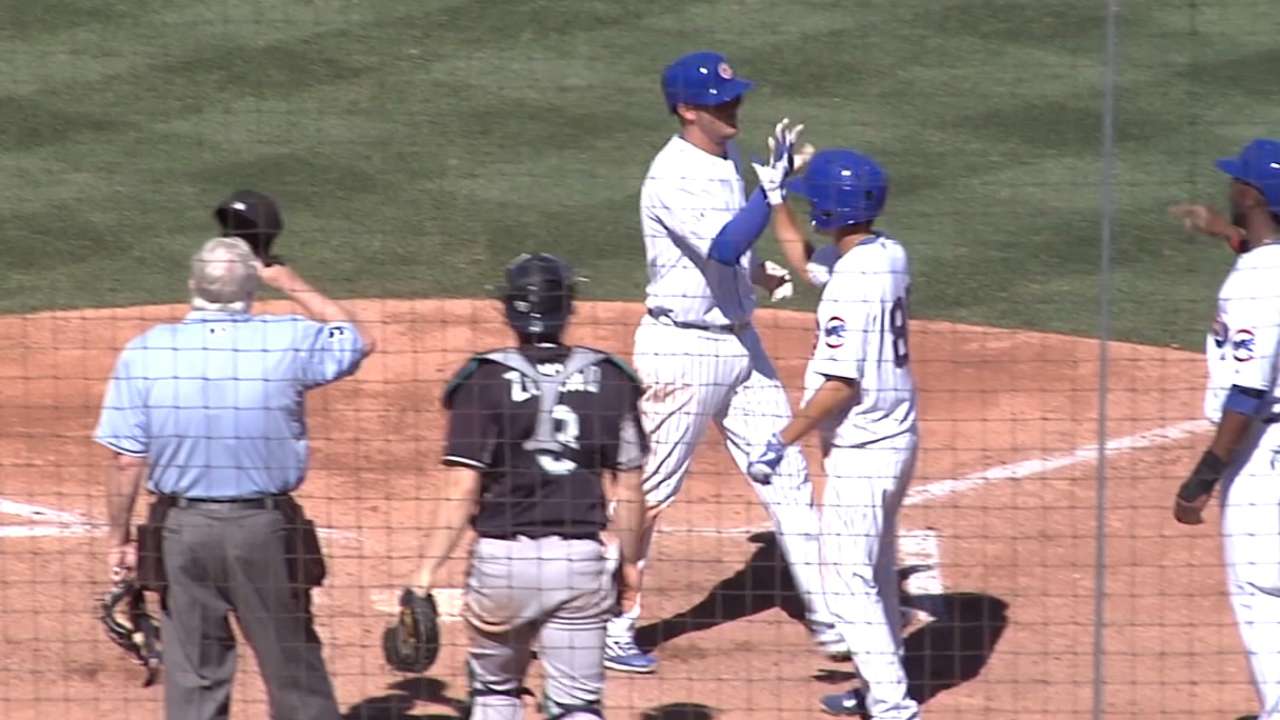 Bryant describes himself as "playing with a chip on my shoulder, but at the same time having fun." If you watch him play, that makes sense. His effort in this camp is all-out. His results are fun, not only for him, but for anybody who cares about the Cubs' future.
"You can't beat baseball right now," Bryant said, noting the Arizona sun and the Cubs winning a game, 12-10, against the Mariners. "I'm still here and I'm still standing."
That "still standing" is a truly modest description of Kris Bryant's current circumstances. He is tearing up the Cactus League. He may be baseball's biggest individual story this March.
"In this game, you really have to stay modest," Bryant said. "You don't want to toot your own horn. You want to have your play speak. That's how I've been my whole life; letting my play speak, playing as hard as I can, nose to the dirt."
What more could the Cubs ask from Bryant? Gaining some experience playing the outfield is in the short-term future.
Beyond that, Cubs manager Joe Maddon had this to say: "The biggest thing, there would probably be a more-specific routine defensively, from what I've seen. I've seen that with a couple of our guys. Just a more-specific routine that they could draw from on a daily basis. I think that's where consistency comes from on defense, is routine. We've talked about it with him and the other guys. Get into a particular routine, because we really need to raise our level of defense."
But Maddon has left little doubt about his view of Bryant's place with the North Side franchise. He said that he told Bryant he looks forward to shaking his hand after the Cubs win the World Series.
"That's something we all want to be a part of," Bryant said. "And that's why we're working so hard right now to get to that point."
You look at Kris Bryant driving the ball so far and so often. The Cubs have assembled a truly impressive group of talented young players. But even here, even this soon, Bryant is making the kind of impact very few are capable of making.
Mike Bauman is a national columnist for MLB.com. This story was not subject to the approval of Major League Baseball or its clubs.