Bradley fares well vs. loaded Padres lineup
Top prospect handles big leaguers in longest spring start for Arizona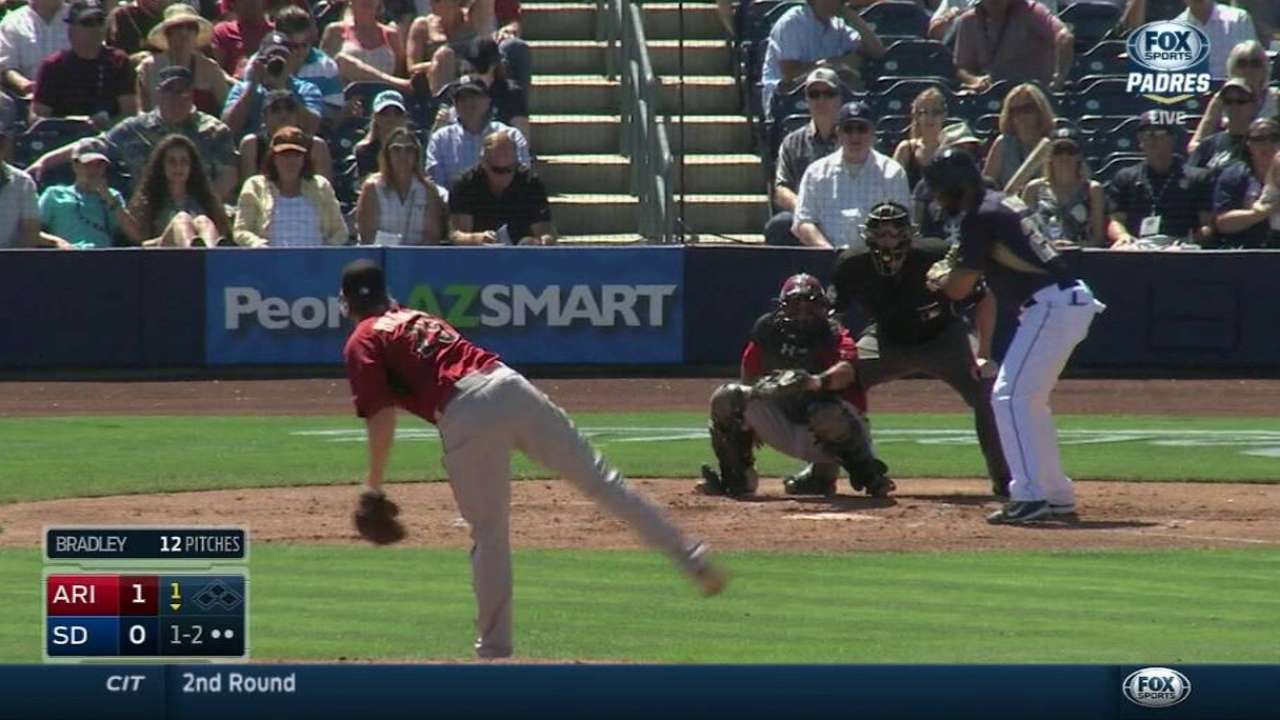 PEORIA, Ariz. -- Prior to to Saturday's 7-5 win over the Padres, Arizona manager Chip Hale expressed an interest in seeing how starter Archie Bradley would fare against a lineup populated entirely by Major Leaguers.
The answer to that turned out to be, pretty well.
Bradley, touting an improved breaking ball, cruised through four innings, his longest outing of the spring. He allowed just two unearned runs on five hits and no walks while fanning three against heavy hitters like Matt Kemp and Justin Upton.
"I made it a main point this spring to just attack guys," said Bradley, the D-backs top prospect, according to MLB.com. "If I'm going to get beat, I'm going to get beat instead of walking guys and letting them get on base for free. I'm just going to continue to do that and keep working at it."
The 22-year-old right-hander made headlines earlier this week when general manager Dave Stewart told the Arizona Republic on Thursday that he thought Bradley wasn't yet ready for the Majors.
Bradley said the two talked about Stewart's comments and that it was a non-issue between them.
"He's got to do his job," Bradley said. "He has his opinion. I'm not worried about that. ... We settled it. To be honest, it wasn't a big deal to me or him."
Manager Chip Hale said Saturday that as long as Bradley is still in the Major League camp, he's in the mix for the rotation. Though he's likely on the outside looking in for a starting spot to begin the year.
"That's kind of out of my mind," Bradley said. "I'm pleased with my outing. I got the work that I need to get done. That's one of those things, I'm just going to keep throwing and if it happens, it happens."
Bradley, the No. 7 overall selection in the 2011 First-Year Player Draft, is entering his fifth year in the D-backs organization. He's allowed three earned runs through four outings (11 1/3 innings) this spring while walking two and striking out 10.
"From the day he's been here, he's been very professional about how he's done everything with his work," Hale said. "Every time he's pitched, he's had a great demeanor on the mound, great pace and those are all things that we like. He's done a nice job."
Chad Thornburg is a reporter for MLB.com. This story was not subject to the approval of Major League Baseball or its clubs.