Hawkins' walk-off homer rallies White Sox past Royals
Second long ball of game comes with one out in bottom of ninth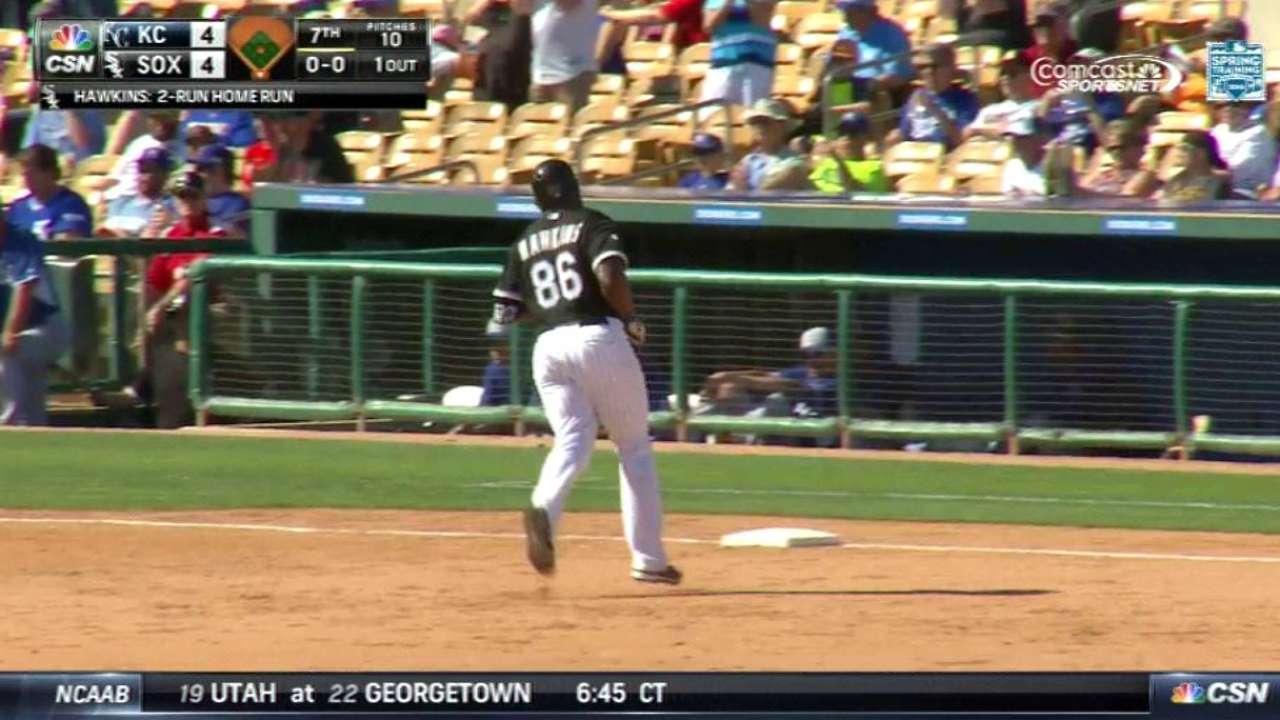 GLENDALE, Ariz. -- Courtney Hawkins slugged a two-run home run in the bottom of the ninth to give the White Sox a 6-4 walk-off victory over the Royals on Saturday at Camelback Ranch.
Joe Blanton and Brad Penny started for the Royals and White Sox, respectively. But it was the return of Alex Gordon to the starting lineup that held up as the biggest news of the day.
Gordon made his first 2015 Cactus League appearance after working his way back from right wrist surgery in the offseason. Gordon started in right field and finished 0-for-3.
The Royals used the long ball to take control of the contest, with home runs from Brett Eibner off Penny and Erik Kratz off reliever Jake Petricka. Penny allowed three runs on five hits over four-plus innings, while striking out one. Blanton gave up one run on six hits over 4 2/3 innings, fanning three and walking two. The White Sox tied the game with three in the seven, capped off by Hawkins' mammoth blast to left, marking his third home run of the spring.
MOMENTS THAT MATTERED
Hitting them hard, but not out: Jose Abreu has been stinging the ball throughout Cactus League competition, with his average hovering close to .500 in 11 games. But the slugger who set the White Sox single-season rookie home run record with 36 last season has yet to go deep and has two doubles and one triple among his hits. Of course, nobody has ever made the Hall of Fame by putting up big Spring Training numbers. The White Sox have 12 homers as a team.
Be aggressive: Under the guidance of Vince Coleman, the White Sox have taken the extra base whenever possible during 2015 Cactus League action. Sometimes that aggressiveness doesn't work in the White Sox favor. Take the third inning, for example, when J.B. Shuck was thrown out by Jarrod Dyson trying to go from first to third on Abreu's single to right.
The big return: Gordon's mere presence on the field was good to see for the Royals, even if it was a tad uneventful. Gordon struck out looking against Penny in the first inning, lined out sharply to White Sox first baseman Adam LaRoche leading off the fourth inning, and grounded out to shortstop in the sixth off White Sox closer David Robertson. Gordon only fielded two balls in his five innings in left field, both on consecutive singles in the second inning, and did so cleanly, but he didn't get any fly ball chances hit his way.
Eibner connects and exits: Eibner, who played the majority of his season last year with Triple-A Omaha, continued his scorching spring on Saturday with his third Cactus League home run, a solo shot off Penny in the second inning. Eibner, who started the game in right field, is now batting .520 (13-for-25) and has six RBIs this spring. Unfortunately for Eibner, a foul ball off his left foot in his at-bat in the top of the fourth led to him limping noticeably after grounding into a double play, and he exited the game in favor of Moises Sierra.
QUOTABLE
"[Chris] Sale's the White Sox best chance to win a championship. We have to have him. I don't want anybody to go down. I want to pitch, and if I'm pitching, that's going to take care of myself." -- Penny, talking about his chances to break camp as part of the rotation.
SOUND SMART WITH YOUR FRIENDS
Engel Beltre, who singled among his three at-bats on Saturday, did not start this current Spring Training as part of big league camp. Beltre was promoted from the Minor League side when Michael Taylor retired.
WHAT'S NEXT
Jeff Samardzija takes the mound against the Brewers in Maryvale, as the right-handed hurler continues to stay on track for his third straight Opening Day start and first with the White Sox. Samardzija will be followed by Zach Putnam, Dan Jennings, Zach Duke and Arcenio Leon according to the latest pitching schedule. First pitch is set for 3:05 p.m. CT.
The Royals will take part in their first game against the San Francisco Giants since Game 7 of the World Series when the two teams start a two-day home-and-home "series" at Surprise Stadium at 1:05 p.m. on Sunday. Left-hander Danny Duffy will get the start for the Royals and is scheduled to be followed by closer Greg Holland and relievers Wade Davis, Louis Coleman, Michael Mariot and Jandel Gustave.
Scott Merkin is a reporter for MLB.com. Read his blog, Merk's Works, and follow him on Twitter @scottmerkin. Doug Miller is a reporter for MLB.com. Follow him on Twitter @DougMillerMLB. This story was not subject to the approval of Major League Baseball or its clubs.