Martinez fires 3 shutout innings in bid for rotation
For second consecutive year, righty aiming for starter's role in tough spring competition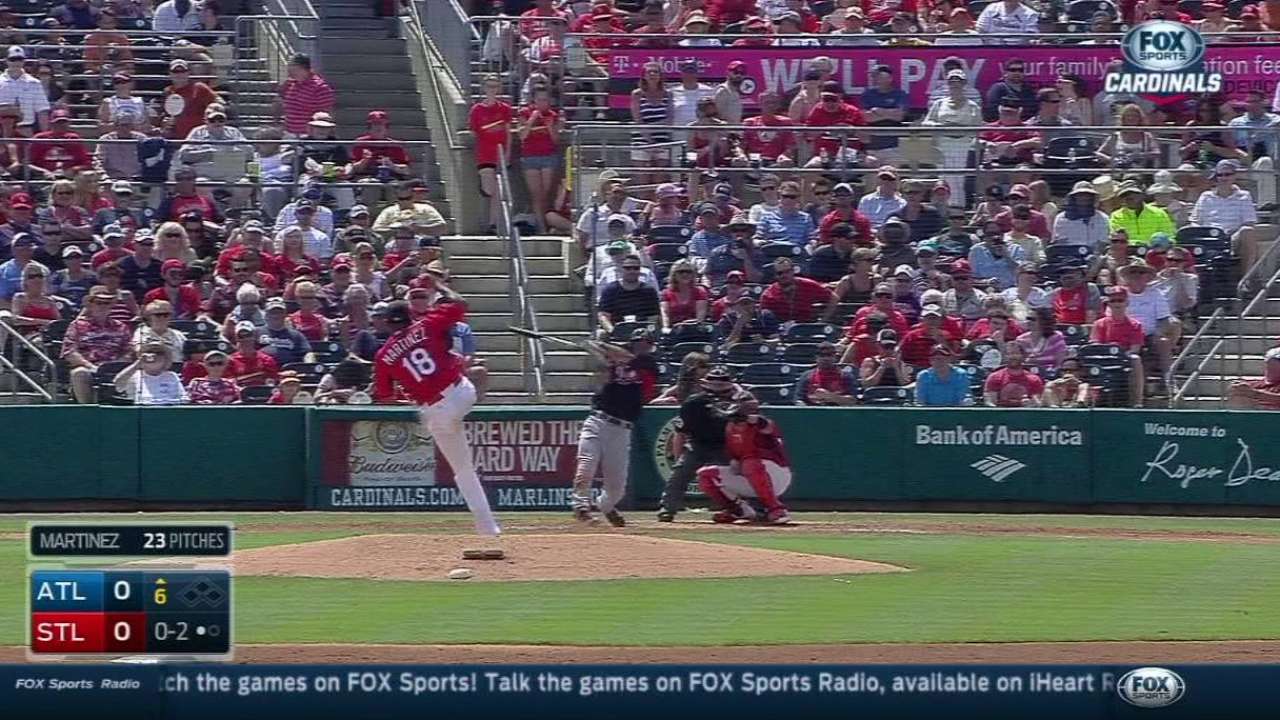 JUPITER, Fla. -- At some point in the next couple of weeks, the Cardinals will make a decision on which pitchers will make up their rotation to start the season. For the second straight spring, Carlos Martinez hopes to be one of them. For the second straight spring, there are no guarantees.
The 23-year-old right-hander pitched three shutout innings in Saturday's 1-0 Grapefruit League win over the Braves at Roger Dean Stadium. At times he looked overpowering. But Martinez understands that with Jaime Garcia making $9 million and Marco Gonzales only giving up one run in three spring starts, he just has to wait and see.
"They haven't talked to me about it. My goal is to help the team. But my mentality right now is as a starter," Martinez said through an interpreter. "It's up to them, the manager and the front office, to decide that. My idea is to help the team in any position they put me. But, as I mentioned, my mentality is to be a starter."
Cardinals manager Mike Matheny was impressed with Martinez's outing and sympathetic to his situation.
"I'll say that for any of these guys that don't achieve what they're trying to achieve and what they work all winter for, what they're dreaming about and their aspirations in this game, I think they all have a sense of disappointment about not being where they want to be," Matheny said. "But I don't think it lasts very long for guys who go about it the right way. And I think he understands, if we get specifically to Carlos, where we are right now. We've been very honest with him. Just go out and pitch and we're going to try to do what's best for the team. Don't get too distracted by all the scenarios, even though we know they need to be talked about. It's not like he hasn't thought about them. He's human.
"But for us, right now, it's not the time. He needs to go out right now and keep doing what he's doing. And we'll figure it out once we get there.
If Martinez makes the team as a reliever, he said he can make that adjustment. "As long as I'm able to help the team I'll be happy and keep working to keep developing my career," he said. "Whatever they tell me, I'm up to it. I just want to be part of the team."
Paul Hagen is a reporter for MLB.com. This story was not subject to the approval of Major League Baseball or its clubs.