Putnam fighting for bullpen spot
White Sox looking for reliever to show improvement in final weeks of spring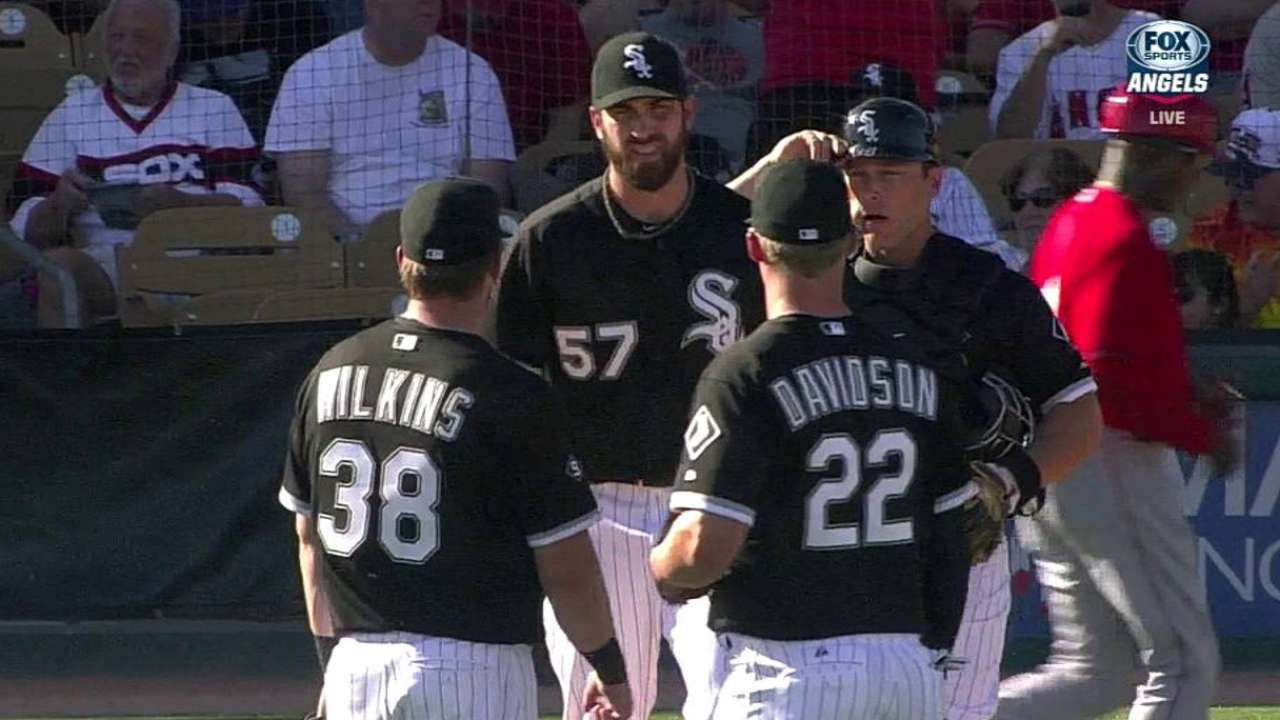 GLENDALE, Ariz. -- What set of statistics matters most in the case of Zach Putnam, the effective White Sox setup man and sometime closer in 2014? Is it his 1.98 ERA over his 54 2/3 innings pitched in '14, marking the lowest in that category among all White Sox hurlers, or his 19.64 ERA in 3 2/3 innings this spring?
White Sox pitching coach Don Cooper has a definitive answer for that particular question.
"You never should go on Spring Training, good or bad," Cooper said. "For three or four innings, are we throwing out the [54 2/3] he got last year? That's silly.
"He's not where we want him to be. He's close. But it would be nice to see him go out there and have a couple of innings where he puts it all together. He's putting it together for hitters, but not for a full inning just yet."
Coming into Spring Training, the 27-year-old right-hander appeared to be a lock to break camp as part of the revamped White Sox bullpen. Putnam also has options remaining and has allowed four home runs among his six hits yielded, including two against the Cubs Friday.
There's no question that Putnam needs to get better over the final two weeks. His splitfinger, which is Putnam's best pitch, has been really good so far, per the hurler, but according to Cooper, he's not commanding the fastball where it needs to be and has been up in the zone too often.
White Sox relievers are now at the point where they pitch one day, get one day of rest and then get back out on the mound. So Putnam will have chances, and with the ball feeling good coming out of his hand, he certainly won't get caught up in the idea of being on the team or on the bubble.
"Whether I'm in a position where I am in this year or a position like I have been in previous Spring Trainings, the objective is the same: Go out there and get guys out and prove to these guys that I'm the man for the job, whatever job that may be," Putnam said. "Whatever happens will happen.
"Nobody is bigger than the game. This is the ultimate humbler I guess, so coming off a good season last year, that stuff is in the past. Right now for us and guys who are struggling a little bit statistically, just put that stuff out of your mind and just focus on what you're doing, focus on your craft, which is what we're all just trying to do right now."
Scott Merkin is a reporter for MLB.com. Read his blog, Merk's Works, and follow him on Twitter @scottmerkin. This story was not subject to the approval of Major League Baseball or its clubs.