Revere sees time in left field for Phils
Former center fielder's position switch opens opportunities for Herrera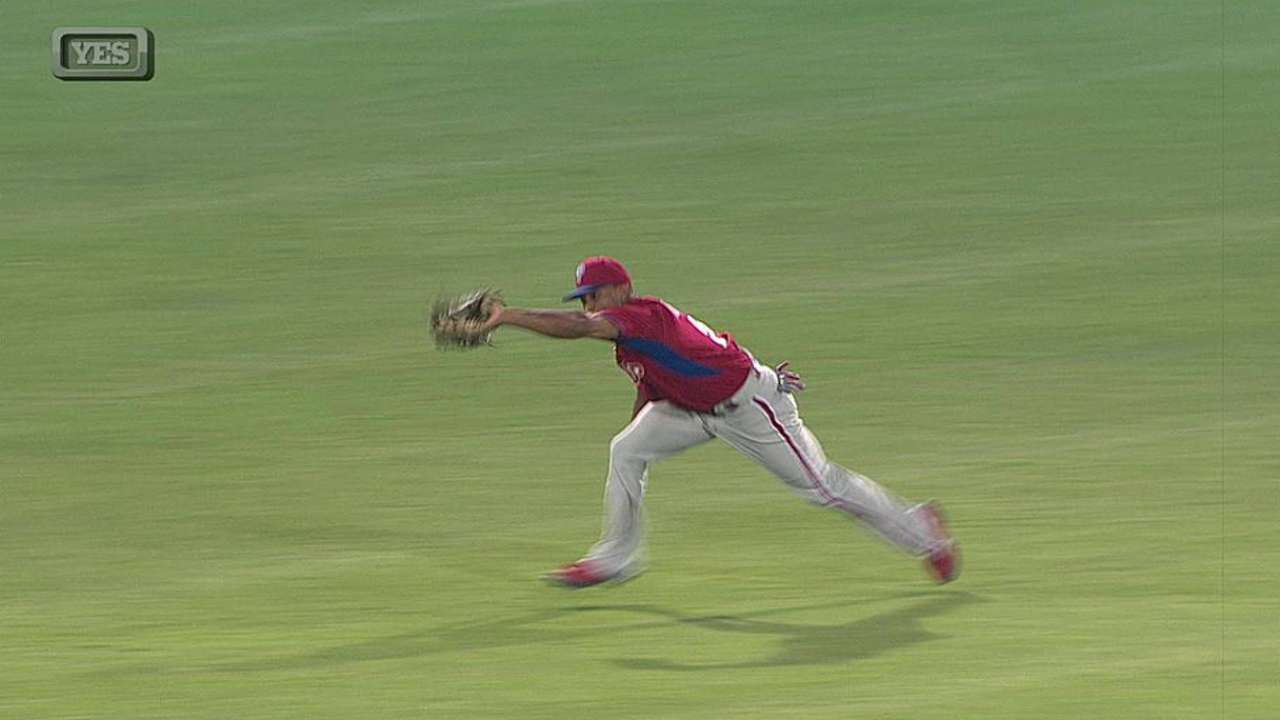 CLEARWATER, Fla. -- Ben Revere received word Friday morning that he would be spending some time in left field. So when the Phillies hit the road to Bradenton, Revere hit the field to work at a position he hasn't played in nearly three years.
Revere started Saturday's 6-3 loss to the Blue Jays in left field, with Odubel Herrera in center field. They're slated to line up the same way against the Red Sox on Sunday.
Revere has exclusively played center field for the Phillies. He spent 21 games in left with the Twins from 2010-12, and he played 52 games there in the Minors.
Could this change be permanent?
"Never know. You never know," Revere said Saturday morning. "Definitely a lot of changes this spring and everything, so if it's permanent, got to be ready for it."
Revere began getting ready for the idea on Friday, estimating that he fielded 100 balls either hit by Minor League coaches or fed into a machine.
It will be an adjustment for Revere, but he seemed to be taking it well.
"I'm ready for it. Just something to help get some guys in the lineup, get some bats in the lineup," Revere said. "If it's something I have to do, I have to do [it.] If they move me back to center, I'll be ready for it. But if I play left, I'll be ready for that, too.
"As long as I'm in the lineup, as long as I'm out there trying to help the team win, that's the biggest key for me."
If it sticks, the switch would provide more of an opportunity for Herrera, the Phils' Rule 5 Draft pick who has impressed so far this spring. Herrera is hitting .389 with four stolen bases.
"Kind of all part of Spring Training, to try some different things and some different possibilities," Phillies manager Ryne Sandberg said. "Something I wanted to look at. All part of Spring Training."
Herrera was lifted for a pinch-runner after reaching on a bunt single in the seventh inning on Saturday. He said afterward that his right knee was sore, but Sandberg said the substitution was precautionary.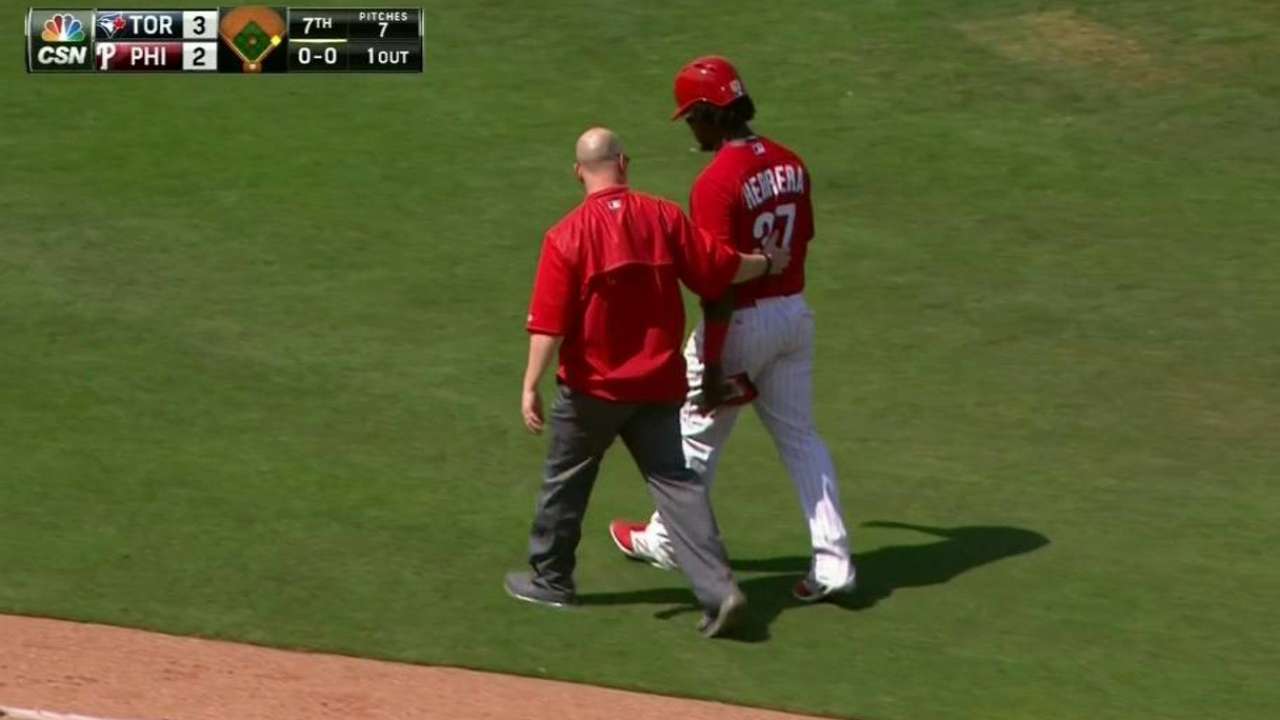 Before that, both players handled the adjustment well Saturday afternoon. Herrera unleashed a perfect throw to shortstop Freddy Galvis, who made an equally impressive throw home to tag out a runner in the sixth inning. Revere threw out a runner at home in the eighth as well.
"Herrera's arm, I think, plays in center field, and I think left field allows Ben's arm to play a little better," Sandberg said. "Overall, the defense we show [is] pretty solid in those two positions with that combination."
Adam Berry is a reporter for MLB.com. Follow him on Twitter at @adamdberry. This story was not subject to the approval of Major League Baseball or its clubs.