Wainwright aces every test in first action of spring
Righty says 'no question' he is on track for Opening Night start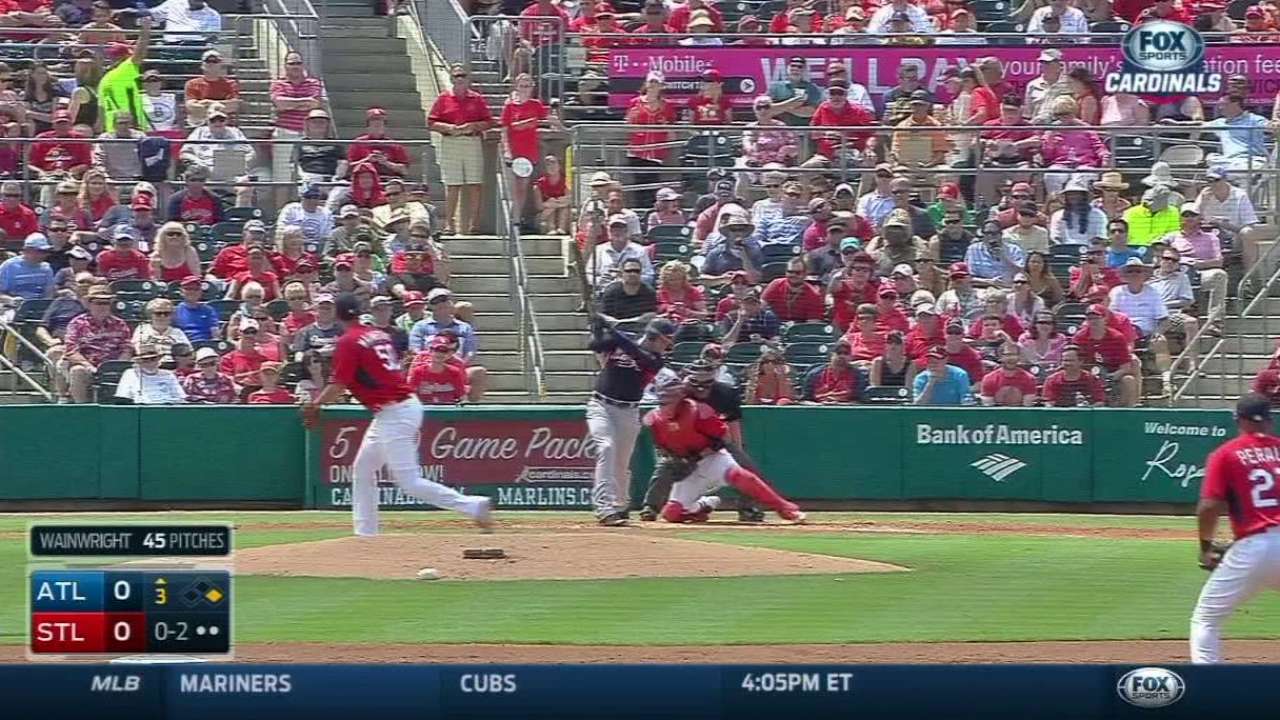 JUPITER, Fla, -- There was a ball hit to Adam Wainwright's left and one to his right. He batted. Eric Young Jr. faked a bunt that forced him to take a hard first step off the mound.
"I think he had every test that he needed to have," Cardinals manager Mike Matheny said after Wainwright pitched four innings of Saturday's 1-0 Grapefruit League win over a Braves split squad at Roger Dean Stadium.
Wainwright, who was making his first spring start while coming back from an abdominal strain, was equally upbeat. While insisting he never doubted that he'll be ready for the nationally televised Opening Night start against the Cubs at Wrigley Field, he was clearly pleased by his outing.
"I can now clearly say to everyone that there's no question in my mind. There wasn't, really, but for sure there's no question in my mind going forward that I'm out of the woods," he said. "I also know that Opening Day is a great thing. But if I wasn't ready, it wasn't worth risking weeks of the season re-aggravating something."
Back to business as usual for @UncleCharlie50. pic.twitter.com/I6mAw7esmH

- St. Louis Cardinals (@Cardinals) March 21, 2015
Wainwright scattered four hits and a walk and said he still has things he needs to work on.
"I think there's a lot of improvement yet to come. My offspeed was good. I'm mixing and matching well. But my fastball command has a long ways to go. I caused myself some deeper counts than I wanted several times. There are always ways to get better, but that was a glaring need.
"I just need to keep going out there and work on locating my heater better. When I'm doing that, I'm usually going to spin the ball pretty well. When I'm locating my fastball it's going to make things very tough on hitters."
Wainwright allowed back-to-back singles with two outs in the first, but got Braves right fielder Joey Terdoslavich to fly out to end the inning. After that, Atlanta didn't get another runner past first.
Said Matheny, simply: "Adam was great."
Paul Hagen is a reporter for MLB.com. This story was not subject to the approval of Major League Baseball or its clubs.