Bradley locked in at the plate this spring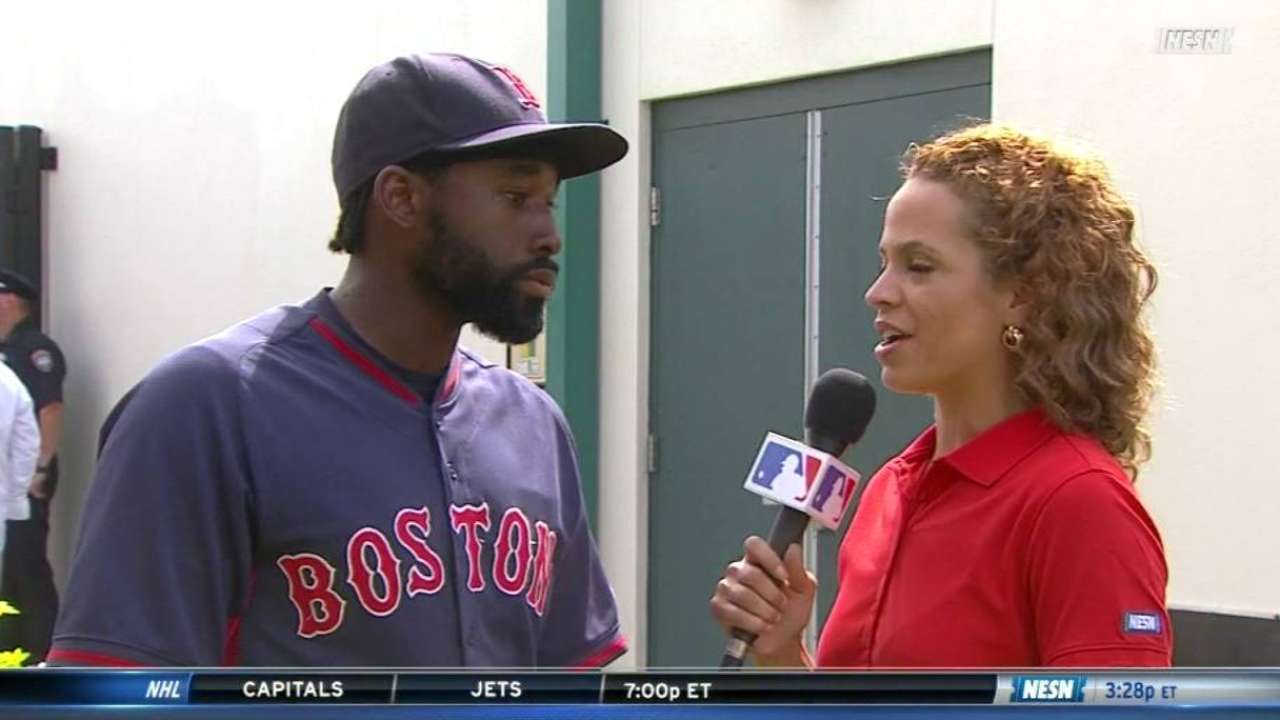 BRADENTON, Fla. -- Jackie Bradley Jr. might not have a place to play for the Red Sox, given their loaded outfield. But he's in a good place this spring.
The left-handed hitter, who had succeeded offensively at every level until hitting a major pothole in the Majors last year, has rediscovered the basics in his swing. The key was to shorten a stroke that got too long last year.
Facing an established lefty (Francisco Liriano) and righty (Mark Melancon), Bradley had a solid Saturday afternoon against the Pirates, going 2-for-2 with a double and a walk.
The center fielder is hitting at a .345 clip in Grapefruit League action.
"I feel real good," said Bradley. "I'm healthy and I'm focusing on trying to get ready for April."
Given how elite Bradley is as a defender, he would be a real asset to any team if his hitting could get close to the level it was at both in college and in the Minor Leagues.
"I think, throughout camp, he's come in and re-committed to an approach that has kind of been his trademark through college and through the Minor Leagues -- and you're seeing him use the whole field a little more," said Red Sox manager John Farrell. "I think it's allowed him to stay on some pitches against some left-handers. He's putting up some consistent at-bats."
In Bradley's first at-bat against Liriano, he laced a single up the middle. Just as impressive was the way he hung in during a second at-bat, as he worked a walk on a 3-2 count.
"Yeah, he's nasty," Bradley said of Liriano. "But I'm a confident person. I don't back down to anyone."
Clearly, Bradley didn't back down against Melancon, scorching a double off the wall in right in his final at-bat.
"He's a veteran, as well. He knows what he's doing," said Bradley. "It felt good. I think it was a changeup. I just put a good swing on it."
With Mookie Betts and Rusney Castillo ahead of Bradley on the depth chart in center -- and Shane Victorino expected to play right -- where does that leave Bradley?
At this point, the likeliest option seems to be Triple-A Pawtucket. But Bradley could also be traded if it helped the Red Sox address another need. Or, if Allen Craig got traded, perhaps that would open up a spot for Bradley on Boston's roster.
It's a lot to think about, but Bradley is trying to keep his blinders on.
"Just trying to get ready for April," Bradley said. "I'm not really focusing on a mix or anything. When the real season starts, that's when I want to go."
Ian Browne is the Red Sox beat reporter for MLB.com. He has been covering the club since 2002.
This story was not subject to the approval of Major League Baseball or its clubs.