Gallardo surprised by offseason trade to Texas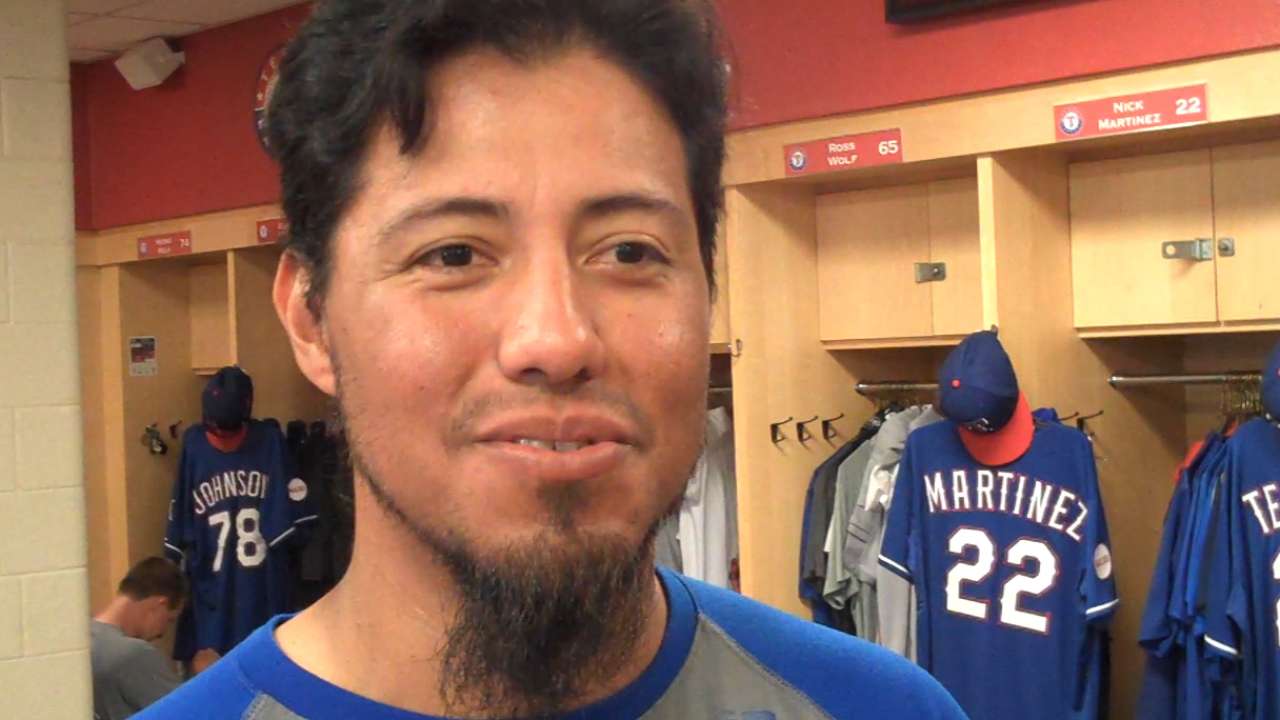 SURPRISE, Ariz. -- Yovani Gallardo was running on a treadmill at home on the January day his caller ID announced that Brewers general manager Doug Melvin was on the line.
"I had a pretty good idea of what it was about," Gallardo said. "It's not official until I get that phone call."
It was a trade to the Texas Rangers and a chance to pitch the final year of his contract about 30 minutes from Gallardo's home in Fort Worth, Texas. Seeking to shed payroll, to open a spot in the starting rotation for 25-year-old Jimmy Nelson, and to reap something in return for Gallardo rather than see him depart via free agency after the season, the Brewers parted with their longest-tenured pitcher in exchange for three younger players. One of them, infielder Luis Sardinas, hit a two-run single against his former team on Saturday when the Brewers and Rangers played at Surprise Stadium.
When he ran into Gallardo at Bob Uecker's charity golf outing on Monday, Melvin was able to tell Gallardo in person how difficult it was to make the deal.
"I remember seeing him throw on this mound over here when he was 17 years old," Melvin said this week, motioning out the window of his office at Maryvale Baseball Park. "It's like watching your kids grow up. Then you send them off."
Gallardo was stunned.
"I was in that organization since 2004 -- that's going on 11 years," he said. "I definitely understand. It was a little bit different for me as well, but I feel like I did everything I could have for that organization. This is a fresh start for me, a new chapter in my career, and I'm excited.
"Once I heard the news, I was kind of glad it was Texas, to be honest, to have that opportunity to be home and pitch in front of my family and friends the whole year. It doesn't happen very often, we all know that. I'm excited. After the phone call wore off that I received from Doug, you don't know what to think. But I'm excited. It's a great group of guys in here and I've enjoyed camp so far."
Gallardo has been reunited with Rangers pitching coach Mike Maddux and first baseman Prince Fielder, each of whom were already Brewers when the team selected Gallardo in the second round of the 2004 First-Year Player Draft. He made it to the Majors in 2007, went 89-64 with a 3.69 ERA over parts of eight seasons, became the Brewers' all-time strikeout leader and started five consecutive Opening Days.
Kyle Lohse will get that assignment in Gallardo's absence.
"Any time you have an established veteran who grew up in the organization and was your No. 1 starter for all those years, you miss having him around," Brewers manager Ron Roenicke said. "Very steady and consistent. When you needed a big game from him, he'd go out and have a big game."
Gallardo is now a candidate to start on Opening Day for the Rangers, who lost ace Yu Darvish to Tommy John surgery.
Gallardo missed facing the Brewers by only one day, as he is scheduled to pitch on Sunday against the Mariners.
"I was kind of looking forward this year to being over there [with the Brewers], just because they had the same group of guys coming back for another year, another shot at it," Gallardo said. "When I was traded it kind of threw me off-guard a little bit.
"I just wish all the guys the best and hope they stay healthy, and that they go out there and play like they've always done. I know for a fact that I'm going to do the same here."
Adam McCalvy is a reporter for MLB.com. Read his blog, Brew Beat, and follow him on Twitter at @AdamMcCalvy. This story was not subject to the approval of Major League Baseball or its clubs.