Gaudin exits start after feeling 'tweak' in biceps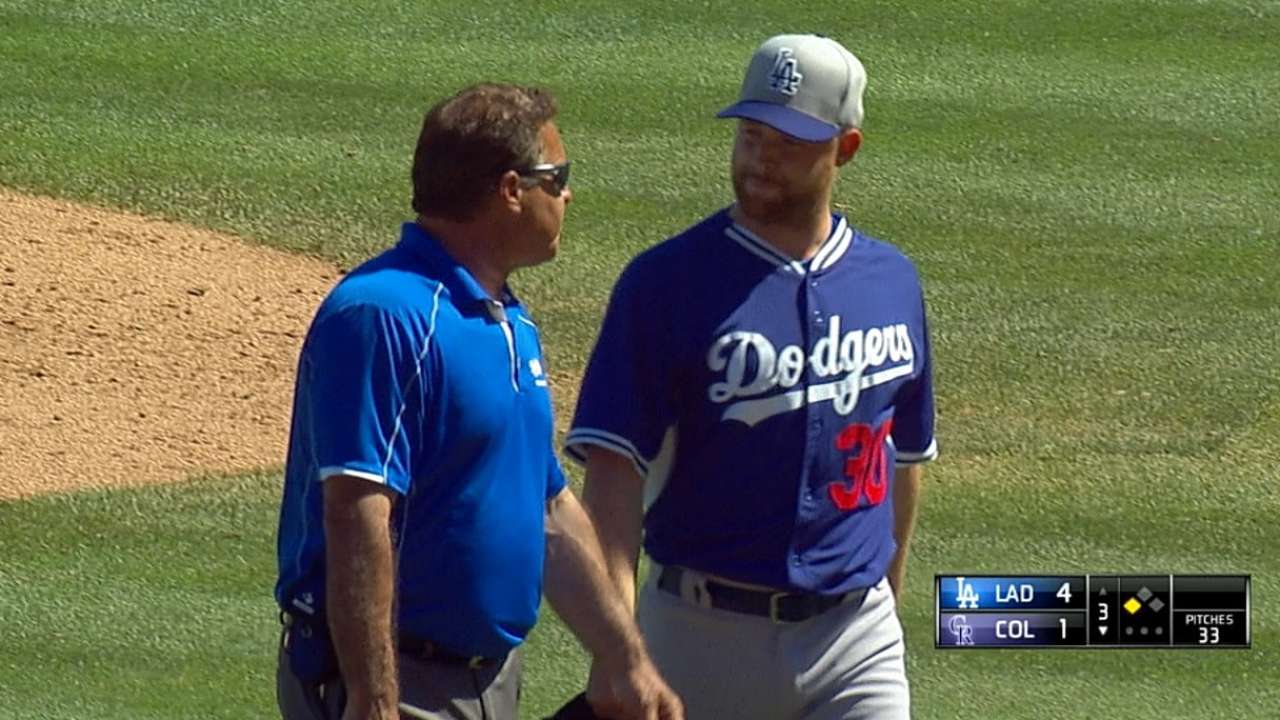 SCOTTSDALE, Ariz. -- Dodgers starting pitcher Chad Gaudin, trying to make the club on a non-roster invite after missing last year while recovering from neck surgery, exited Saturday's game against the Rockies in the third inning after he felt a "tweak" in his right biceps.
After pitching two perfect innings, Gaudin allowed a double to Nick Hundley and a triple to Trevor Story. Catcher A.J. Ellis went to the mound, then motioned to the dugout. Vice president of medical services Stan Conte and manager Don Mattingly came to the mound, and the decision was quickly made to replace Gaudin.
Mattingly said Gaudin told him, "it felt like a funny bone."
Gaudin downplayed the injury and said he didn't think it was related to last year's rare condition that led to a failed physical with Philadelphia.
After that, he underwent a foraminotomy procedure by back specialist Dr. Robert Watkins to relieve pressure on a nerve in his neck that caused a loss of feeling and dexterity in his hand and forearm. He missed the entire season.
In 2013 with the Giants, Gaudin went 5-2 with a 3.06 ERA as a swingman who started 12 games.
He said he first felt Saturday's discomfort while pitching in the second inning and it continued to bother him while facing the first two batters of the third when he decided it wasn't worth pitching through discomfort in Spring Training.
"I think it's a little tweak," he said. "I'll resume tomorrow. I felt no pain. I'm fine now. I just didn't want to pitch through it."
The right-hander, who turns 32 on Tuesday, was starting in place of David Huff, whose assignment was pushed back a day after the birth of his child. Sergio Santos replaced Gaudin in the game.
Gaudin was being considered for the Opening Day roster because of his ability to pitch multiple innings and was mentioned as a possible fill in for Hyun-Jin Ryu, who is likely to start the season on the disabled list with left shoulder tightness.
Ken Gurnick is a reporter for MLB.com. This story was not subject to the approval of Major League Baseball or its clubs.