Hamels hoping to pitch deeper into games
Lefty feels good vs. Blue Jays, working on fastball command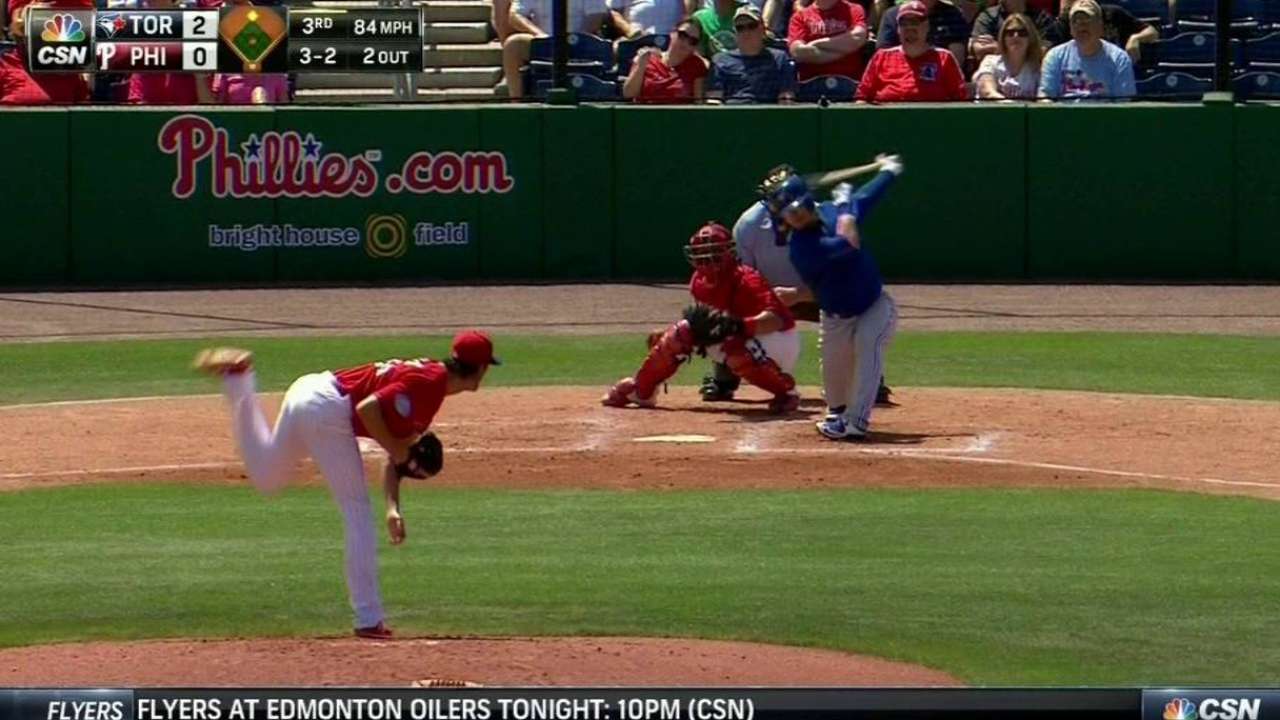 CLEARWATER, Fla. -- Opening Day is a little more than two weeks away, and Cole Hamels has yet to throw four innings in a Grapefruit League game. It's not that Hamels hasn't built up his pitch count; he just hasn't been able to pitch deep enough into games.
Hamels threw 72 pitches in Saturday's 6-3 loss to the Blue Jays at Bright House Field. His pitch limit was 75, so he came out after 3 2/3 innings. The left-hander's velocity is fine, Phillies manager Ryne Sandberg said, and Hamels said he felt so good that he was "shocked" when Sandberg said it was time to come out of the game.
But Hamels and Sandberg said the lefty has some work to do before his fastball command is where it should be.
"I felt like it got better. It's nowhere where I expect it to be, but that's what I have to work toward the next two weeks," Hamels said. "That's what I'm going to build up to, is really to be able to focus and be able to get the fastball location down more of the nine out of 10 [times], as opposed to probably where I'm at -- at two out of 10."
"Cole threw a lot of pitches for his four innings. He had a lot of deep counts. Not sharp yet with control or command," Sandberg said. "That doesn't allow him to really get to his offspeed stuff in counts where he would like to have it. A lot of pitches in four innings."
Of course, Hamels' 7.59 ERA this spring is no indication of the pitcher he is during the regular season. He had a spring ERA of 6.67 in 2011 then went 14-9 with a 2.79 ERA during the season.
Sandberg even said there were "no concerns for Cole as far as I'm concerned."
But when it comes to preparing for the season, Hamels would obviously like to pitch deeper into games to build up his stamina.
"Just want to be able to get out there and get enough up-down innings, which I think is the next step," Hamels said. "I think that would probably be everybody's goal as a starter."
Adam Berry is a reporter for MLB.com. Follow him on Twitter at @adamdberry. This story was not subject to the approval of Major League Baseball or its clubs.