Versatile, valuable Blanco a match with Giants
Outfielder hopes to finish career with San Francisco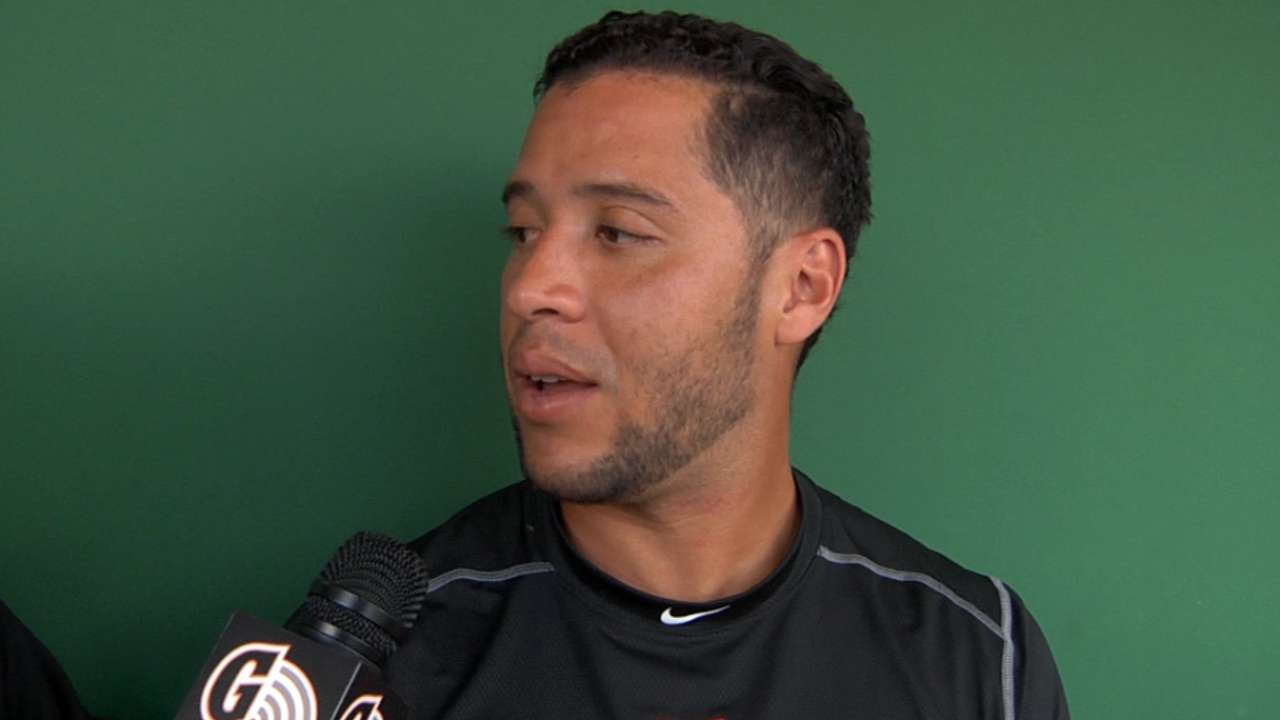 TEMPE, Ariz. -- Gregor Blanco got used to moving around.
Between playing for three organizations in the first four years after his Major League debut and bouncing among all three outfield positions, Blanco was seemingly always on the move.
However, entering his fourth season with the Giants, Blanco has found stability. He's found a home.
"It's awesome how this team gave me an opportunity and made me feel at home," Blanco said. "When I came here in 2012, everybody welcomed me. ... Everybody here seems to welcome everybody pretty quick. The manager, coaches, they all trusted me and I really appreciate it. I really feel at home."
The 31-year-old outfielder still moves from position to position in the outfield, but now he's doing it in the same uniform.
Blanco is listed as the Giants' fourth outfielder, but in reality he's hardly a backup.
The outfielder has averaged 143 games over his three seasons in San Francisco and has been extremely valuable in some of the Giants' most memorable moments.
Blanco filled in and started every game in each of the Giants' last two World Series championships and made a famous diving catch in 2012 to preserve Matt Cain's perfect game.
That diving catch was just one of several plays Blanco has made defensively, an aspect of his game that he takes a lot of pride in.
"It feels awesome, especially when people can see that, see how you really work," Blanco said. "To me, it's a privilege when people say, 'Oh, this guy can play good defense' because it's a thing that helps to win ballgames."
Spending time at various positions and working to excel at all three isn't easy. A typical player can spend all of his time practicing one position, but Blanco does not have that luxury.
Blanco has to be ready to play all three outfield spots, but he has found a way to make it work.
"I really try to work on my first steps," Blanco said. "I always try to create angles like if I'm playing center, left or right field and I try to make my first step consistent so I can go for the ball and have a good read on the ball."
Over six Major League seasons, Blanco has made just seven errors and has a career fielding percentage of .993.
Blanco's past has been invaluable to the Giants' recent string of success, and the outfielder, signed through the 2016 season, hopes he can prove just as valuable in the team's future.
"I really hope that I [finish] my career here," Blanco said. "I don't know how many more years -- I'm already 31 years old, but I feel I can play until I'm 40. I feel good, I eat good, I eat healthy. I feel like I'm still 25."
William Boor is a reporter for MLB.com. Follow him on Twitter at @wboor. This story was not subject to the approval of Major League Baseball or its clubs.