Zimmermann plunked in strong outing vs. Marlins
Nats righty allows a run over five innings, exchanges words with Alvarez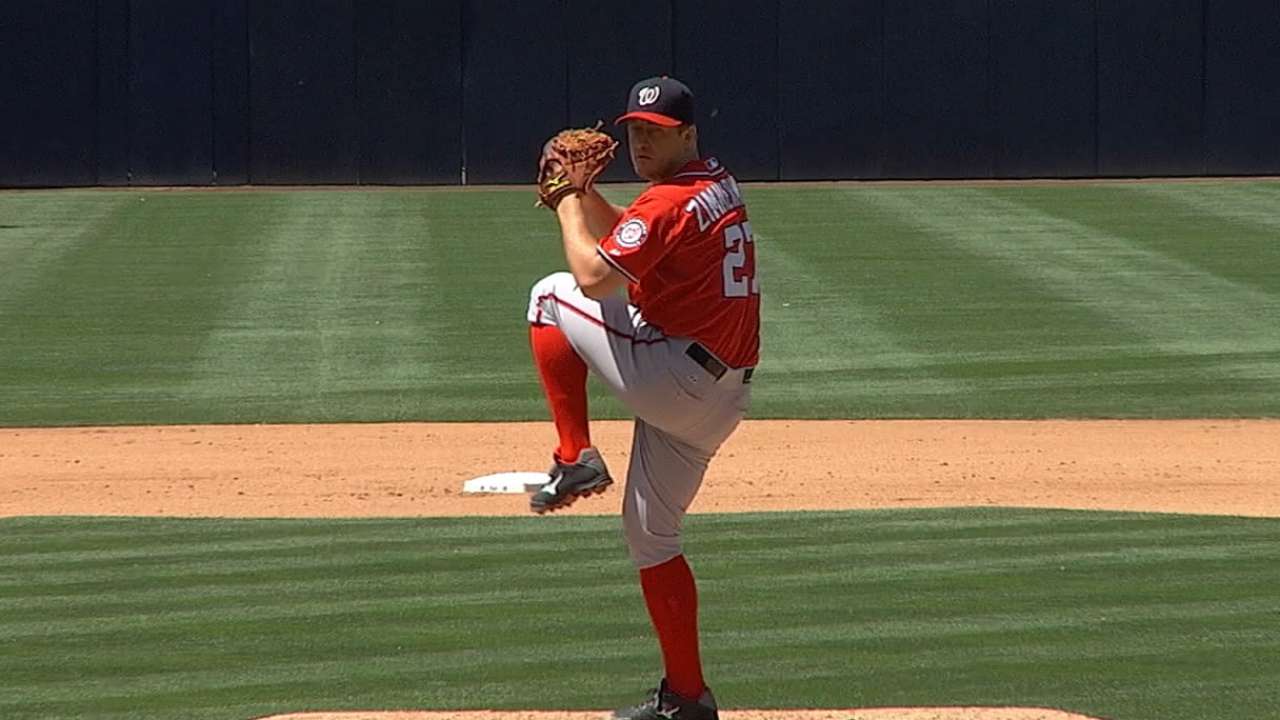 VIERA, Fla. -- Jordan Zimmermann was not pleased with the amount of hits he gave up during his fourth Grapefruit League start, but he was even more upset after being hit in the left elbow by a pitch from Henderson Alvarez in the second inning of Nationals 4-2 victory over the Marlins on Saturday.
When Alvarez came to the plate in the fifth, Zimmermann brushed him back with a pitch low and inside. Alvarez laid down a sacrifice bunt later in the at-bat, and on his way back to the dugout, the two exchanged words.
"He stared me down, and I turned around and said, 'Can I help you?'" Zimmermann said. "And he didn't say anything, and I said, 'Get back to the dugout where you belong.'
"I'm a pitcher; I'm not going to do much damage, so just throw it over the middle. Just throw it over the middle, I'm not going to hurt you. It's just frustrating when he throws a sinker up and in like that."
Alvarez said after the game that he did not hit Zimmermann on purpose.
"It was a sinker that got away," Alvarez said through an interpreter. "It was two outs, the pitcher is up. It's not something I did intentionally. It's just a pitch that got away from me."
Otherwise, Zimmermann turned in another solid outing. He gave up eight hits, but only one run with four strikeouts in five innings. Zimmermann felt like he could have stayed in after throwing 63 pitches, but the Nationals did not want to push him past five frames.
"My arm feels good, it feels strong and I'm ready to go," Zimmermann said.
Washington stopped using the designated hitter through this turn in the rotation to allow their pitchers to work on bunting, so Zimmermann was not happy that he was drilled while trying to make an out, especially by a pitcher normally with good control. Nationals manager Matt Williams said he did not feel the need to say anything to Zimmermann about the exchange.
"Boys will be boys," Williams said. "A little into Spring Training, everybody's a little testy."
Jamal Collier is a reporter for MLB.com. Follow him on Twitter at @jamalcollier. This story was not subject to the approval of Major League Baseball or its clubs.