Milone's one bad inning tilts day in May's favor
Fifth-starter candidates both look sharp, but lefty endures four-run frame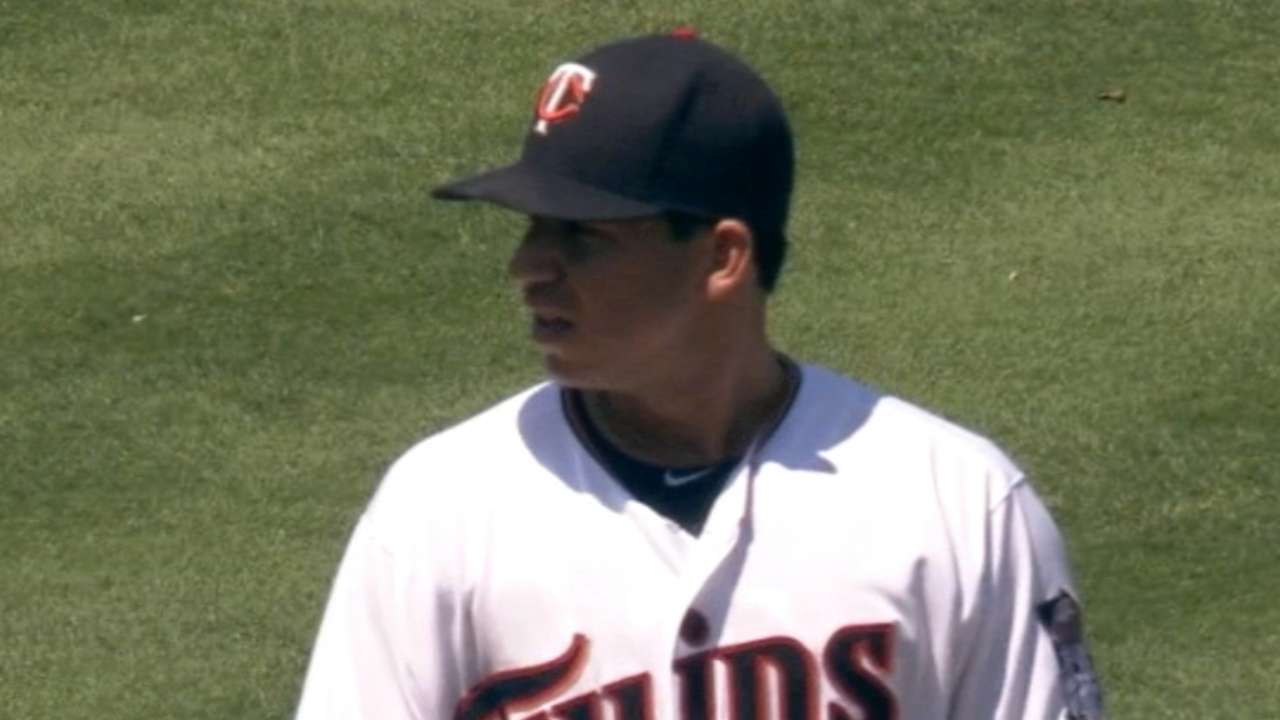 FORT MYERS, Fla. -- Two of the three pitchers competing for the fifth spot in the rotation for the Twins were on display in split-squad action on Saturday, as left-hander Tommy Milone started against the Orioles at Hammond Stadium, while right-hander Trevor May started against the Rays in Port Charlotte, Fla.
May outperformed Milone, as he tossed four hitless innings, allowing just one runner to reach on an error while striking out three to lower his ERA to 1.50 in six Grapefruit League innings. Milone was hurt by one bad pitch, as he gave up four runs on four hits over four innings, but three of those runs came on a homer from Steve Pearce on a hanging breaking ball in the second inning.
May, who is also competing with Mike Pelfrey, is a bit behind the others in innings, because he missed time early in camp with the flu. But he said his goal is try to make it as tough on the coaching staff as possible to make a decision.
"I'm just going out and trying to prove that I can play at the level they need me to play at and fill a spot and be a part of a team that runs five guys out there that can win a game every single day," May said. "That's what my goal is, and I figure wherever I am -- whether I'm in the Minor Leagues or Major Leagues -- you just have to do it to the best of your abilities on any given day. And I know that's what the other guys are doing, too. So I think the best-case scenario, we make it a very hard decision and you can't lose no matter what way you go."
Milone entered not having allowed a run all spring, but his ERA rose to 4.00 in nine Grapefruit League innings. He was hurt by the four-run second, but was able to settle down and retire the final seven batters he faced.
"You take that one inning out and it looks pretty good," Milone said. "But that's the name of the game, though. You're going to have bad innings. But it's still reality and a part of baseball and you have to deal with it."
Milone, like May, said he's trying not to put too much pressure on himself over the final two weeks of Spring Training, and he has been pleased with the way he's pitched so far.
"You can't really worry about it, because it's not something you can control," Milone said. "I just have to go out there and just pitch like I pitch. For me, this outing, the second inning was the bad one, but to come back and throw up zeros in the last two and get through it and not sulk about it, was a big plus. Obviously, the line score isn't going to look well, but I was able to battle through it."
Rhett Bollinger is a reporter for MLB.com. Read his blog, Bollinger Beat, and follow him on Twitter @RhettBollinger. This story was not subject to the approval of Major League Baseball or its clubs.