Bryant gaining confidence as spring spree continues apace
Cubs prospect logs third two-homer game this month in win over M's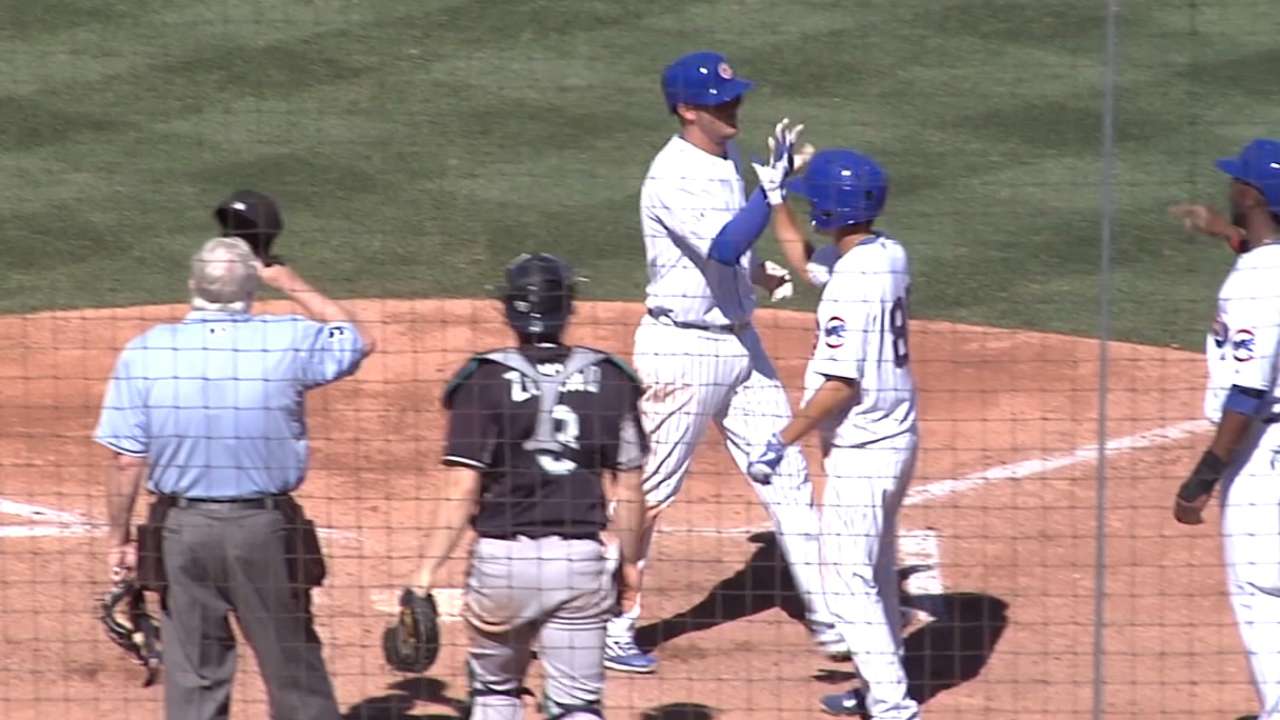 MESA, Ariz. -- Kris Bryant is making a statement this spring, and that's exactly what he wants to do.
The Cubs' top prospect belted his seventh and eighth spring home runs, most in the Major Leagues, including a two-run shot off Mariners ace Felix Hernandez Saturday. It's his third two-homer game this spring.
One of the 15,323 fans at Sloan Park sarcastically shouted: "Theo, I don't think he's ready yet," in reference to the debate over Bryant and service time. He was referring to Theo Epstein, Cubs president of baseball operations, who will make the final decision as to when Bryant will be promoted to the big leagues. Epstein was watching the game from a box in the suite level.
"I've said all along, I'm playing with a chip on my shoulder and at the same time, having fun," Bryant said. "You can't beat baseball right now -- the sun shining. Hopefully, we get the win today."
Which they did. Saturday was Bryant's 10th Cactus League game. Last year, he appeared in 11 games and went 2-for-18, with two homers. He's now 12-for-25 with eight home runs and 14 RBIs.
"Last year, I was struggling to get going," said Bryant, who went on to club 43 homers at Double-A Tennessee and Triple-A Iowa in 2014. "I got my first spring out of the way last year, and knew what I needed to do this year, and I did that in the offseason. I did what the front office told me and what I needed to work on, and I did that. I couldn't be more happy with where I am right now."
The Cubs have maintained that players have to earn the spots on the roster. That's Bryant's goal.
"Absolutely -- I'm still here, I'm still standing," he said. "I come out here every day to try to get better at third base. I'm really confident over there and at the box right now. I'm seeing the ball pretty good. I don't know what else I can say."
He's obviously not intimidated facing pitchers like Hernandez. With a runner at second and one out in the Chicago first, Bryant launched a 2-2 pitch from the Mariners lefty far back onto the left-field berm.
"The guy's a Cy Young award winner, he's their ace, and that definitely gives me a whole lot of confidence heading into the season," Bryant said. "I don't care of it's Spring Training or October, I go up there and play as hard as I can and hopefully show them what I got."
Hernandez's take?
"Big power. Nice," Hernandez said. "He looked good at the plate. He hit bad pitches. It's Spring Training."
With two on and one out in the fourth, Bryant connected again, this time off right-hander Kevin Correia, and again sent fans on the left-field berm running for a souvenir.
Bryant had been sidelined with fatigue in his right shoulder, and this was his first game at third since March 12. The shoulder passed all the tests as he made four clean throws to first. Next up will be some work in the outfield.
Joe Maddon talked to Bryant this week about what he needs to work on. The Cubs manager also told Bryant he can't wait to shake his hand after they win a World Series.
"That's been my goal all along," Bryant said. "To win a championship in Chicago is something that will be absolutely crazy and something we all want to be part of. that's what we're working so hard on."
Carrie Muskat is a reporter for MLB.com. She writes a blog, Muskat Ramblings, and you can follow her on Twitter @CarrieMuskat. This story was not subject to the approval of Major League Baseball or its clubs.