Perkins feeling good after Grapefruit League debut
Twins closer believes he is over oblique issue, should be ready for Opening Day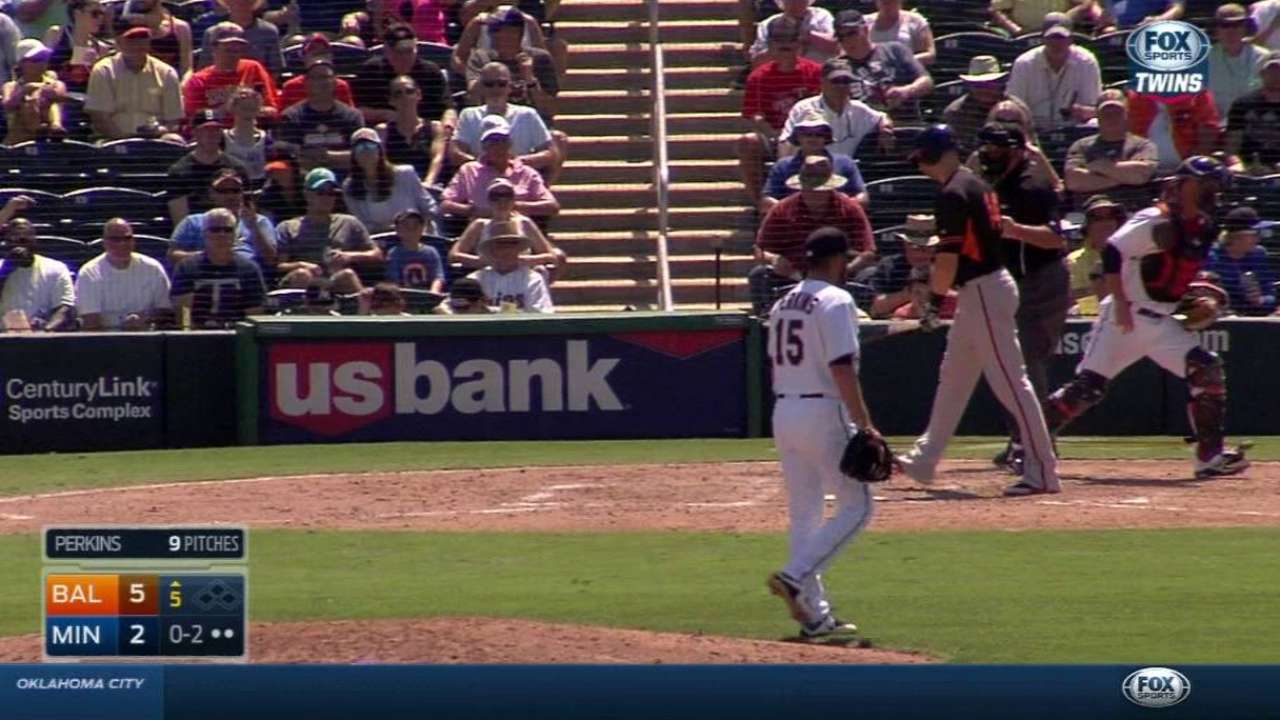 FORT MYERS, Fla. -- After missing time with a mild right oblique strain, Twins closer Glen Perkins made his Grapefruit League debut against the Orioles on Saturday at Hammond Stadium.
Perkins went one inning, giving up one run on a solo homer from Delmon Young on a slider, but was otherwise solid. He struck out two and needed just 10 pitches to get through the inning. It was the third appearance this spring for Perkins, who threw a scoreless inning against the University of Minnesota on March 4 and another scoreless inning against Triple-A Pawtucket in a Minor League game on Thursday.
"I thought I bounced back well from Thursday to Saturday, which is good," Perkins said. "I felt good out there. I just made one bad pitch to Delmon. It was about the fourth slider I've thrown in a game since last fall, so that happens."
Perkins, whose fastball registered at 93 mph, also said he isn't worried about his velocity, as it was just his first Grapefruit League outing.
"I'm sure there's a little more in the tank but I just want to feel healthy right now," Perkins said. "But I felt good today and hopefully [Sunday] I feel just as good."
Perkins said the plan is for him to pitch again on Tuesday against the Blue Jays, and he believes he'll have plenty of time to get ready for Opening Day on April 6 against the Tigers.
"I feel 100 percent, so I think I can move on from the oblique and get ready for the season," Perkins said. "I don't know that I have to really catch up. I think I'm OK. I think have six or seven more appearances, which is plenty."
Rhett Bollinger is a reporter for MLB.com. Read his blog, Bollinger Beat, and follow him on Twitter @RhettBollinger. This story was not subject to the approval of Major League Baseball or its clubs.