Relationship between Dickey, Martin progressing
Gibbons deciding how to utilize pair during regular season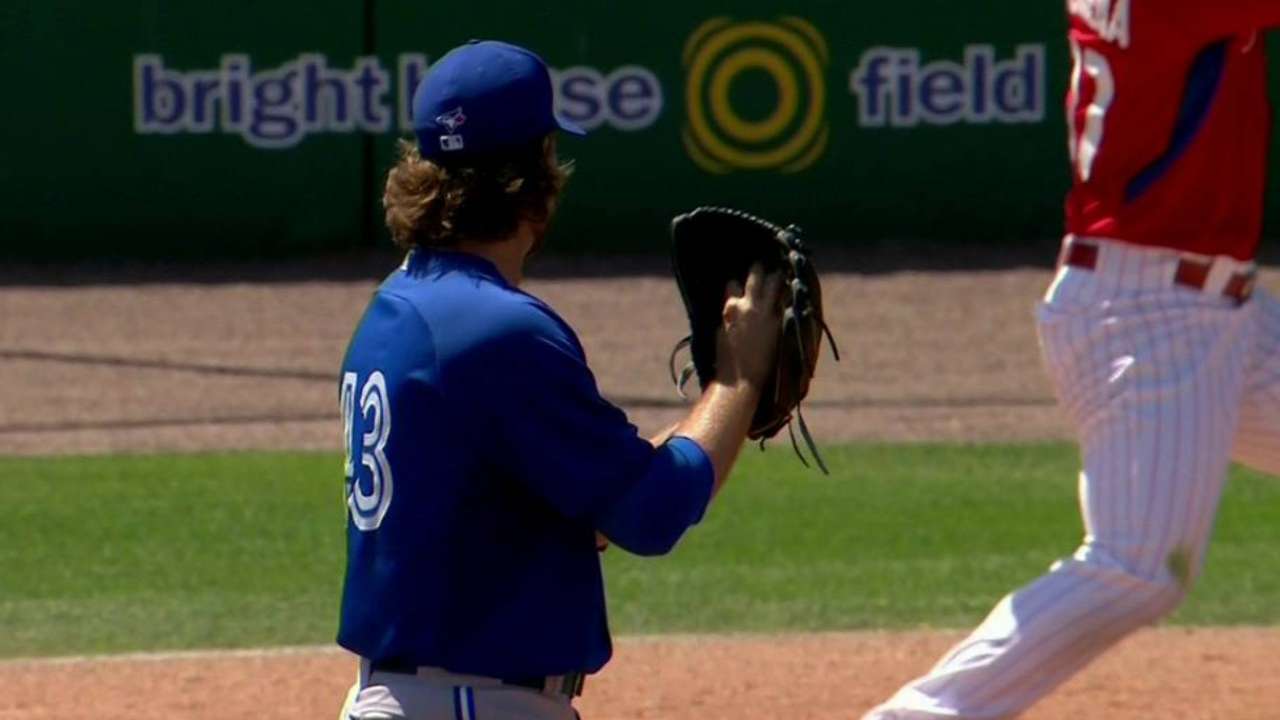 CLEARWATER, Fla. -- The relationship between R.A. Dickey and Russell Martin continues to be a work in progress. On Saturday, Martin dropped to his left knee on every pitch in an effort to handle Dickey's elusive knuckleballs.
It worked so well Martin said he will probably continue catching Dickey on one knee from now on.
"It was just something I thought about," Martin explained Saturday as the Blue Jays rode home runs by Jose Reyes, Jose Bautista and Josh Donaldson to a 6-3 victory over the Phillies. "It's something I used to do with sinker-ball pitchers."
"He's been fantastic," Dickey said when asked how his relationship with Martin is progressing. "There's nothing standing in the way of my saying he can handle it [the knuckleball] now. He wants to be good at it -- which is three-quarters of the battle."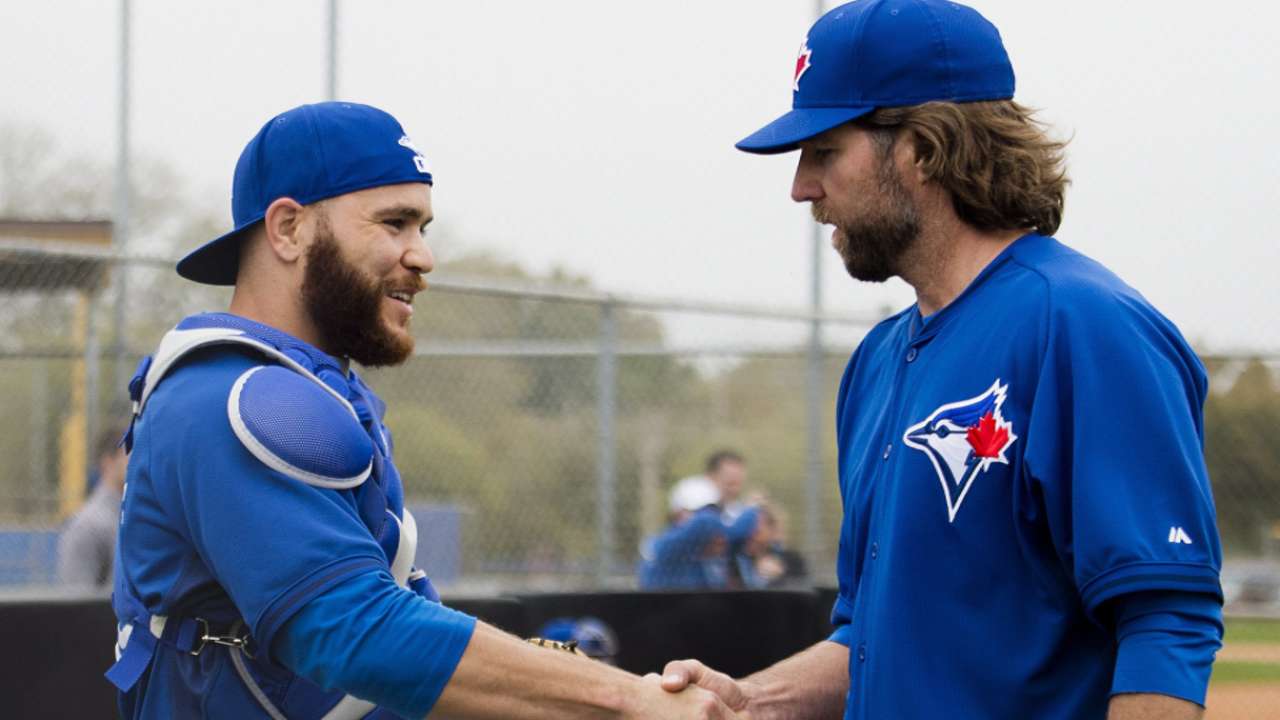 Dickey said after the game that he wasn't even aware Martin was dropping to one knee.
"Whatever gives him the best chance of catching the ball in the strike zone, that's what I want," Dickey said.
"I know I can do it," Martin said. "That's what I wanted to achieve this spring. Hopefully, Dickey is comfortable I can do it."
"It's still wide open," manager John Gibbons admitted when asked whether Martin will catch Dickey during the regular season and whether the Blue Jays will carry two or three catchers to open the season. "You figure Russ will catch 130, 140 games -- that's a full season for a catcher. The question is, how do we best utilize those games? Would it be more beneficial for Russ to catch Dickey, or for him, with his knowledge and his experience, to catch the other four guys?
"That's something I've been thinking about," Gibbons admitted. "We've discussed it. I think he'll do very good catching Dickey. But the question is, how do we best utilize him?"
If Martin doesn't catch Dickey, Josh Thole will.
"He [Thole] is really, really good at it," Dickey said. "He just has a gift for it."
Dickey was also pleased with the progress he has been making in preparing for the regular season.
"I was happy with the way the pitches came out of my hand today," he said. "I had a good release point, and the ball was moving a lot. I'm still a couple of ticks below where I want to be when the season begins, but that's intentional. I'm building into it. That was my plan going into Spring Training. I hoped to be peaking at the right time."
Dickey allowed the Phillies two runs on five hits in six innings of work -- his longest stint of the spring.
"Spring Training results for a pitcher in my position are worthless -- they really are," Dickey insisted.
Gibbons has not yet announced the Blue Jays' starting rotation, but it probably will be Drew Hutchison, Dickey, Daniel Norris, Mark Buehrle and Aaron Sanchez, in that order.
That would allow Hutchison, who has very good numbers against Baltimore, to face the Orioles in the second series of the year, allow Dickey to make starts 2-4 in the Dome and allow Buehrle to avoid Yankee Stadium, where he has struggled in years past.
Jim Hawkins is a contributor to MLB.com. This story was not subject to the approval of Major League Baseball or its clubs.