Sale amped up to get on field and go to work
Lefty's next step is to test his right foot by fielding grounders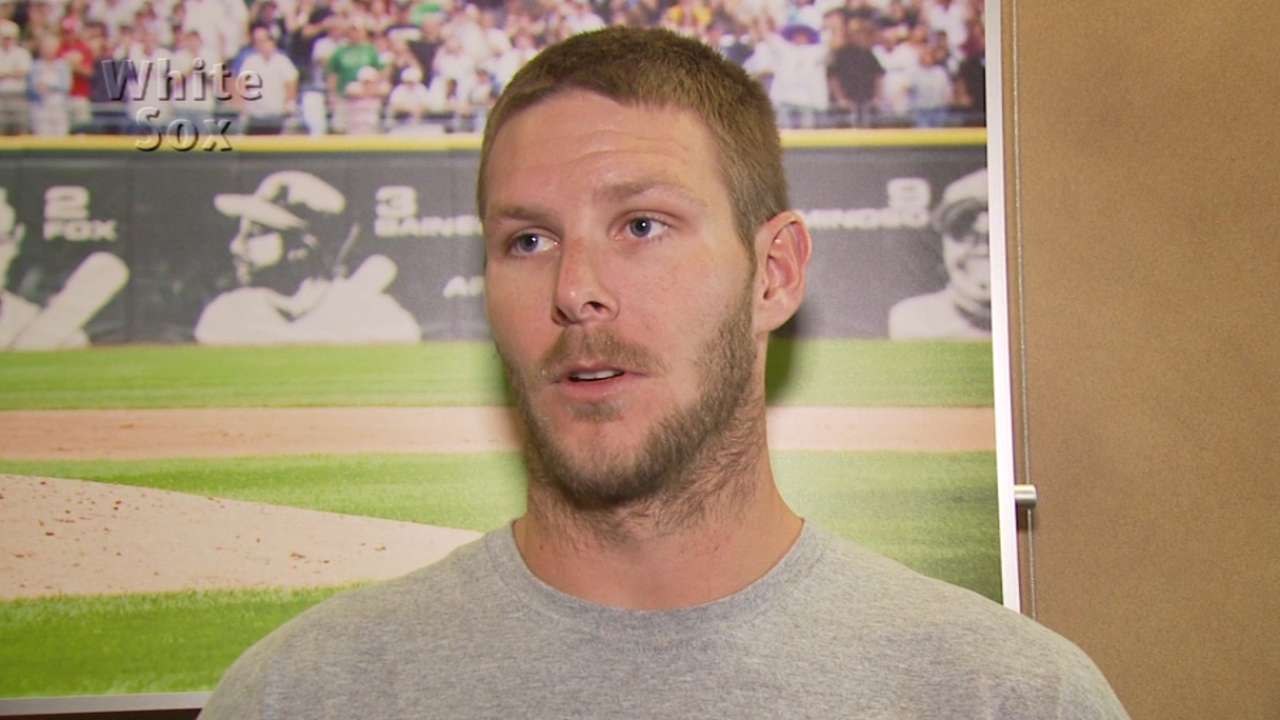 GLENDALE, Ariz. -- It's safe to say that Chris Sale wants back into consistent live-baseball action sooner than later after being sidelined by an avulsion fracture in his right foot during an accident at his Arizona home on Feb. 27.
Sooner, actually, as in last week some time for the stir-crazy All-Star.
"I've watched every episode of Breaking Bad in I think 18 days and am now starting to Google knock-knock jokes," said a smiling Sale during his Saturday morning media briefing. "So it's safe to say I'm losing my mind a little bit."
Sale's interview session came after what general manager Rick Hahn termed a really good day for the left-hander on Friday, when Sale threw four sessions of 15 pitches each during live batting practice. Everything went well, with Sale adding that his foot and ankle felt fine pitching.
On Monday, Sale will get mobile with ground balls and side to side stuff and try to run on the injury for the first time other than working on the underwater treadmill. That test should give Sale a greater understanding as to where he stands in terms of a comeback, with the ultimate short-term target of getting into a Cactus League contest before Spring Training comes to a close.
"That's not my decision, but I'd like to be able to face hitters before we get to the season for sure," Sale said. "I could pitch right now. It's just the moving around part. I would say I'm closer than … farther."
When asked how long he would need to get ready, from arm strength to having the foot healthy again, Sale only could respond with being ready to go when the injury is 100 percent. He has until April 12 before five starters are needed by the White Sox and then April 21 until a No. 5 is needed again.
Until then, Sale will continue working hard, watching TV shows during rehab work and looking up bits of humor such as Saturday's offering: Why are there no knock-knock jokes about America? Because freedom rings.
The comedy might not be HBO-special worthy, but Sale remains exceedingly upbeat with the feeling that he's ahead of schedule from the original prognosis of three weeks away from baseball activity.
"No, I didn't think I'd be throwing on a mound. I figured three weeks was like, 'OK, we can start moving around,'" said Sale, who really only took four days off before returning to his shoulder program two or three times per week. "It actually ended up being a lot better than I thought, being a little bit quicker. Not getting ahead of ourselves, but hopefully it keeps going that way and I'll be out there pretty soon."
Scott Merkin is a reporter for MLB.com. Read his blog, Merk's Works, and follow him on Twitter @scottmerkin. This story was not subject to the approval of Major League Baseball or its clubs.