Schugel making case for spot in D-backs' bullpen
Right-hander has six strikeouts in six scoreless innings in Cactus League play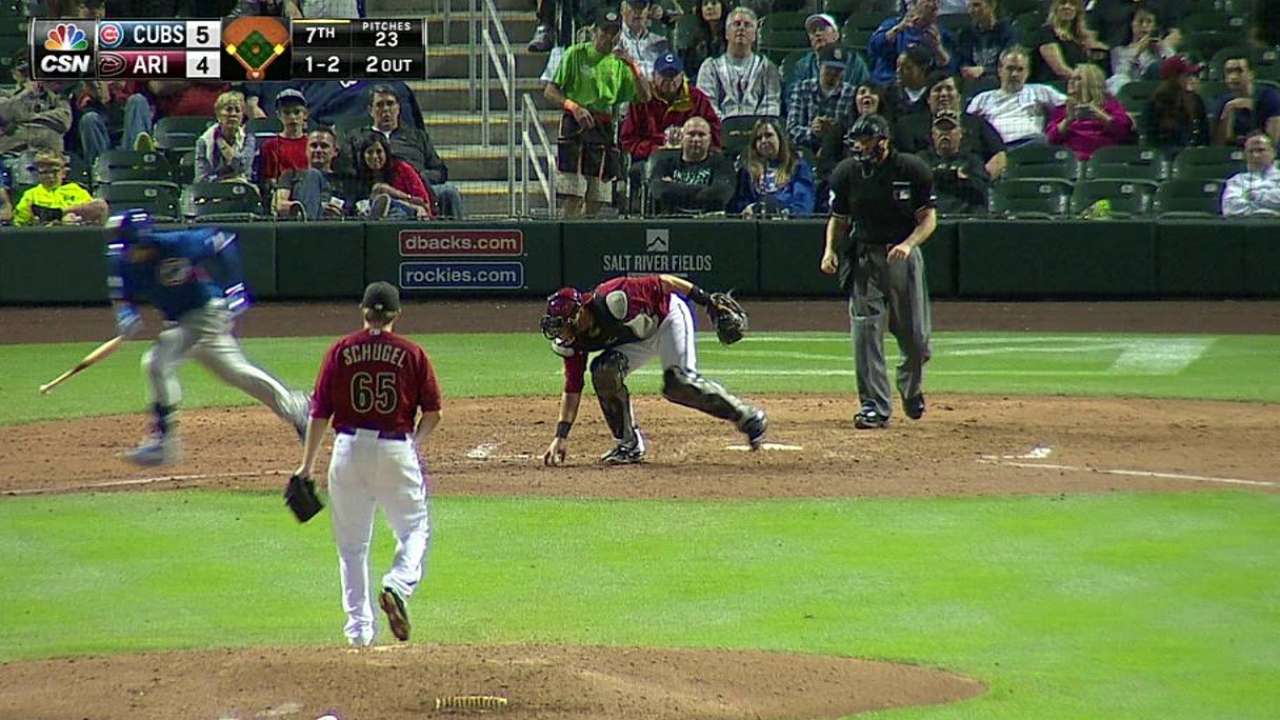 SCOTTSDALE, Ariz. -- Reliever A.J. Schugel is off to a strong start this spring and is pitching his way into contention for a place in the D-backs' bullpen.
Schugel has made four Cactus League appearances this spring and has yet to surrender a run. He's allowed just two hits and two walks while striking out six in six innings.
"I've just been throwing a lot of strikes, staying out of trouble for the most part," Schugel said. "I'm getting a lot of ground balls and a lot of outs."
The 25-year-old right-hander continued to impress Thursday against the Cubs as he stranded a leadoff triple while striking out three in a scoreless frame.
"He's been great," said catcher Blake Lalli, who caught Schugel in Thursday's game. "He's shown three very good pitches. Good command, and he's really kind of getting better every time he goes out.
"It's nice as a catcher when you can call a game and use all of his pitches. ... Anytime you can do that, you're going to have some success as a pitcher."
Pitching out of the bullpen is a relatively unfamiliar role for Schugel, who began his Minor League career in the Angels organization as a reliever but had worked exclusively as a starter the last three seasons.
"It's a little different; it definitely gets your adrenaline going when your name is called," Schugel said. "It never really took me long as a starter to get loose or anything like that, so it's not really a problem. Right now, it's just getting used to back-to-backs or every third day, or whatever it might be."
For now, Schugel isn't worrying about his big league roster prospects; doing so would distract from his focus on the mound.
"Whatever happens, happens," Schugel said. "I'm not really going to try to worry about it. Just stay away from that and let them make the decisions."
• Closer Addison Reed threw a bullpen session on Friday. He'll have one more before appearing in a game for the D-backs, said manager Chip Hale.
• Hale also said the club plans on making another round of cuts Sunday.
Chad Thornburg is a reporter for MLB.com. This story was not subject to the approval of Major League Baseball or its clubs.