Tight groin may delay De La Rosa's start to season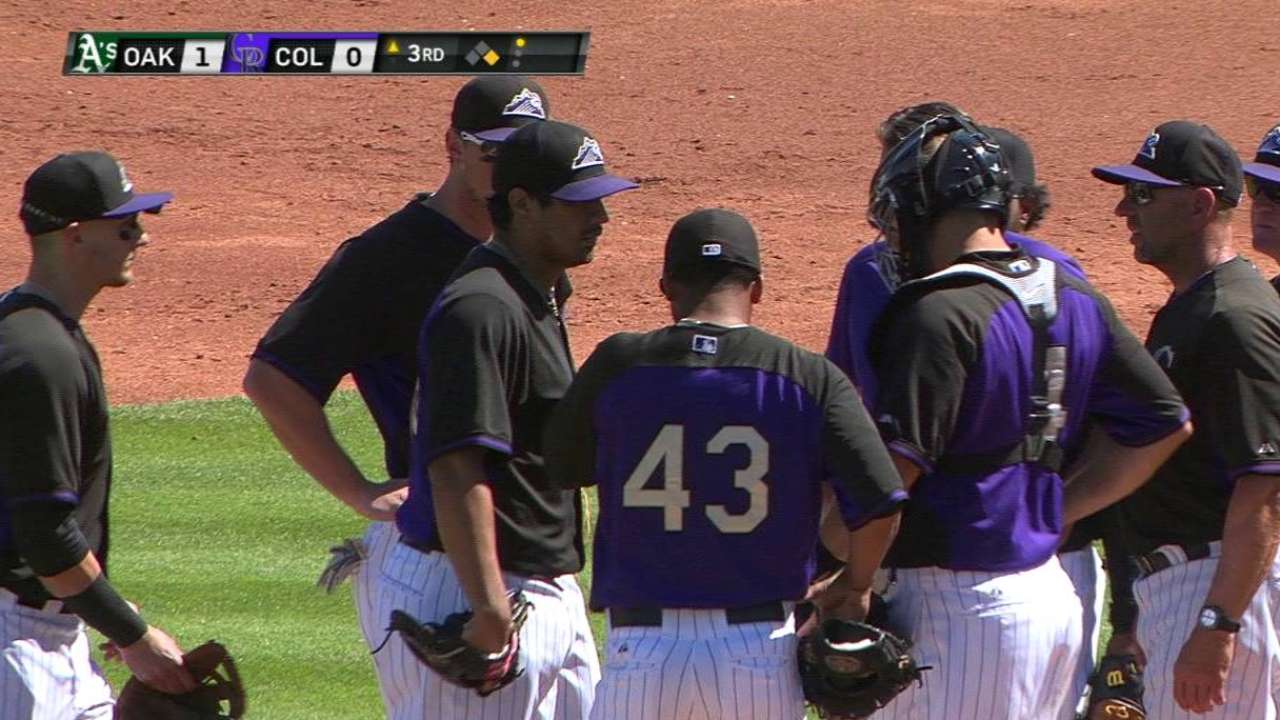 SCOTTSDALE, Ariz. -- SCOTTSDALE, Ariz. -- Rockies left-hander Jorge De La Rosa, who left his first Cactus League start with left groin tightness Friday, said how he feels Monday will determine whether he makes his next Cactus League start. The team ordered an MRI Saturday to determine the exact nature of the problem.
De La Rosa has often dealt with groin tightness during the spring, when he ramps up activity. The issue led to his 2015 Cactus League debut being pushed back twice. It will be a matter of treatment and monitoring. The problem, however, could affect whether De La Rosa starts in the April 10 home opener against the Cubs, as planned.
The Rockies arranged their pitching schedule to have De La Rosa, considered their No. 1 starter, open at home, where he is 45-14 since 2008, rather than in Milwaukee on Opening Day April 6. But De La Rosa, who turns 34 on April 5, said it's foolish to risk his availability for the full season just to start one game, special though it may be.
"I'm going to take my time; I don't want it to get worse," De La Rosa said. "If they want me to skip one or two starts, I'm going to make sure I'm completely healthy for the rest of the season."
De La Rosa didn't face an opponent until throwing two scoreless innings in a "B" game last Sunday against the D-backs. On Friday against the Athletics, De La Rosa said his groin was tight throughout, but he felt pain on his final pitch, a single by Billy Burns with one out in the third inning.
It was his 45th pitch, and manager Walt Weiss had scheduled him for 45-50, so leaving at that point didn't put him behind schedule.
"It's actually better than I thought; the report I just got was encouraging," Weiss said of De La Rosa's injury. "The next several days will tell how all this plays out."
De La Rosa also was seen Friday icing his righ hand. The lefty explained that it's soreness from when a weight slipped during a recent workout and it's not a problem that affects his pitching or ability to field.
Thomas Harding is a reporter for MLB.com. Read his blog, Hardball in the Rockies, follow him on Twitter @harding_at_mlb, and like his Facebook page, Thomas Harding and Friends at www.Rockies.com. This story was not subject to the approval of Major League Baseball or its clubs.