Notes: Crockett's removal purely precautionary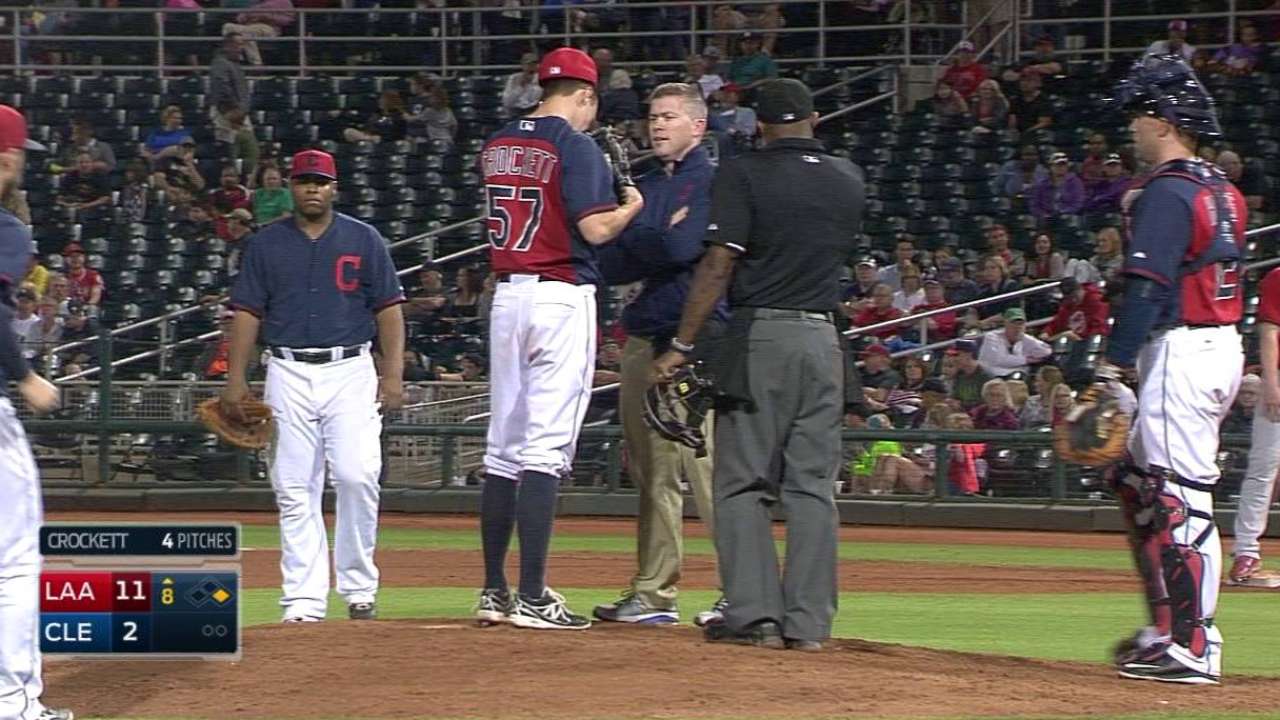 GOODYEAR, Ariz. -- Had the Indians been in the middle of the regular season, manager Terry Francona might have left reliever Kyle Crockett on the mound in the eighth inning on Friday night. Since it is Spring Training, Francona was not going to take any risks.
Crockett exited his outing against the Angels with tightness in his right hamstring after walking the only batter he faced in Cleveland's 11-5 loss at Goodyear Ballpark. On Saturday morning, the young left-hander was feeling better and was scheduled to throw off the mound in a bullpen session.
"He could've pitched," Francona said. "He wanted to pitch and if that had been during the season I wouldn't have even gone out. He'd have finished the inning and nobody would've even [known]. But, because it's Spring Training, I just don't think that made sense."
The 23-year-old Crockett, who had a 1.80 ERA in 43 appearances for the Indians last season, said he expected to return to a Cactus League game soon.
"I was probably a little bit dehydrated," Crockett said. "I definitely didn't want to come out. I wanted to stay in there and work through it, but I understand that you don't want to risk something in Spring Training."
Here are some more notes from Saturday morning:
• The Indians held second baseman Jason Kipnis (mid-back spasms) out of the lineup for the third consecutive game. Francona indicated that Kipnis was unlikely to play on Sunday, adding that Cleveland will be cautious with his comeback.
"Trying to rush a guy just doesn't seem to make sense to me," Francona said. "We can always send him down to the Minor League side when he gets ready, if he doesn't have enough at-bats, and let him bounce back and forth from field to field and get a bunch of at-bats."
• Each morning, Indians hitting coaches Ty Van Burkleo and Matt Quatraro feature a "Swing of the Day" and post still shots of a batter's swing from the previous day's game. On Saturday, first-base prospect Jesus Aguilar's swing from his ninth-inning double on Friday was on display in the clubhouse.
"Before that, [Van Burkleo] said, 'Man, Aggie is taking some good swings. I'd like to see him hit one,'" Francona said. "And bang, the next pitch, he whacked one. He's taking a lot more healthy swings. I don't know if that's confidence. I don't know if it's that time of spring. But it's nice to see."
• Right-hander Shaun Marcum, who is competing for a rotation spot as a non-roster invitee, was scratched from his planned four-inning Minor League appearance on Saturday. Marcum is heading to his home in Kansas City to be with his wife for the birth of their third child.
• Veteran utility man Mike Aviles was back in the lineup for Saturday's game against the Rockies after dealing with right elbow soreness for the past week. Aviles started at third base and was slotted into the lineup's second spot.
Jordan Bastian is a reporter for MLB.com. Read his blog, Major League Bastian, and follow him on Twitter @MLBastian. This story was not subject to the approval of Major League Baseball or its clubs.