Swisher's recovery starts to pick up steam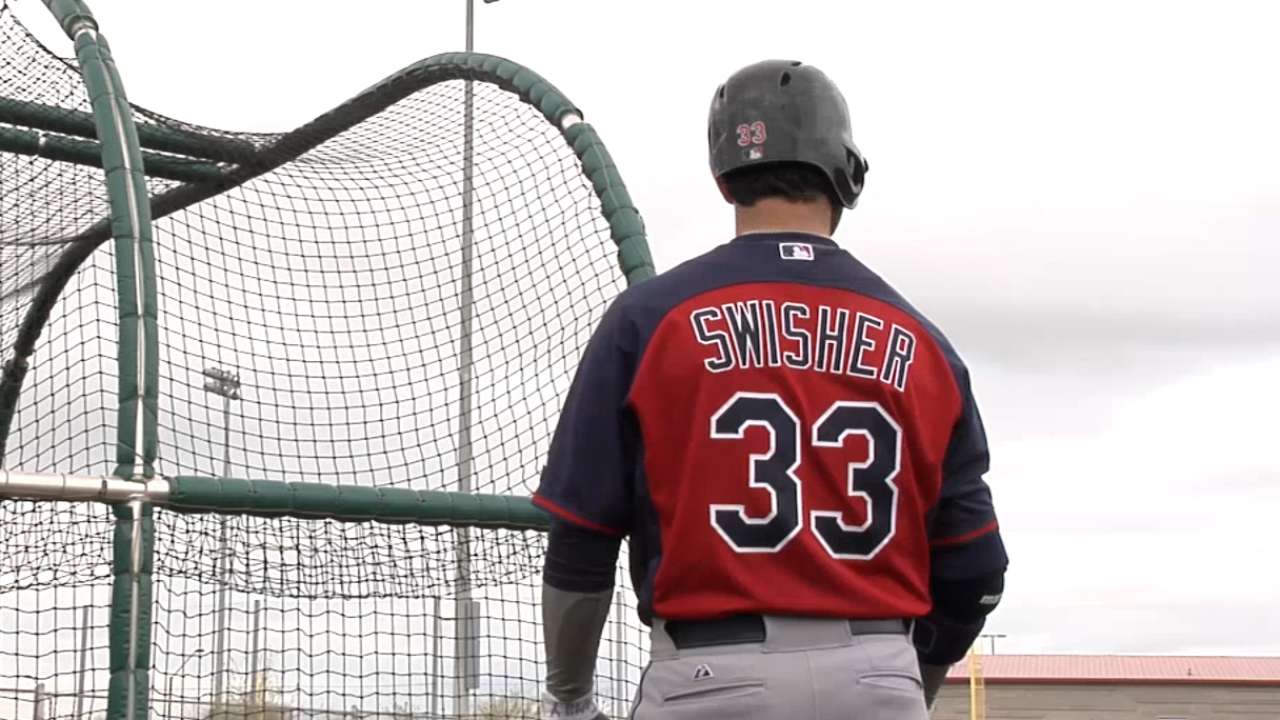 GOODYEAR, Ariz. -- One day after testing his recovering knees in a baserunning workout, Indians outfielder Nick Swisher was pleased with how he felt on Saturday morning. Swisher laughed when asked if he tried to steal any bases during the latest step in his gradual rehab.
"Only in my dreams, bro," Swisher said.
Right now, Swisher is dreaming of being in the Opening Day lineup, but he understands that his comeback could linger into the regular season. The veteran's next hurdle will arrive on Sunday, when he is tentatively scheduled to run the bases again -- this time without the knee braces he has regularly worn on both legs since September.
Indians manager Terry Francona said going without the braces is entirely up to Swisher.
"That's something you can't tell somebody," Fancona said. "He has to feel like he can do that."
As of Saturday, the 34-year-old Swisher was ready to take that step.
"Tomorrow is going to be good," Swisher said. "Just with everything, everything is getting stronger. My whole body is. I just want to make sure that I'm able to get ready for that 162 gauntlet. Yeah, you can feel good now, but I don't want to feel good until the end of April. I want to make sure I'm [feeling good] all the way through."
Swisher also added outfield drills to his workout on Friday for the first time since his August surgery on both knees. The plan is to continue to increase the intensity of his agility and running workouts, while beginning to get at-bats in any way he can. Swisher has been hitting in batting practice and in simulated games, and Francona noted that the veteran might be cleared for Minor League games next week.
"We're just grinding away, man," Swisher said. "We're working our tails off and just trying to get ready. With the way we ran the bases [Friday], that plays in a big league ballgame, which is nice. So we're just going to make sure everything else is good and reassess next week."
Jordan Bastian is a reporter for MLB.com. Read his blog, Major League Bastian, and follow him on Twitter @MLBastian. This story was not subject to the approval of Major League Baseball or its clubs.