Lyon powers up in Rangers' loss to Dodgers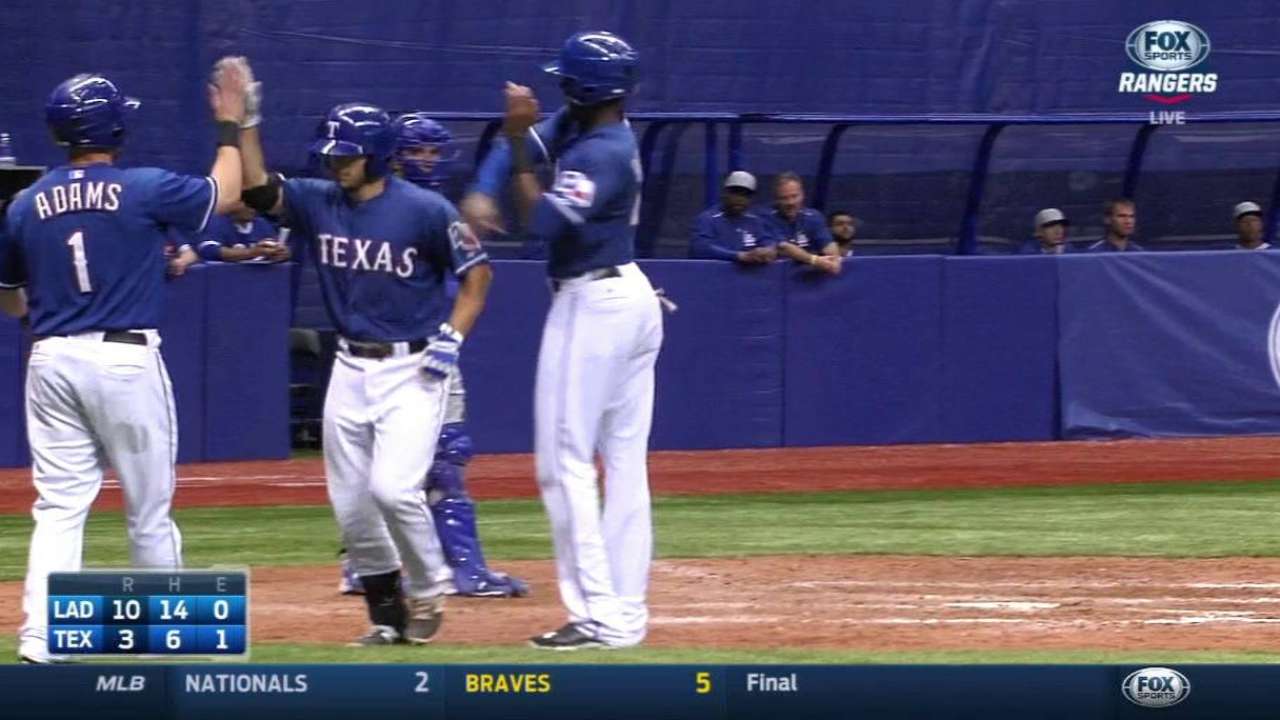 SAN ANTONIO -- In a venue where the general theme is anything goes, the Dodgers exploited the unique dimensions of their surroundings and made sure just about everything did go -- straight out of the playing field and into the right-field stands.
The Dodgers connected for five home runs, some hit harder than others, and all but one hit to the quirky right side of the Alamodome, as they topped the Rangers, 11-3, capping a Big League Weekend two-game sweep.
Before a crowd of 25,434, Rangers right-hander Anthony Ranaudo, a rotation hopeful who held opponents scoreless in three of his previous four outings, yielded three home runs. The short right-field wall, estimated at just 275 feet, was a contributing factor in Enrique Hernandez's home run that led off the game. Justin Turner's two-run shot in the third cleared the same wall with a little more power, as did Adrian Gonzalez's solo homer two batters later.
Ranaudo yielded four runs (three earned) on six hits over four innings.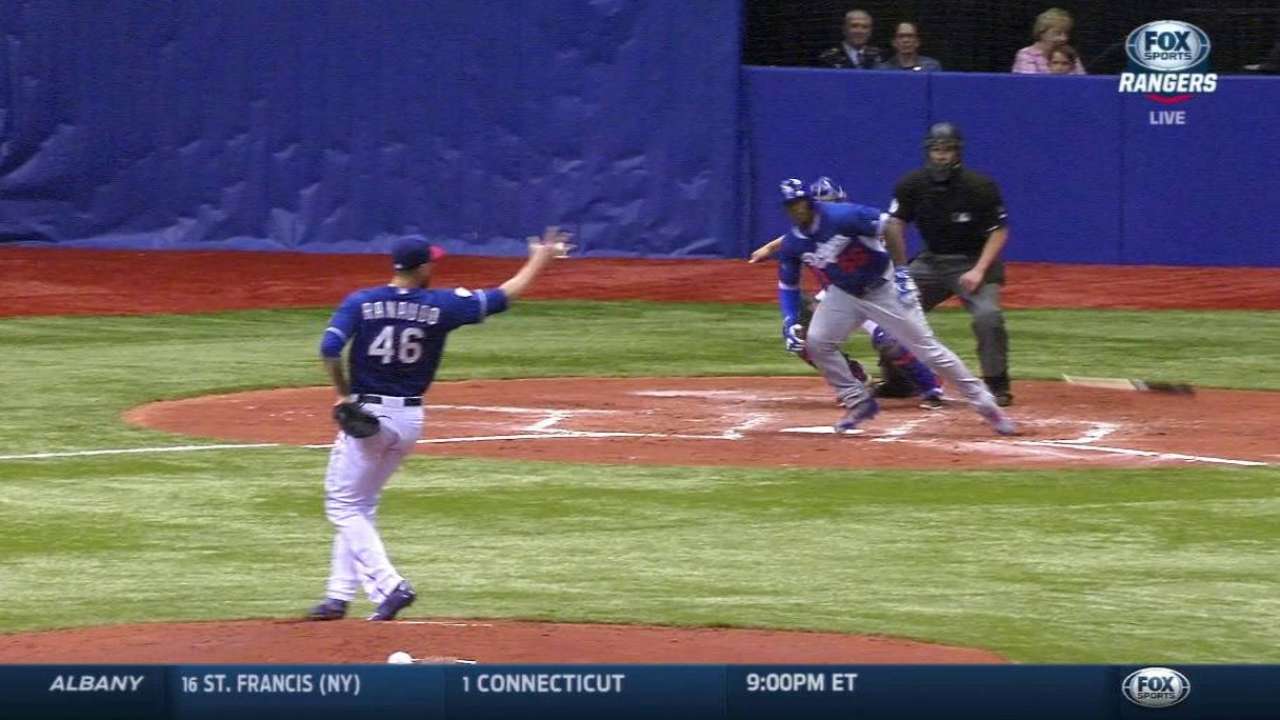 "It's human element to be a little disappointed in the results, even though they might be an out in another stadium," Ranaudo said. "Some of those balls were hit pretty well. I do look at the result of the pitch and a couple of those weren't my best pitches. I'd like to execute better. Granted, maybe one or two of them may have been outs, but they weren't the pitches that I wanted to throw or execute the way I wanted to execute."
Gonzalez's second homer of the day didn't need the assistance of a short fence. His solo shot off Lisalverto Bonilla in the fifth was gone before the Rangers outfielders had a chance to move on contact. Bonilla recovered nicely from that blow, however, striking out Yasmani Grandal and Alex Guerrero to end the inning.
Dodgers infielder Buck Britton connected for a three-run homer off Bonilla in the eighth. It was the first homer that didn't land in the right field area, instead traveling toward right-center, giving the Dodgers a ten-run lead.
Dodgers starter Zack Greinke had few issues with Rangers hitters. He allowed three hits, no runs and struck out six in four innings. He was slated to throw around 60-65 pitches and came in just under that, around 55.
Greinke took his first at-bats of the spring as well, and overall, he said this game felt as close to regular season as he has experienced this spring. The large Alamodome setting helped create a different feel.
"Big crowd, and you kind of have your away routine where you wake up in a hotel and take the bus to the field," he said. "Different than a Spring Training game. Big stadium, too. You have that feel that it's like a regular season game."
Juan Nicasio struck out the side in relief in the fifth to contribute to a perfect two-inning outing.
David Lyon's three-run homer in the eighth off Ramon Troncoso ended the Dodgers' hopes of a shutout. Prior to that inning, no Rangers batter had reached second base.
Up next: The Rangers, split the past two days because of the club's participation in Big League Weekend in San Antonio, will reunite on Sunday for an afternoon tilt against the Mariners at 3:05 p.m. CT (watch the game on MLB.TV). Right-hander Yovani Gallardo will make his third appearance of the spring, having allowed five earned runs over 5 2/3 innings in his first two games. Relievers Neftali Feliz and Shawn Tolleson are also scheduled to pitch, and the Rangers are hoping Shin-Soo Choo will be available as the designated hitter. He has been sidelined with left triceps tightness.
Alyson Footer is a national correspondent for MLB.com. Follow her on Twitter @alysonfooter. This story was not subject to the approval of Major League Baseball or its clubs.