Aguilar breaks out as Tribe tops Rockies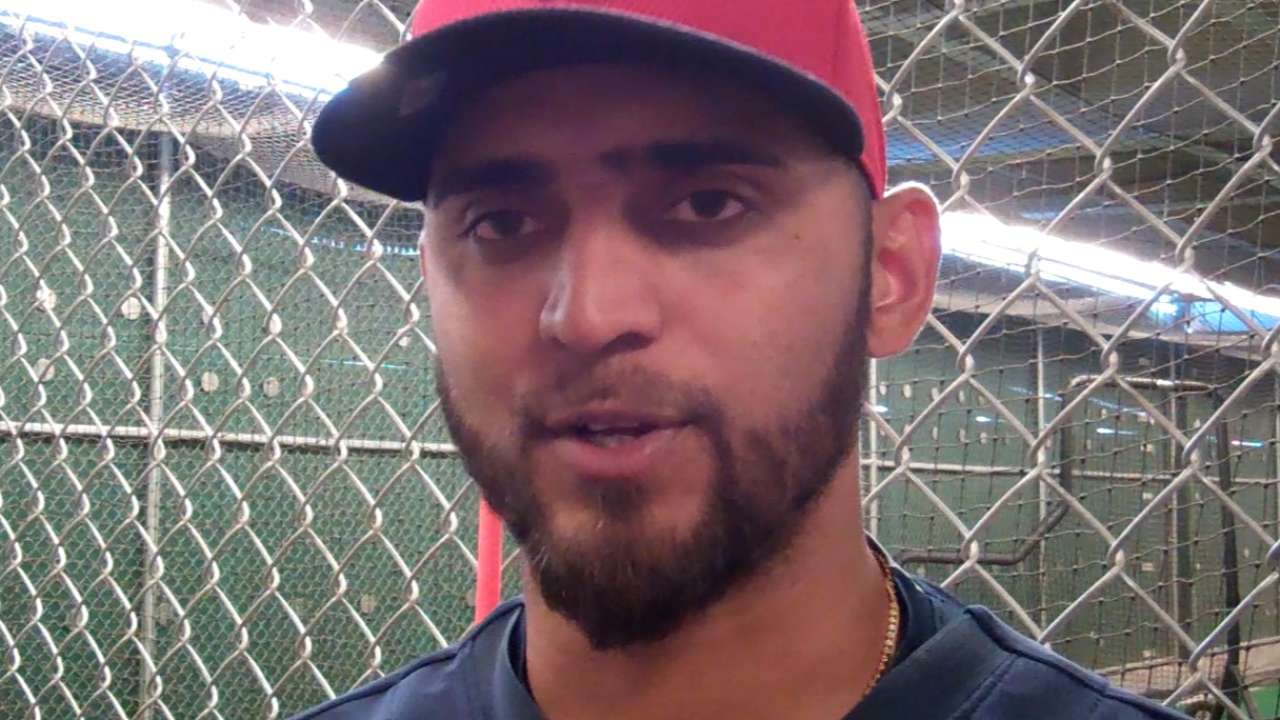 GOODYEAR, Ariz. -- As Spring Training has progressed, the Indians have watched first-base prospect Jesus Aguilar grow more relaxed in the clubhouse as well as during batting practice. Cleveland has been hoping to see that comfort level translate into on-field production.
In a 10-5 win against a split Rockies squad on Saturday, Aguilar came through, showing off his power potential to lead an outpouring of Indians offense. Aguilar belted a two-run home run off Brett Marshall in the fifth inning and also had an RBI double against Colorado starter David Hale in the third.
"It's so nice just to see him have some success here in camp," Indians manager Terry Francona said. "He's put up big numbers during the [Minor League] season and he's come to camp the last couple years and had a really tough time. Now, you can see the confidence is growing. He's loosening up. He's taking some big swings."
The showing by Aguilar -- ranked 13th by MLB.com among the Tribe's Top 30 prospects -- supported a solid effort from right-hander Danny Salazar, who is fighting for one of the two available spots in Cleveland's rotation. Salazar logged four innings, in which he surrendered one run on three hits with five strikeouts, two walks and 69 pitches (44 strikes).
"I felt aggressive," said Salazar, who threw 12 first-pitch strikes to the 16 batters he faced. "I was trying to be aggressive the entire time. ... It's really important [for me to win a job]. I really want to help the team win. I don't want to play for me. I want to play for the team. Everything I do is going to be for them."
"I'd say more good than not," Francona said. "I think at times he still leaves that fastball up, but you can see his intent is to get it down. He drove some good ones down. I thought off of that, his offspeed was pretty effective. So, even when he was up, he had enough on his offspeed with deception. We're still shooting for more consistency down, but you can see he's trying. He's getting there."
Colorado's lone breakthrough against Salazar came in the third inning, when outfielder Charlie Blackmon hit his first long ball of the spring. D.J. LeMahieu also made hard contact on a pitch from Salazar in the second, but Indians center fielder Tyler Holt ended the inning with a highlight-reel catch, crashing against the wall as he reeled in the baseball.
Salazar is up against TJ House, Zach McAllister, Josh Tomlin, Shaun Marcum and Bruce Chen for the two vacancies in the starting staff.
Hale lasted 2 1/3 innings for the Rockies in his bid for either a rotation job or spot in the bullpen as a long reliever. The right-hander's cause was not helped in the second inning, when a throwing error by shortstop Rafael Ynoa set up a Cleveland outburst. Following the blunder, Holt delivered an RBI single and Ryan Rohlinger added a two-run double to push the Tribe ahead, 3-0.
Hale was charged with four runs (one earned) and ended with two strikeouts and no walks.
Rockies reliever Brett Marshall allowed a pair of home runs: Aguilar's shot in the fifth and another two-run blast to Cleveland infielder Michael Martinez in the sixth.
For the Rockies, Corey Dickerson had a two-run single against Indians lefty Scott Downs in the fifth inning.
In the eighth, Indians setup man Bryan Shaw yielded solo home runs to Jeremy Barfield and Will Swanner, cutting Cleveland's lead to 10-5. Shaw has allowed 12 runs (six earned) on 12 hits, including three homers, with two strikeouts and three walks in 4 2/3 innings this spring.
"He's just up [in the zone]," Francona said. "He's trying to get it down and, as we get further into the spring and he gets it further down, he'll be fine. He's just not there yet. The ball is coming out really good. He's just not driving it down, yet. He will."
Up next for the Indians: Reigning American League Cy Young winner Corey Kluber will continue his march toward Opening Day when the Indians take on the Dodgers on Sunday at 4:05 p.m. ET at Camelback Ranch in Glendale. Kluber is scheduled to work five innings, while Austin Adams, Anthony Swarzak, Nick Hagadone and Jeff Manship are slated to pitch in relief.
Jordan Bastian is a reporter for MLB.com. Read his blog, Major League Bastian, and follow him on Twitter @MLBastian. This story was not subject to the approval of Major League Baseball or its clubs.