Tribe 'D' gets plenty of work in Angels' 4-triple inning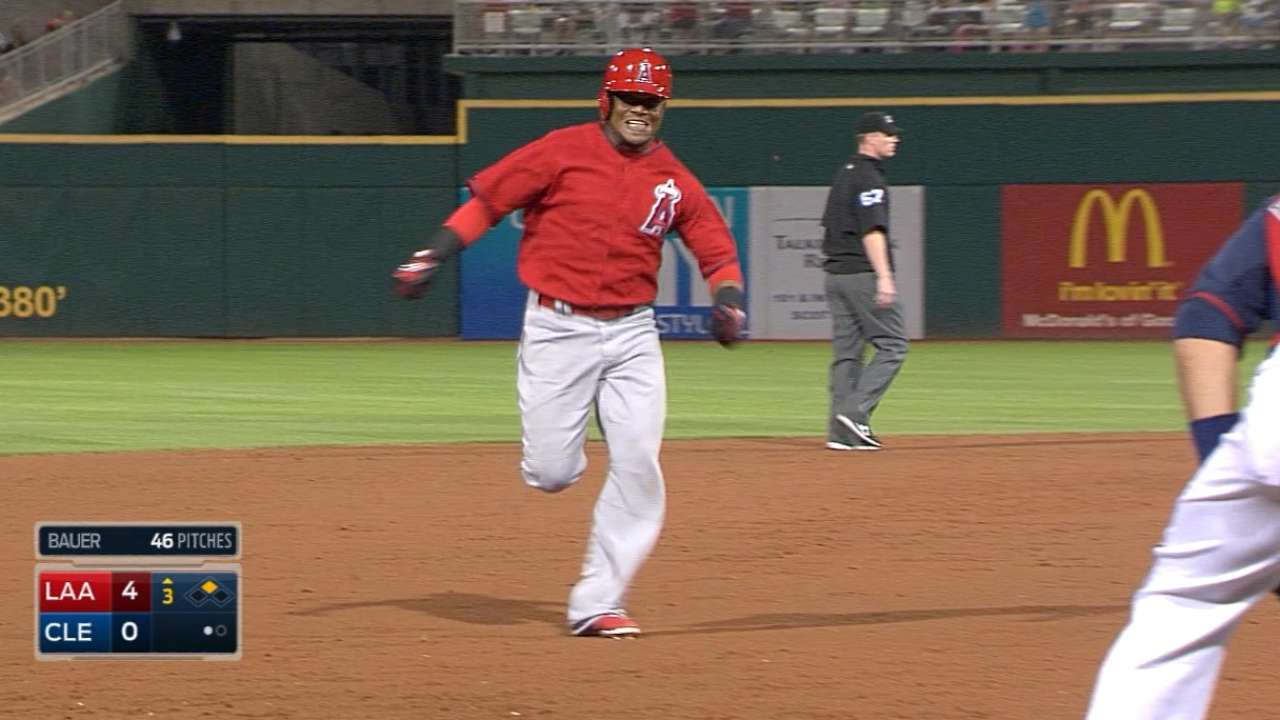 GOODYEAR, Ariz. -- Throughout Spring Training, the Indians have worked hard on tidying up their routes within cut-off and relay drills. When Trevor Bauer gave up four triples in a span of five batters in the third inning of Friday's loss to the Angels, all the hard work paid off.
"Minus the triples, everything was clean and efficient," Indians third baseman Lonnie Chisenhall quipped.
Cleveland's players, including Bauer, had a good sense of humor about the unusual chain of events in Friday's 11-5 loss to the Angels. Bauer was working on pounding the strike zone with his fastball, resulting in hard-hit balls that led to a rarity: four triples not only in the same game, but in a single inning.
Chisenhall said the challenge for him came with the second set of back-to-back triples, which came with two outs from Johnny Giavotella and Collin Cowgill. In that situation, the third baseman was more concerned with blocking the ball at the base than applying a tag, because keeping the ball from skipping away becomes the priority with two outs.
"As a third baseman, I'm just trying to not let the ball get by me," Chisenhall said. "[Shortstop Francisco] Lindor made some good throws. It's more blocking, don't let the run score. I know Trevor is backing me up and [left fielder Michael] Brantley is backing up the other way, but with two outs, you're in blocking mode. You don't want to pick."
Indians manager Terry Francona joked that he sent pitching coach Mickey Callaway to the mound in the midst of the Angels' string of triples simply to give Brantley and center fielder Michael Bourn some rest. Bourn said he did not need it.
"I was cool, man," Bourn said with a laugh on Saturday. "I had never seen that before. Whatever side I was on, they hit it the opposite way."
Francona did note that he was pleased with how Brantley aggressively backed up third base on the plays.
"We've really been talking to our outfielders -- our corner guys -- on becoming involved on plays," Francona said. "Brantley knows. No surprise, he's so diligent. That fourth one, though, I was like, 'Dang, man. He's got to be dragging.' And Bourny was going both ways. That was interesting."
Jordan Bastian is a reporter for MLB.com. Read his blog, Major League Bastian, and follow him on Twitter @MLBastian. This story was not subject to the approval of Major League Baseball or its clubs.