Heyward faces Braves for first time since trade
Atlanta manager not surprised that right fielder is fitting right in with Cardinals
JUPITER, Fla. -- When the Cardinals acquired outfielder Jason Heyward from the Braves, it was one of the more surprising trades of the winter. The 25-year-old outfielder, after all, had long been considered one of Atlanta's cornerstones.
On Saturday at Roger Dean Stadium, the inevitable moment finally arrived: Heyward faced his former team for the first time.
"I was out here early watching him running around and doing his pregame stuff. And it's a little awkward," Braves manager Fredi Gonzalez said. "I ended up talking to some of the coaching staff and he's already made a presence in their locker room. They love him. And there's no surprise there. He's a solid baseball guy."
Heyward was a ballyhooed prospect when he broke into the big leagues in 2010, and the fact that he made the All-Star team as a rookie only pumped up the hype. In five seasons with the Braves, he batted .262 with a .781 OPS.
Heyward insisted going up against the Braves wasn't a big deal. "I honestly didn't even think about [the jersey]. Not on the field. When you're playing against people, you know that's not your jersey. That's the way I look at it. It was to my advantage in right field, knowing how to play certain guys," he said.
Mike Matheny wasn't so sure. "I know he was trying, especially against those guys. That's the way it works. He came unglued on [one at-bat]. He was trying to hit it over that building, I think," the Cardinals' manager said. "He's a pro, no doubt about it. He did a nice job of figuring out what the culture is and does his part to add to it."
In the sixth, Heyward hit a monstrous fly to right that would have been his first extra-base hit of the spring. Instead it just stayed foul.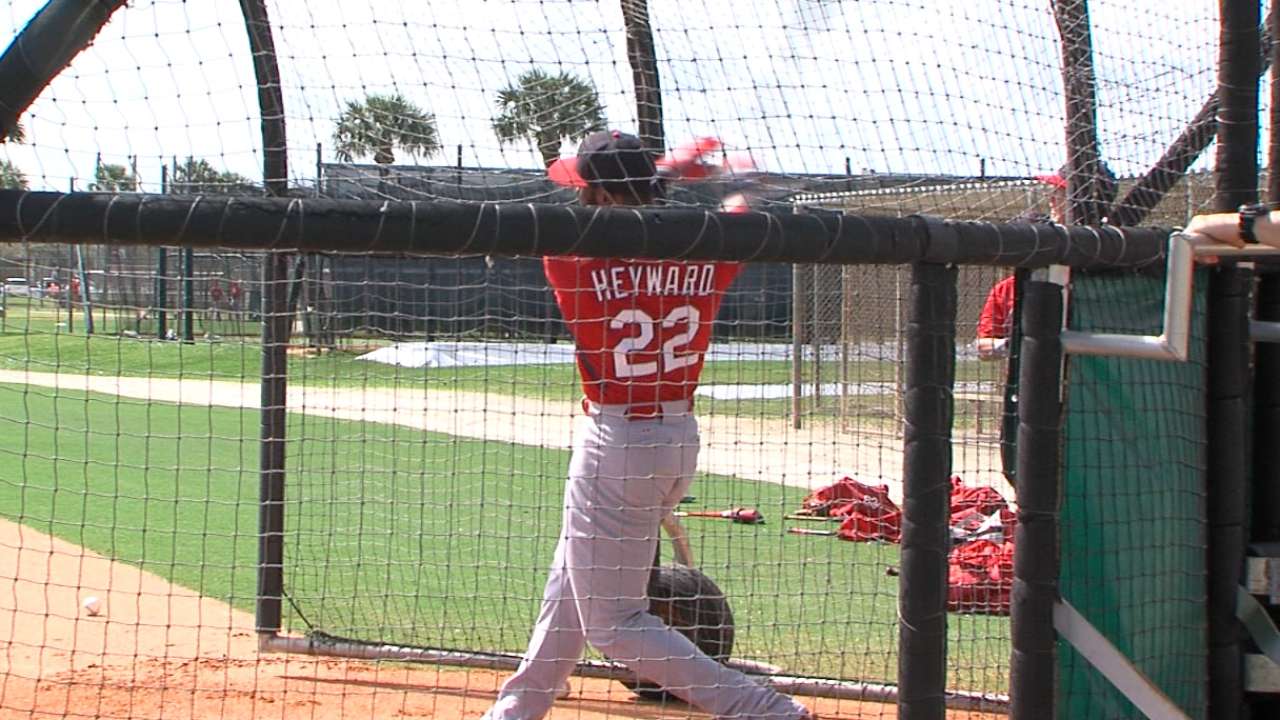 Heyward has batted second all spring but has the speed to lead off and the power to bat in the middle of the order, both of which he's done in the past. Matheny was reluctant to speculate where Heyward might end up batting once the regular season begins.
"To be honest with you, the whole topic is kind of contrary to everything we believe," Matheny said. "And what we believe is, 'I have to perform and I'm going to trust the people who make those decisions, that they're going to make [the decision based on] whatever's best for this club and keep in mind what's best for me.'
"It doesn't have to be that big of an issue unless we make it an issue. Which has probably been made since the first second we got him over here. So that's why I just keep trying to avoid the topic. He's just one of the eight guys in the lineup who needs to go out and put out a good at-bat. There's nothing wrong with having a guy get comfortable in a spot. If you start throwing, well, he might do this out there, it's not what these guys need right now. Just go play and put together good at-bats."
Paul Hagen is a reporter for MLB.com. This story was not subject to the approval of Major League Baseball or its clubs.