Wang impresses for Braves in pitchers' duel
Roster hopeful goes toe-to-toe with Cardinals' ace before 9th-inning walk-off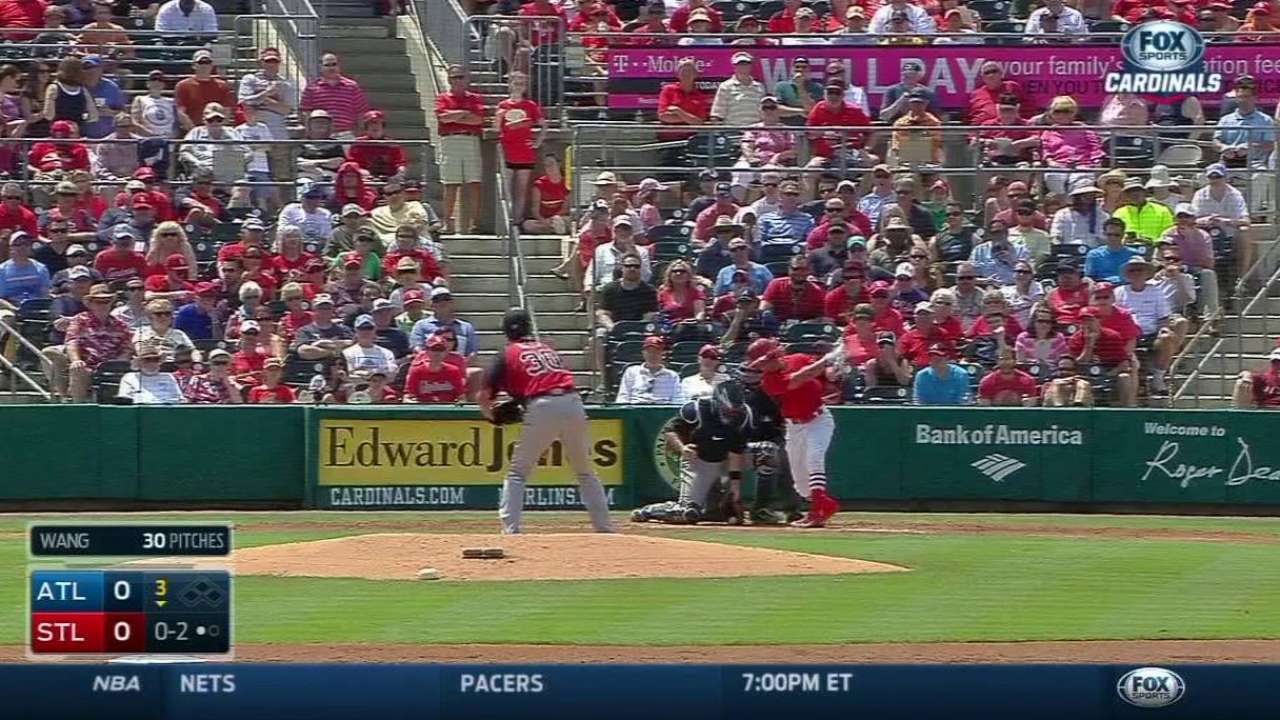 JUPITER, Fla. -- Dean Anna's ninth-inning single knocked in the only run of the game as the Cardinals edged the Braves, 1-0, on Saturday afternoon at Roger Dean Stadium. It also allowed Anna to atone for his part in a strange double play two innings earlier.
The clear storyline for the Cardinals was the return of ace right-hander Adam Wainwright, who was making his first start of the spring. But Chien-Ming Wang, who isn't assured a spot on the roster, was just as effective for the Braves.
Wang, who is competing with Eric Stults, Cody Martin and Mike Foltynewicz for the final opening in the rotation, gave up two singles in the first four innings but faced the minimum 12 batters thanks to a pair of double plays. He faltered slightly in the fifth, loading the bases with two outs on a hit and two walks before Arodys Vizcaino came in to get the final out.
"He got that sinker going," said Braves manager Fredi Gonzalez. "He did a nice job. We made some nice plays behind him, but he's been impressive, he really has. I'm watching guys who are competing and stepping up. Remember when we talked about guys playing so well we have to make some tough decisions? They're doing it. They're really doing it."
With Yadier Molina on third and Anna on first with nobody out in the seventh inning, Cardinals second baseman Kolten Wong hit a ground ball to Joey Terdoslavich at first. Terdoslavich ran straight at Molina, tagged him out and then reached down to tag Anna as he was sliding into third. Just your typical 3-unassisted double play at third.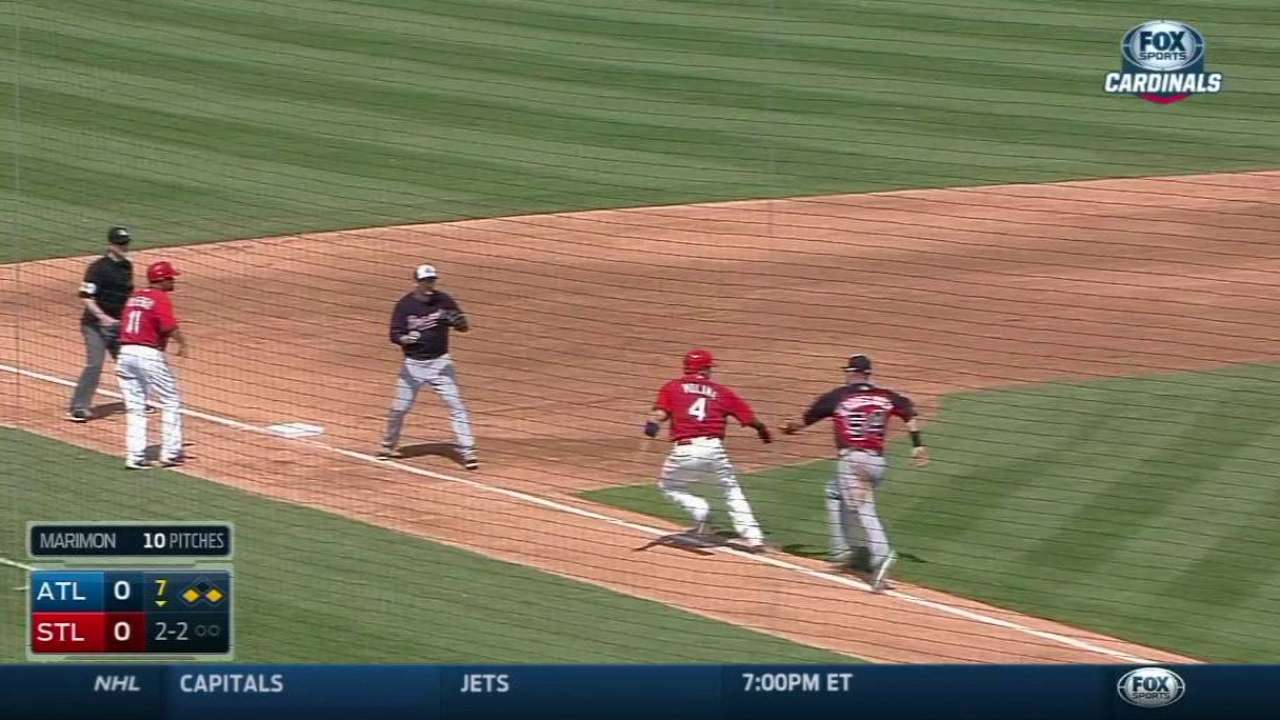 Mike Matheny appreciated the oddity but said Anna should have been going for third all the way. He went on to praise how well Anna has played recently.
"He looks to me like one of those grinder-type players that's going to do a lot of things right," the Cardinals' manager said.
Wainwright had been recovering from an abdominal strain suffered on Feb. 16. So there was a hold-your-breath moment in the second when Braves catcher John Buck topped a slow roller to the third-base side of the mound that Wainwright made a lunging grab for.
"I was screaming," Matheny said. "Typically we're yelling at guys, 'Get over' on anything hit on the ground. As soon as he jumped off the mound, I started yelling at him to stop. Of course, that was like harnessing the wind."
The suspense didn't last long. Wainwright easily retired the next two batters and completed four shutout innings with no problem.
He scattered four hits with one walk and three strikeouts. The only time the Braves got a runner past first came with two outs in the first on back-to-back singles by Jace Peterson and Freddie Freeman. Wainwright threw 64 pitches, 41 for strikes.
The Cardinals fielded a lineup that, with the exception of Peter Bourjos in center field instead of Jon Jay, could well be the one Matheny uses for the nationally televised regular-season opener against the Cubs on April 5.
Up next for Braves: Shelby Miller will attempt to extend his recent success when the Braves host a Tigers split squad on Sunday at 1:05 p.m. ET. Since recording just one out in his Grapefruit League debut, Miller has allowed just one run over seven innings. The game will be broadcast live on MLB.TV and Fox Sports South.
Paul Hagen is a reporter for MLB.com. This story was not subject to the approval of Major League Baseball or its clubs.