Venters ready to make comeback with Rays
Ex-All-Star reliever talks about third Tommy John surgery recovery, decision to sign with Tampa Bay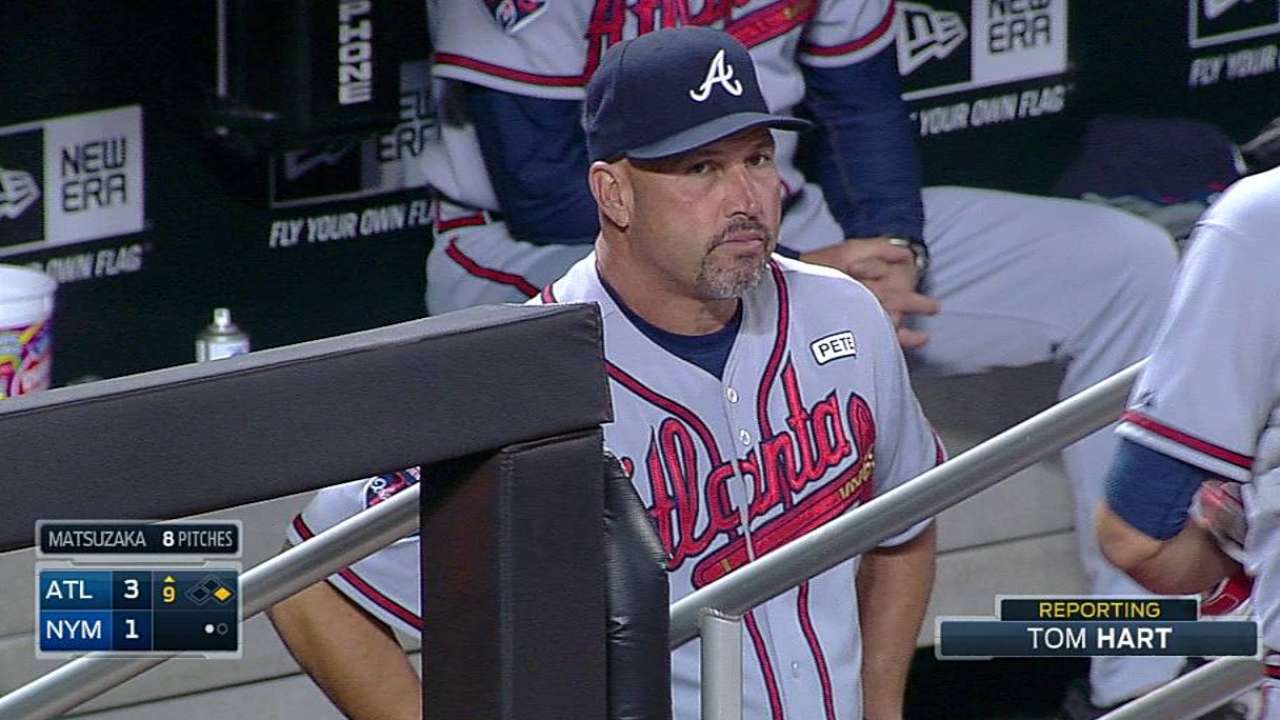 PORT CHARLOTTE, Fla. -- Jonny Venters is in Port Charlotte and ready to do the work to again become a bullpen force.
Earlier this spring, the Rays signed the left-hander to a two-year Minor League deal covering 2015-16. On Saturday, he talked to reporters for the first time.
Venters, who turns 30 on March 20, is recovering from his third Tommy John surgery, which was performed by Dr. Neil ElAttrache on Sept. 16, 2014, in Los Angeles.
"I knew I wanted to give it another shot," said Venters of his decision to have a third surgery.
In three seasons with the Braves (2010-12), he compiled a 15-10 record and a 2.23 ERA over 230 relief appearances.
Venters noted that he signed with the Rays because they have a good reputation, "Especially with relievers," he said. "Their medical staff is highly recommended."
Venters summed up his decision by saying, "I felt like it was my best chance to get back on the field."
Rays executive president of baseball operations Matt Silverman explained the motivation for signing Venters.
"Our training staff has had success in helping pitchers return from injury," Silverman said. "They will work diligently with Jonny to help him get back to the pitcher he was before his surgeries."
Venters felt as though the two-year deal was the fair agreement between both parties.
"When my agent said it was going to be a two-year deal, I completely understood that," Venters said. "Because obviously it was going to be tough for me to get on the field this year.
"The Rays were taking a risk by bringing me in and rehabbing me. They needed that second year if I'm healthy. I thought it was a great deal for both sides if I'm healthy and everything works out."
Venters, who was a 2011 National League All-Star, has reported to the Rays' Minor League camp and will continue to rehab at the Charlotte Sports Complex. He was not sure about his recovery timetable.
"The medical staff's just trying to feel me out and test my strength and see where I'm at before I start throwing," Venters said. "And I think the goal is to pitch some down here at some point, Gulf Coast [League] or maybe Instructional [League]. Just get some innings under my belt. Get tested a little bit. But I'm not 100 percent on that. ... Ideally, I would be 100 percent healthy by Spring Training next year."
While Venters faces a tough road, the bottom line is he loves playing baseball.
"It's all I've ever done," Venters said. "I enjoy doing it. And I felt like if I didn't give it another shot that I would regret it down the road. I wanted to give it every shot down the road."
Venters' rehab will take place in Port Charlotte.
"I'll be here all year," Venters said. "Family got here yesterday. So I'm ready to rock and roll and rehab and hang at the beach, I guess."
Bill Chastain is a reporter for MLB.com. This story was not subject to the approval of Major League Baseball or its clubs.