Jeter, Matsui reunite in Japan for home run derby
Four-day event raises money for children affected by 2011 earthquake and tsunami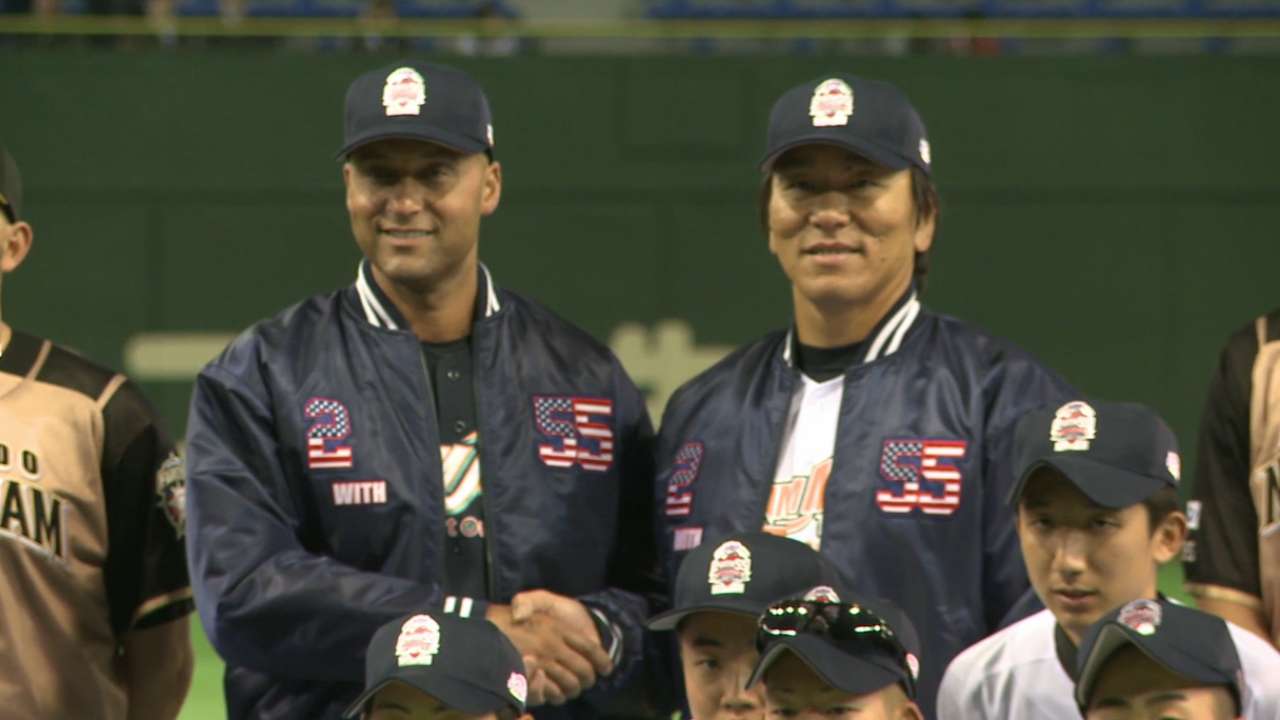 TAMPA, Fla. -- Derek Jeter and Hideki Matsui were reunited on the baseball diamond on Saturday, going to bat in Tokyo to raise funds for children affected by the 2011 earthquake and tsunami disasters.
Jeter has often referred to Matsui as one of his favorite all-time teammates, and so the retired Yankees captain gladly accepted the former slugger's invitation to make a four-day trip to Japan in which he helped with activities at the Tokyo Dome.
"Jeter played a big role in all of this," Matsui said, according to The Associated Press. "The kids had a magnificent day. Hopefully, when they go back to their everyday lives tomorrow, they'll have new dreams to sustain them."
Jeter and Matsui conducted a youth baseball clinic and then managed middle school teams in a three-inning contest that was won, 2-0, by Matsui's squad.
The event also featured a home run derby between U.S. and Japanese students. According to the AP, Matsui thrilled the fans when he hit a towering homer over the right field wall at the Tokyo Dome, where he spent 10 seasons with the Yomiuri Giants.
Back at Yankees camp, pitcher CC Sabathia -- one of four remaining players from the 2009 World Series championship team -- had predicted that Matsui would defeat Jeter in the home run hitting competition.
"Matsui, easy," Sabathia said. "He's a power hitter, it's what he does. I've just seen his BP. Jeet takes some good BP, too, but I think Matsui swings for it. His swing was just classic for launching balls."
During his visit, Jeter also took in a sumo tournament and visited Matsui's hometown.
"It was a wonderful few days," Jeter told the AP. "Hideki showed me around, I got a chance to go see his hometown, I got a chance to see sumo wrestling and to top it off, today was this great charity event. I'm grateful Hideki invited me and it's all for a great cause."
Bryan Hoch is a reporter for MLB.com. Follow him on Twitter @bryanhoch and read his MLBlog, Bombers Beat. This story was not subject to the approval of Major League Baseball or its clubs.