Markakis takes BP, approaching game action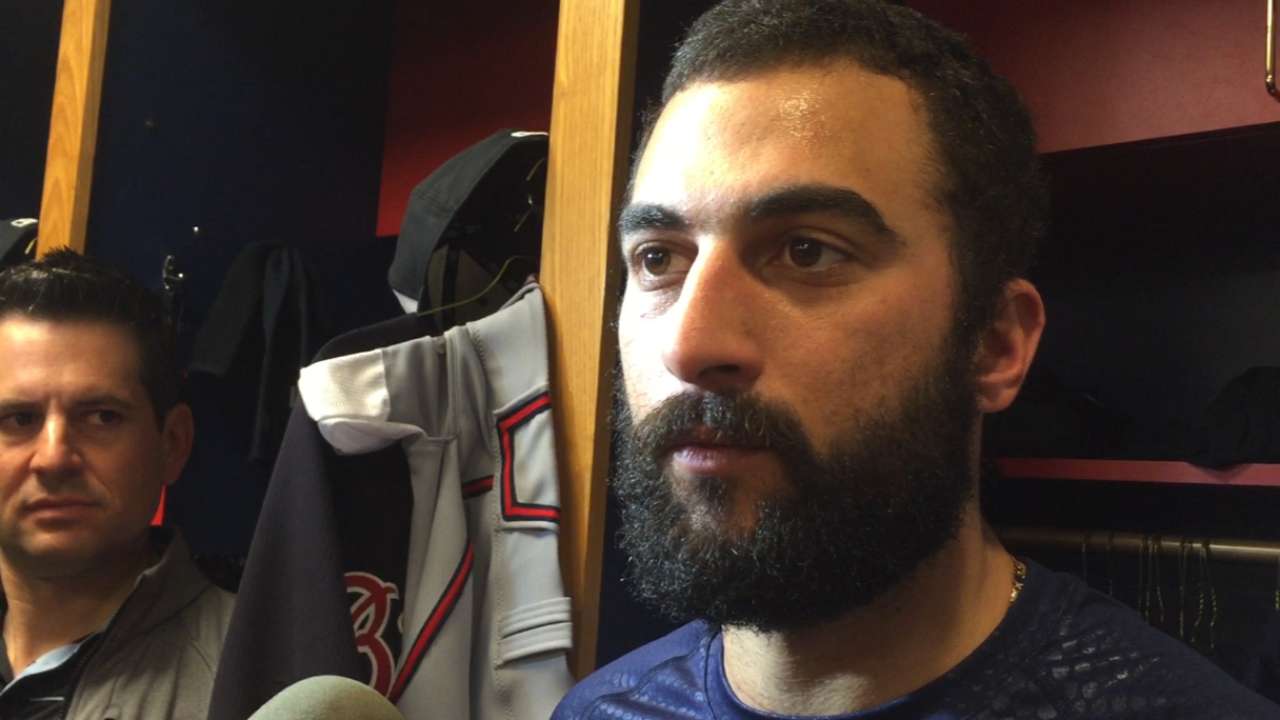 LAKE BUENA VISTA, Fla. -- After spending the past couple of weeks completing various on-field exercises while wearing shorts and a T-shirt, right fielder Nick Markakis donned his Braves uniform and participated in batting practice before Saturday's split-squad game against the Nationals at Champion Stadium.
"I'm feeling good," Markakis said. "It's just a matter of easing back into it and working to get into that first game."
Though Markakis does not know when he will play in his first spring game since undergoing neck surgery in December, he is still shooting to be in Atlanta's lineup for the April 6 Opening Day matchup against the Marlins in Miami.
"That's the goal," Markakis said. "We'll see, anything can happen."
Braves manager Fredi Gonzalez indicated that Markakis might begin playing in games within the next few days.
"We've got to ramp him up the right way to get into games," Gonzalez said. "I don't know when that will happen. He might come in tomorrow and say, 'Can I get a couple at-bats? Can I go to the Minor Leagues to get some at-bats?'"
With Opening Day approximately two weeks away, Markakis will likely need to begin playing games within the next week to give himself enough time to be ready for the season opener. But instead of setting a specific timetable, the 31-year-old outfielder is attempting to maintain the same patient approach he has displayed since reporting to Spring Training.
Though he began hitting off a tee more than a week ago, Markakis was not cleared to begin taking regular rounds of batting practice until Friday. He might face some live pitching to track the ball before subjecting himself to the accelerated action of a Grapefruit League game.
In order to compile enough plate appearances before the regular season, Markakis might play at least one or two Minor League games, where he would be permitted to bat at least once every inning.
"It's smarter to be patient," Markakis said. "You learn over the years when dealing with injuries that you want to make sure everything is good before you get out there. There are times that you've got to go out there and you're not feeling good. Everybody knows their body. Over time, players learn their body and know what they can and can't do."
When Markakis reported to camp, he was a little more than two months removed from the Dec. 17 surgical procedure that repaired a herniated disk. He was forced to remain rather sedentary for the first four weeks following the surgery, and he was not cleared to begin jogging until the final week of February.
Markakis, who signed a four-year, $44 million deal in December, has steadily accelerated his running, throwing and hitting exercises over the past couple of weeks. Though he has had no trouble with his neck, he has needed this time to regain the conditioning and strength that he lost while recovering from the surgery.
"I came in here at the bottom and had to work my way up," Markakis said. "It's just a matter of getting my reps in and working toward that game. Whenever I feel right, I'll get in there."
Mark Bowman is the Braves beat reporter for MLB.com. This story was not subject to the approval of Major League Baseball or its clubs.