Home runs power Blue Jays as Dickey tosses six
Solo blasts by Reyes, Bautista, Donaldson back righty's strong start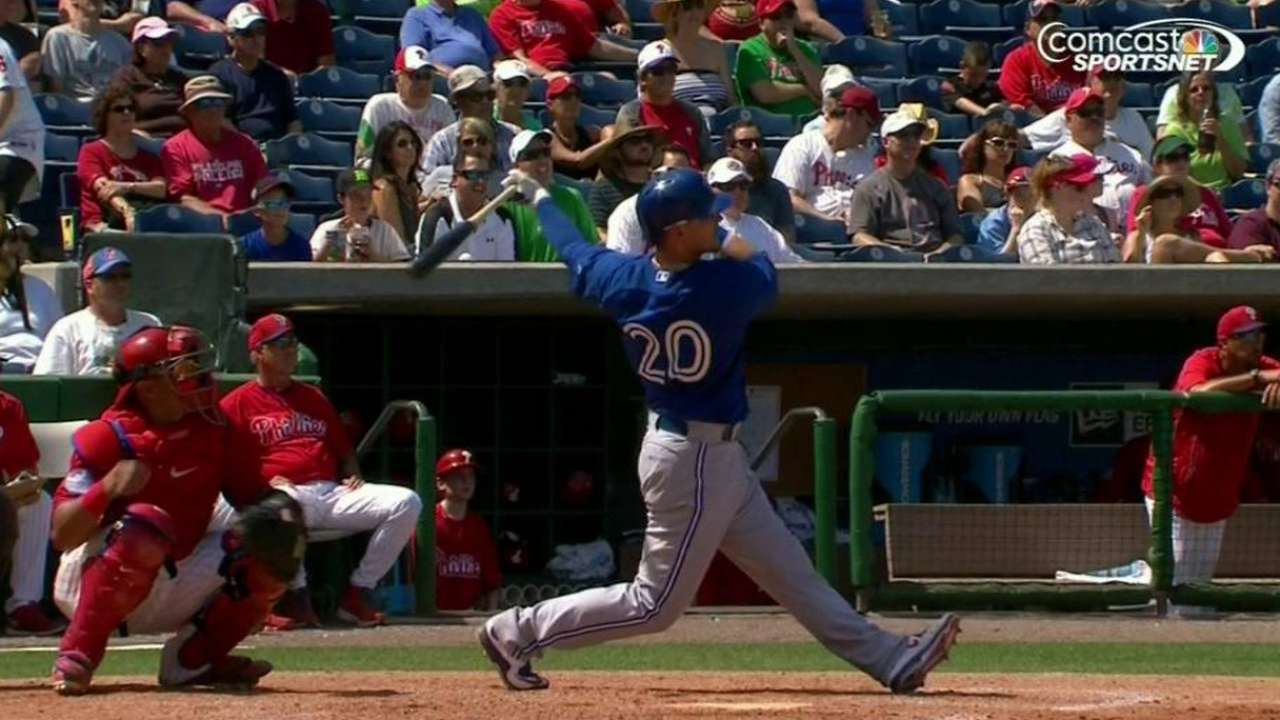 CLEARWATER, Fla. -- Jose Reyes and Jose Bautista each launched first-inning home runs, and Josh Donaldson went deep in the sixth as the Blue Jays beat the Phillies, 6-3, before a sell-out crowd of 9,568 at Bright House Field.
Left-hander Cole Hamels, coming off an outing in which he surrendered five runs on six hits in two innings, settled down after the two early homers. Hamels allowed five hits and struck out five as he threw 72 pitches over 3 2/3 innings.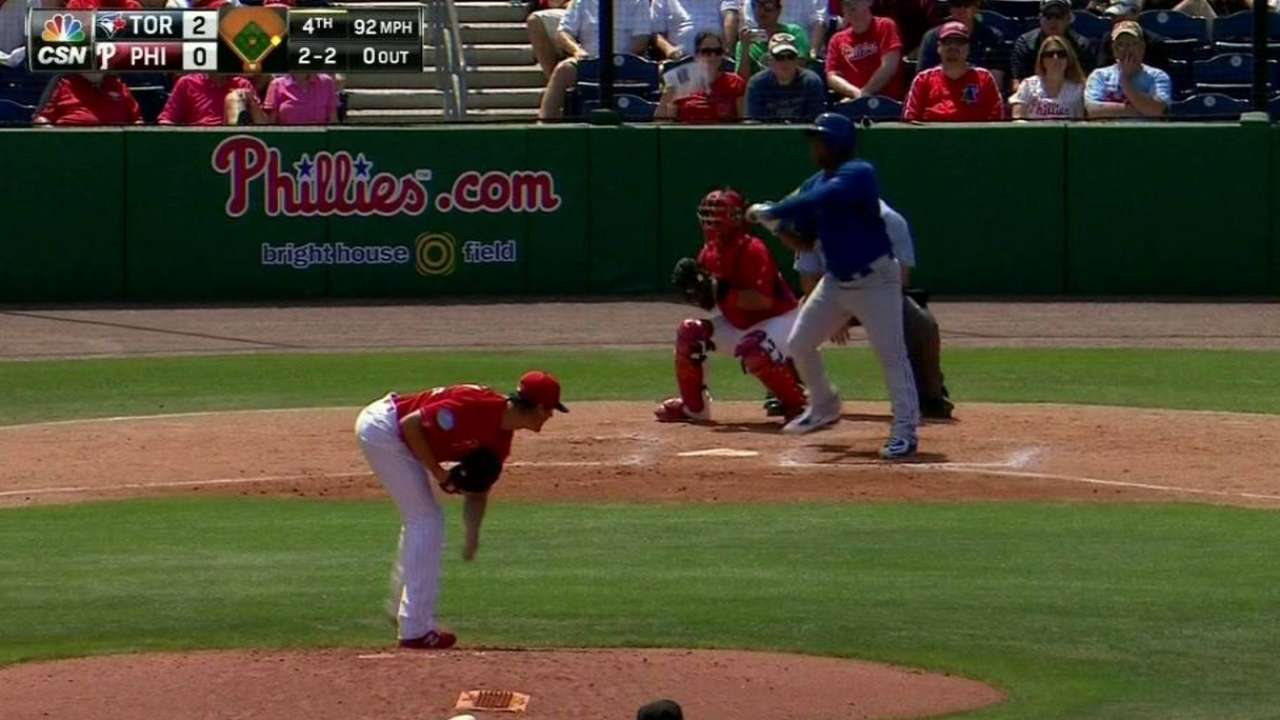 "Just being able to go out there and feel fresh even with that [pitch count] increase, I didn't even notice it," Hamels said. "I guess that's a good thing."
Toronto knuckleballer R.A. Dickey made his third Grapefruit League start for the Jays and continued to pitch well. The right-hander pitched a full six innings, allowing five hits and two unearned runs.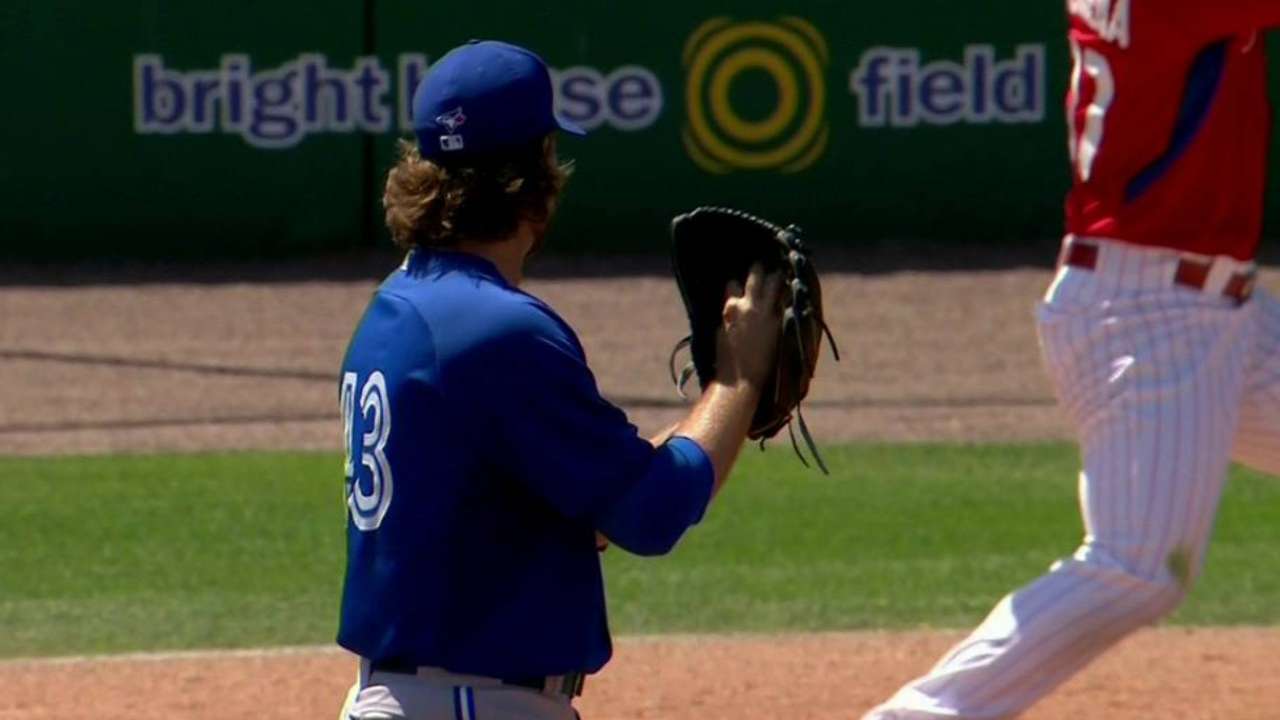 Reyes and Bautista provided the early offense for Toronto. Reyes crushed his first homer of the spring on Hamels' first pitch, lining it down the left-field line.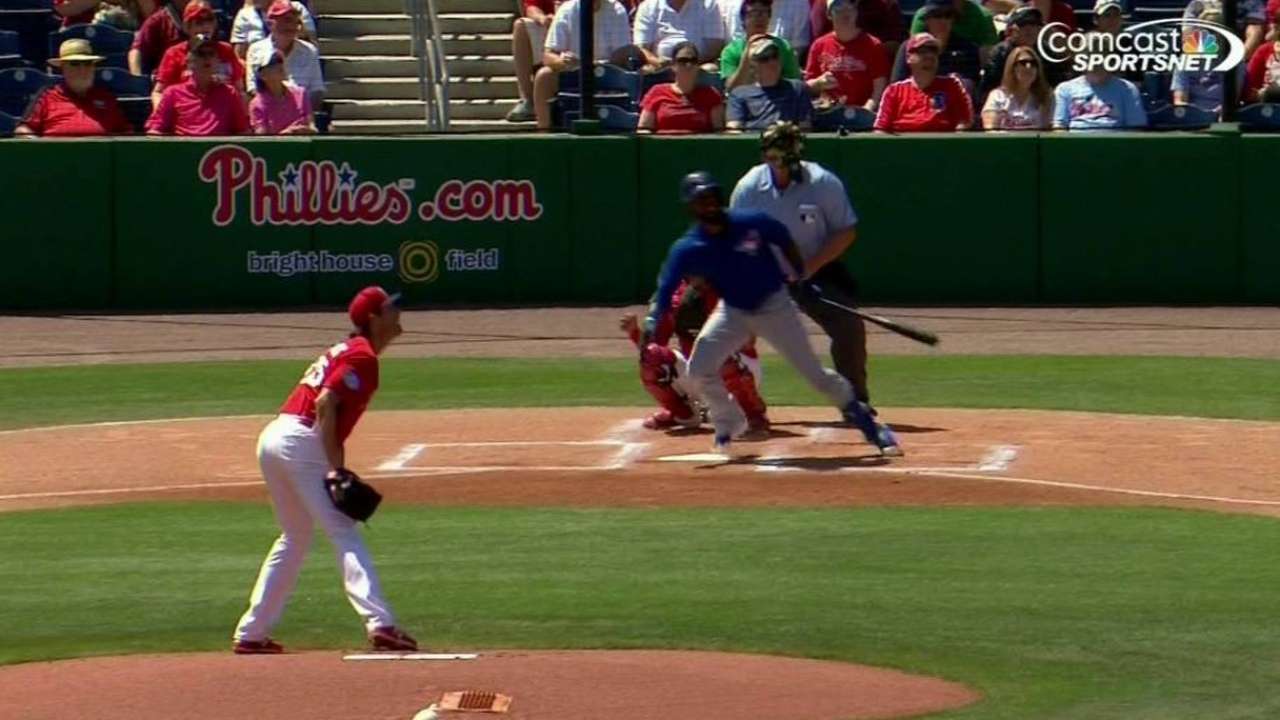 Bautista followed Reyes' homer with a bomb of his own, sending a 3-1 pitch over the fence in dead center field to make it 2-0.
"He hits the ball hard," Hamels said. "If you get yourself in a bad count, you know he's going to do some damage. ... When he's up, you really have to be precise and execute pitches."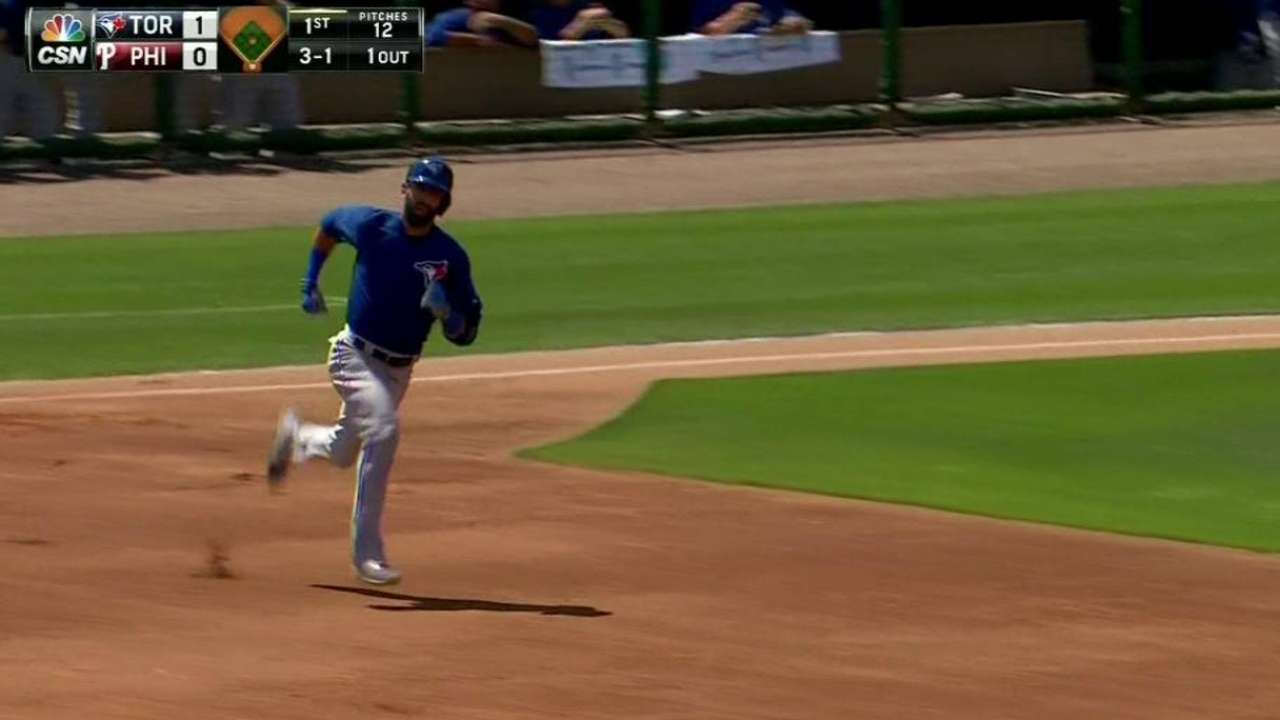 The Phillies got on the board in the fourth inning. Second baseman Chase Utley reached on an error by Reyes, moved to second on Ryan Howard's groundout and slid home safely after a single to right by catcher Carlos Ruiz.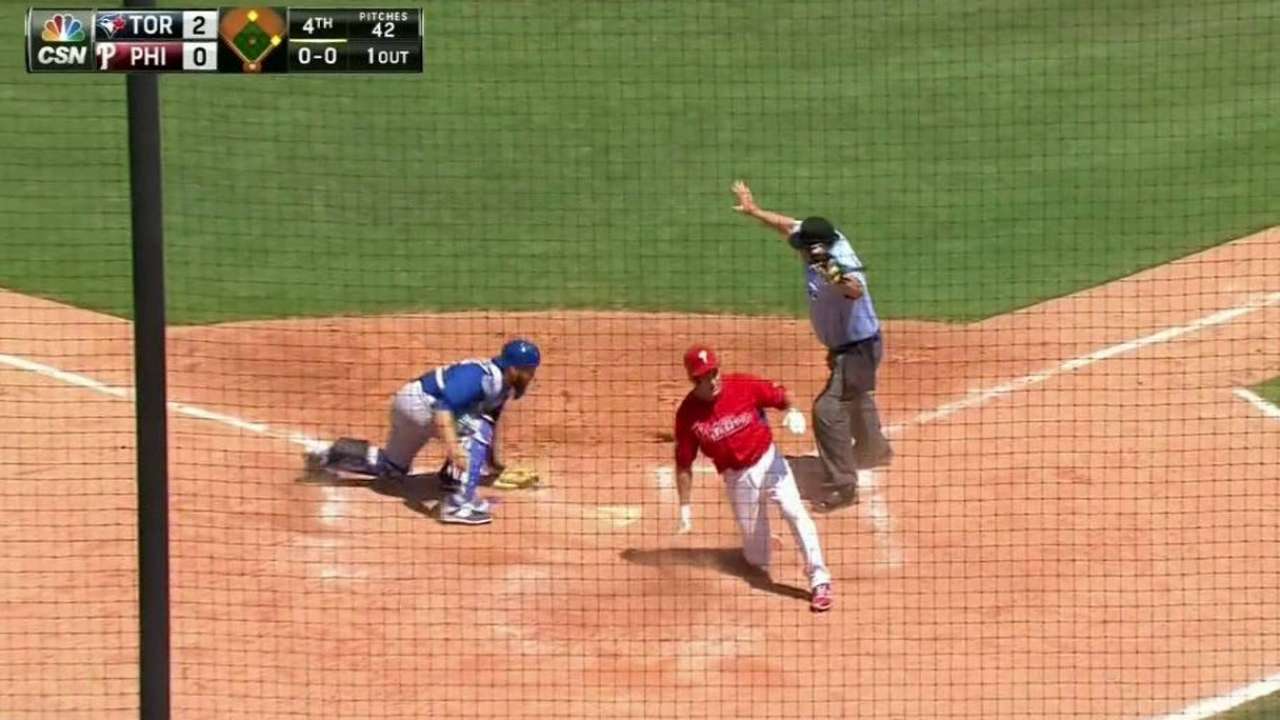 Ruiz then stole second and scored on a single by center fielder Odubel Herrera to tie the game.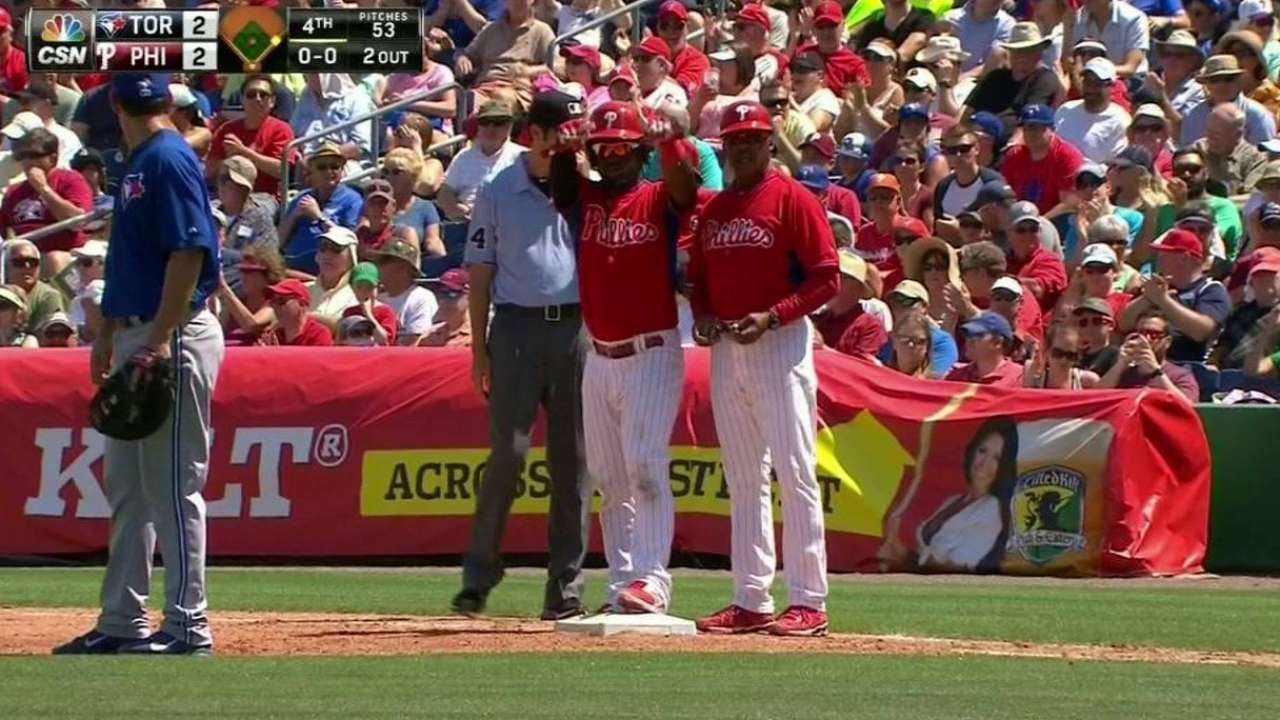 Donaldson's solo homer off Seth Rosin broke the tie, and the Jays pulled further ahead with three more runs in the eighth. The Phils added a run in the bottom of the inning when Ben Revere scored on a groundout by Russ Canzler to bring the score to 6-3.
Up next: Veteran swing-man Marco Estrada, who is vying with top prospect Daniel Norris for the fifth spot in the Jays' starting rotation, will make his second start and fifth appearance of the spring against the Rays at Florida Auto Exchange Stadium on Sunday. Estrada is 1-1 with a 9.39 ERA this spring. First pitch will be half an hour earlier than usual, at 12:37 p.m. ET, live on MLB.TV.
Adam Berry is a reporter for MLB.com. Follow him on Twitter at @adamdberry. This story was not subject to the approval of Major League Baseball or its clubs.