Long trip is next step in CC's road to recovery
Sabathia will gladly travel 5 hours on Sunday to face big league hitters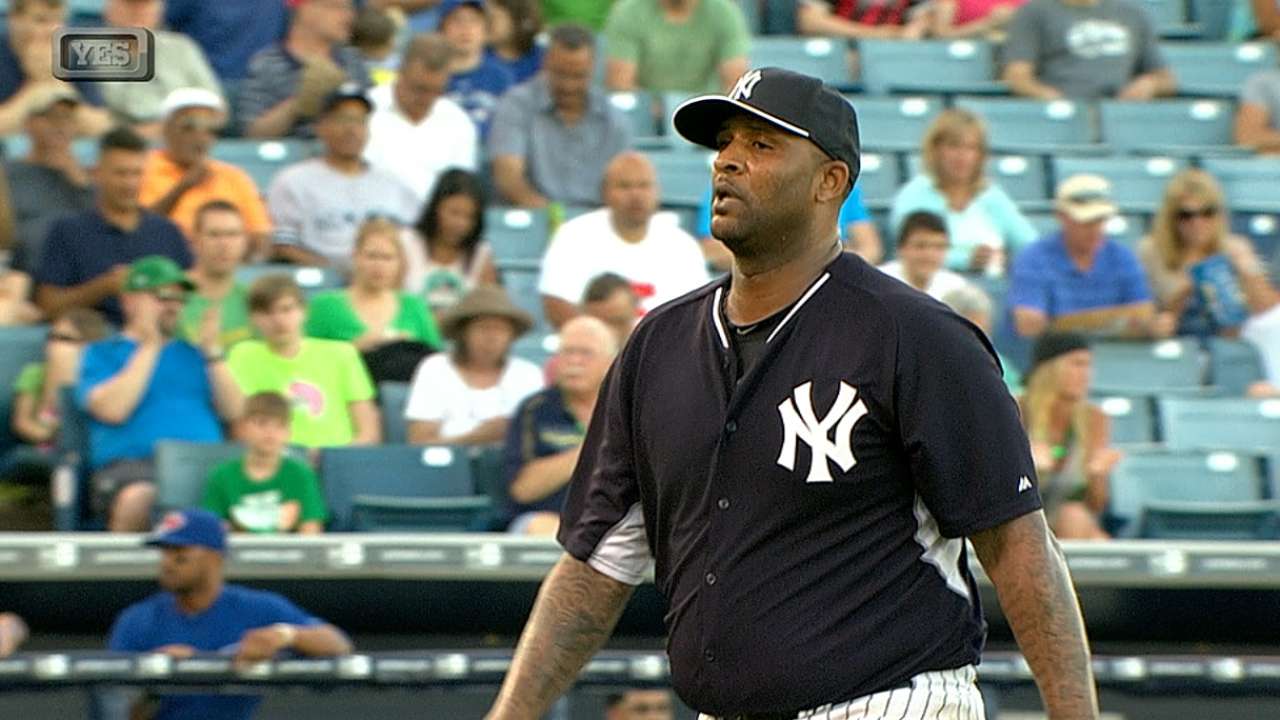 TAMPA, Fla. -- CC Sabathia was not tempted to use his veteran status to get out of a 2 ½-hour trip to Florida's Treasure Coast, saying that he'd prefer to log some extra miles in order to face a big league lineup.
"We talked about just wanting the competition," said Sabathia, who will face the Mets on Sunday at Tradition Field in Port St. Lucie, Fla. "I haven't pitched since May, so we just thought this would be the best option."
It will be the second spring start for Sabathia, who is scheduled to throw 45-50 pitches. While manager Joe Girardi has acknowledged that Sabathia's string of six consecutive Opening Day starts as a Yankee could be snapped this year, the 34-year-old left-hander said he feels confident about being ready for the beginning of the season.
"I think that's just because we took it slow," Sabathia said. "Throwing the extra batting practice and throwing two extra bullpens has gotten me to this point healthy. I'm ready to take the next step, and that's actually getting ready for the season."
Sabathia was limited to eight starts last year, going 3-4 with a 5.28 ERA, and he had season-ending arthroscopic surgery on his right knee in July. The lefty has had no issues with the knee, and he has been encouraged by the status of his teammates as well.
"A lot of the concerns were health, and I think a lot of it coming in, that was our big concern," Sabathia said. "Everyone's been healthy and throwing and hitting and doing everything pretty good, so I'm excited."
Sabathia is scheduled to face Mets right-hander Matt Harvey, but Sabathia said that he is not particularly curious to see how Harvey looks coming off Tommy John surgery.
"Not really, man. He's not on my team," Sabathia said. "I'm curious to see how [Masahiro] Tanaka looks. That's my guy."
Bryan Hoch is a reporter for MLB.com. Follow him on Twitter @bryanhoch and read his MLBlog, Bombers Beat. This story was not subject to the approval of Major League Baseball or its clubs.