Tribe toppled by Angels' triple spree in third inning
Bauer incredulous after allowing four three-baggers in five-batter span
GOODYEAR, Ariz. -- Trevor Bauer took the mound Friday night with the goal of pounding the strike zone in his latest start for the Indians. He succeeded along those lines, but the result was an Angels' offensive outpouring -- powered by four triples in the third inning -- that led the Halos to an 11-5 win at Goodyear Ballpark.
In front of a sellout crowd of 10,511, Bauer surrendered eight runs on nine hits in 3 1/3 innings, which included an unusual turn of events in the third. Already a victim of back-to-back-to-back home runs against the Cubs on March 10, Bauer allowed four triples in a span of five batters in the third.
The starter was able to laugh it off after the outing.
"Have you ever seen that?" Bauer asked reporters. "I don't recall ever seeing it at any level of baseball. I asked like five or six different people in the dugout. I asked [manager Terry Francona]. He said he's never seen it. That may be the first time that's ever happened."
Francona was pleased with how Bauer handled the situation.
"He's come so far," said the manager. "We were kidding him that I sent [pitching coach Mickey Callaway] out to the mound just so [outfielders Michael Brantley and Michael Bourn] could rest. He gets it. The ball really did come out of his hand really well. He's throwing all his pitches."
Pitching in a night game for the first time this spring, Bauer said he felt as if he was "floating outside his body," and he was not happy with his strike rate early in the game. In the third, the right-hander wanted to pound the middle of the zone, resulting an array of hard-hit balls. Erick Aybar, C.J. Cron, Johnny Giavotella and Collin Cowgill each tripled in the frame, plating three runs in the process.
"He came out of the chute, I thought, with an explosive fastball," Francona said. "And then he ran into that kind of that buzzsaw where, he's trying to work ahead, but he caught way too much of the plate too often. It's one of those things where, since it's Spring Training, I would say that we're thrilled with where he's at arm strength wise. I think there could be some refinement with location, which I think he understands."
Over the past 100 regular seasons, only three Cleveland starting pitchers (Rick Sutcliffe on July 29, 1983; Len Barker on May 19, 1982; and Benn Karr on June 1, 1925) have given up at least four triples in a single game. The Angels have never recorded more than three triples in an entire regular-season game. And, according to the Elias Sports Bureau, no team has recorded four triples in an inning since at least 1984.
Before that outbust, the Angels struck for four runs (two earned) off Bauer in the second inning. The first two came courtesy of a towering two-run homer from Chris Iannetta, who sent the ball arcing high over left field, where it dropped to the berm just short of the scoreboard. Los Angeles then capitalized on a fielding error by Indians shortstop Francisco Lindor, adding a pair of runs on an RBI double from Kole Calhoun and a sac fly from Mike Trout.
"The two most important takeaways from today are Duke won -- that's No. 1 -- and no walks," said Bauer, who is a diehard Blue Devils basketball fan. "I'm going out there and you don't have a scouting report. I'm not trying to execute a game plan. I'm just throwing pitches up there and working on a feel for all my pitches.
"The results are going to be what they're going to be. If they're good or bad, indifferent, it doesn't really matter. I got good work in, and got to throw out of the stretch quite a bit today, so that was good."
Bauer struck out four and walked none, giving him 11 strikeouts against zero walks in 15 1/3 Cactus League innings this spring.
The surplus of run support backed a solid effort from Angels lefty Hector Santiago, who is projected to be L.A.'s fourth starter come Opening Day. Santiago limited Cleveland to two runs (one earned) on six hits across 4 1/3 innings. Santiago finished with two strikeouts and two walks against the Indians, who received a sac fly from Lindor in the third and an RBI single from Michael Bourn in the fourth.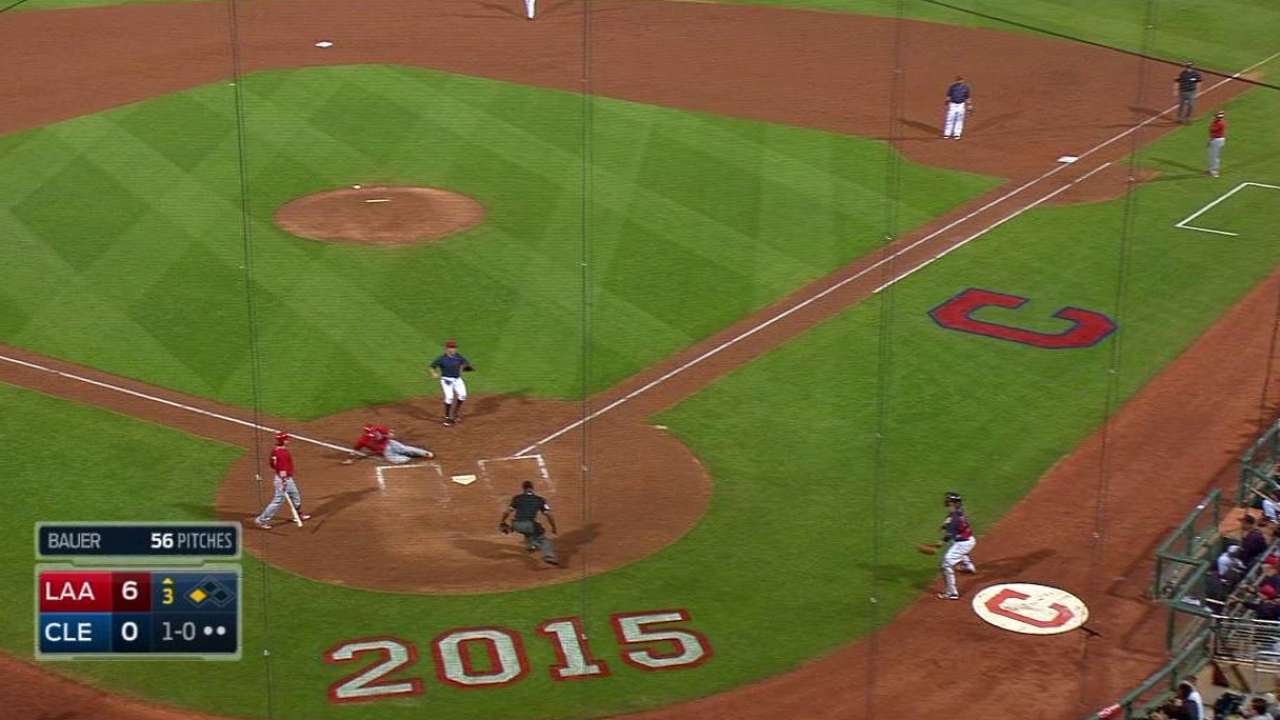 Santiago exited his last start after taking a comebacker to his left forearm in the third inning, but felt no ill effects Friday.
"I felt pretty good all around, felt normal," Santiago said. "It worked out pretty good. I commanded the zone pretty well. I fell behind a few early, and then just got back into some good counts and battled my way through."
Up next: Right-hander Danny Salazar, who is fighting for one of the two openings in Cleveland's starting rotation, is scheduled to work four innings Saturday, when the Indians host the Rockies in a 4:05 p.m. ET Cactus League tilt at Goodyear Ballpark. Closer Cody Allen, as well as bullpen candidates Scott Downs, Jeff Manship, Dustin Molleken and Bryan Price, are also slated to pitch for the Tribe. The game will be available on Gameday Audio, on WTAM 1100 AM and across the Indians Radio Network.
Jordan Bastian is a reporter for MLB.com. Read his blog, Major League Bastian, and follow him on Twitter @MLBastian. This story was not subject to the approval of Major League Baseball or its clubs.