MLB.com Columnist
Richard Justice
Bush, Manfred enjoy talking all things baseball
Former President, Commissioner discuss current state of game, '01 World Series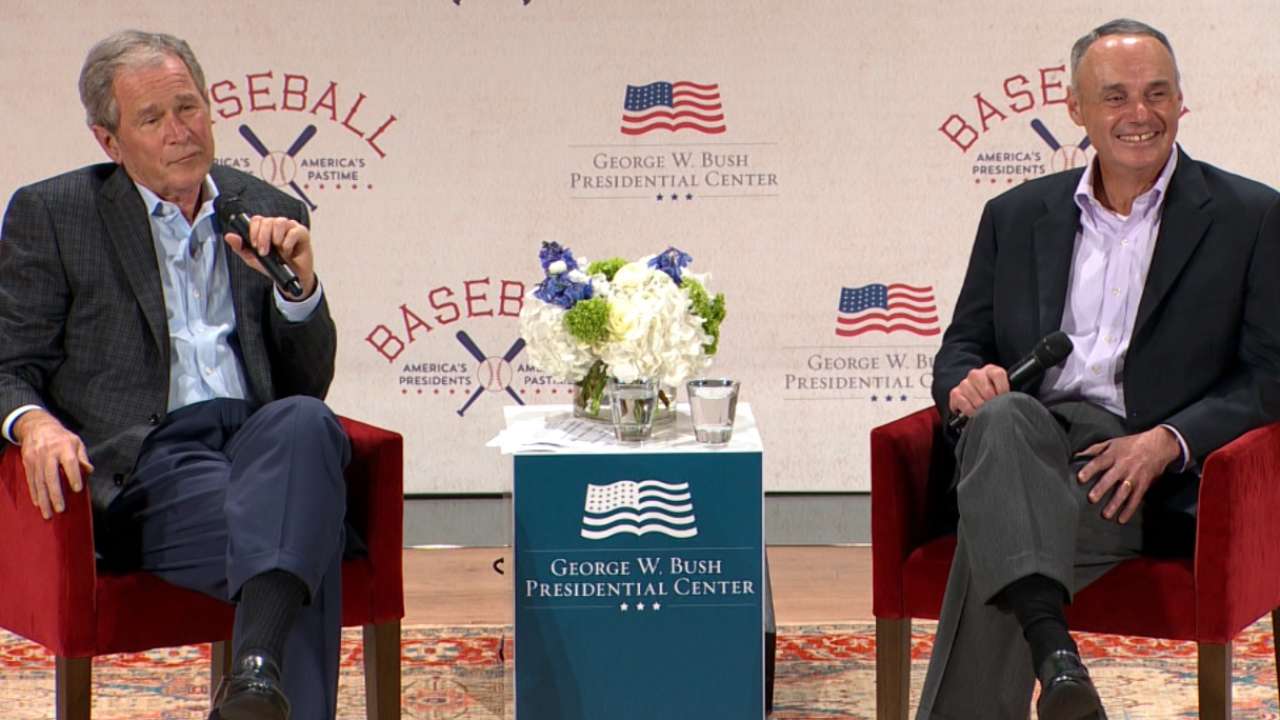 DALLAS -- Baseball Commissioner Rob Manfred doesn't collect autographs. Just never had much interest in it. Through the years, he has given away most of the autographed balls he has been given.
With one exception.
Manfred's lone autographed baseball is one he will cherish forever both because of the man who signed it and the circumstances surrounding it. On one of the most emotional, touching and uniquely American moments baseball -- and this country -- have ever had, President George W. Bush stood on the mound at Yankee Stadium for the ceremonial first pitch before Game 3 of the 2001 World Series.
That night, Bush heard the kind of cheers few men have ever heard. They were cheers for him as our Commander in Chief, but they were cheers for a country, too, for its strength and resolve just six weeks after the Sept. 11 terror attacks. And so on Friday, as Manfred and Bush appeared together at the Bush Presidential Center for a baseball conversation, the commissioner spoke of that autographed baseball and its special meaning to him.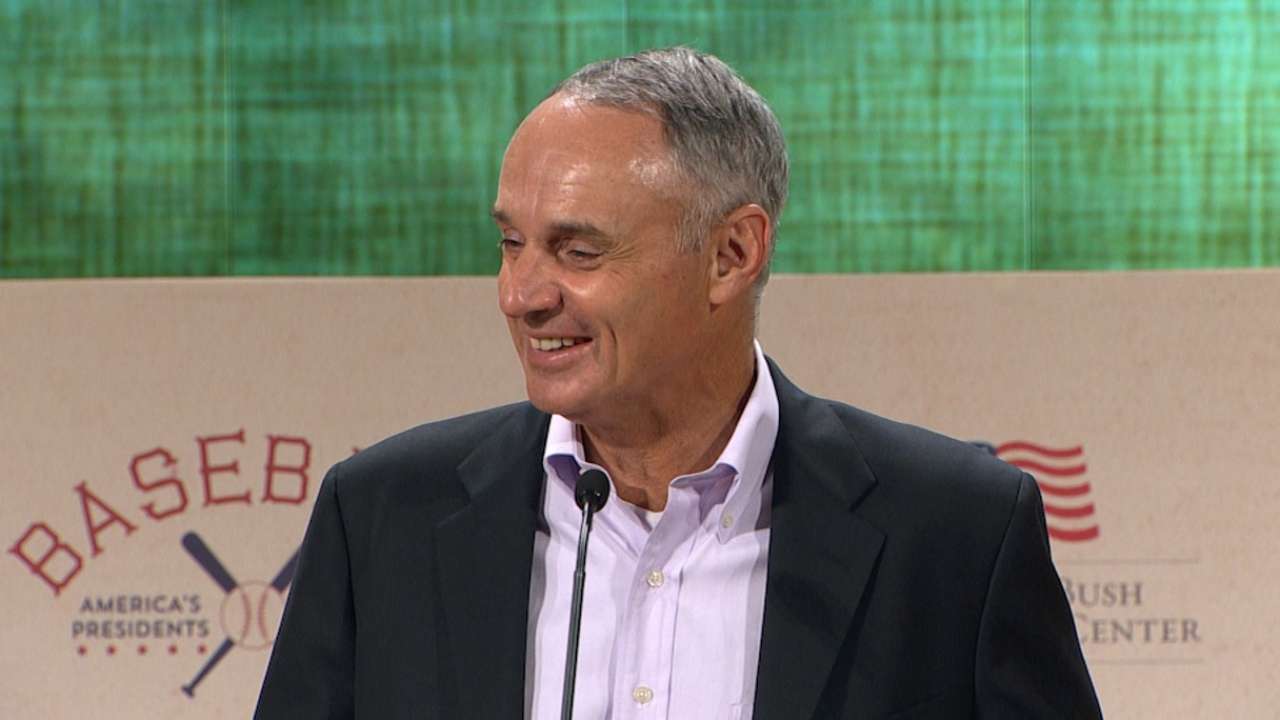 "It was one of the most memorable things I've had an opportunity to see in my life," said Manfred, who was MLB's Executive Vice President for Labor Relations and Human Resources at the time of the 2001 Fall Classic. "It was such a meaningful memento for me."
Manfred was answering a question about how the 2013 Boston Red Sox played a role in helping their city heal in the wake of the Marathon Bombing. How, Manfred was asked, can a sport be so important in our hearts and minds that it has the power to do a greater good?
"I think the relationship of baseball generally to our culture is a special one," he said. "People feel about our game differently than they feel about other sports that they like. It is more a part of their lives because we're out there everyday all season long. It does become ingrained in everything you do if you're a fan. One of the greatest things about baseball is it provides a role in the healing of the country. It's a great feeling to be a part of that."
Bush invited Manfred and an array of other members of baseball's family, including owners Jerry Reinsdorf of the White Sox and Bill DeWitt Jr. of the Cardinals, to his presidential library on the eve of the opening of an exhibit on baseball and the presidency.
As the crowd cheered on Friday and Bush spotted so many familiar faces, he looked at former first lady Laura Bush and smiled.
"Laura, kind of reliving the old days, aren't we?" Bush said, referring to his time as owner of the Texas Rangers.
"Laura and I had a glorious time when we were in the game, and we made a lot of good friends. I'm honored that so many came."
On display at Bush's library for the next few months are exhibitions from other presidential libraries -- Eisenhower, Johnson, Kennedy, Nixon, etc. -- and the Baseball Hall of Fame. Among the memorabilia are gloves and balls and bats that presidents have collected through the years. Most touching, though, are the photographs of a string of our presidents throwing out ceremonial first pitches at ballparks around the country. From FDR encouraging baseball to continue playing games during World War II to Bush using the 2001 World Series as a platform to hold a sort of impromptu pep rally, baseball is woven through the lives of dozens of our presidents.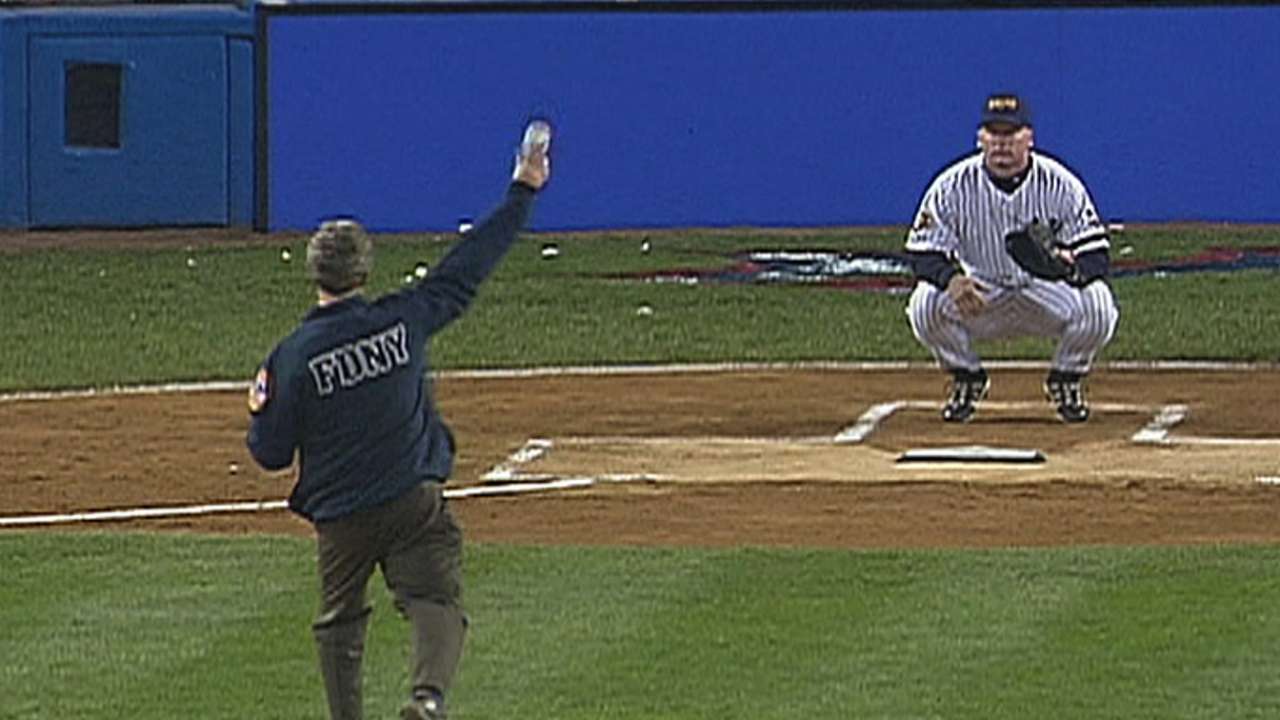 Bush and Manfred appeared together for 45 minutes in front of invited guests to talk baseball. Mostly, it was Bush peppering Manfred with questions about the state of the game.
They've known one another for years, from Manfred's time spearheading baseball's labor relations team and Bush's years as an owner, a time during which he changed the course of the Rangers forever by getting a beautiful ballpark built.
Bush was also a model owner in many ways. He got to know ushers and trainers and fans by name. He sat for hours in the training room talking to players and catching up on gossip. In ways large and small, he made everyone associated with the Rangers feel important.
Bush once vowed that he'd never attend a World Series unless the Rangers were playing. But he broke that promise in 2001. He asked Manfred about topics including pace of play, diversity, drug testing, Instant Replay and whether players who've used steroids deserved to be in the Hall of Fame.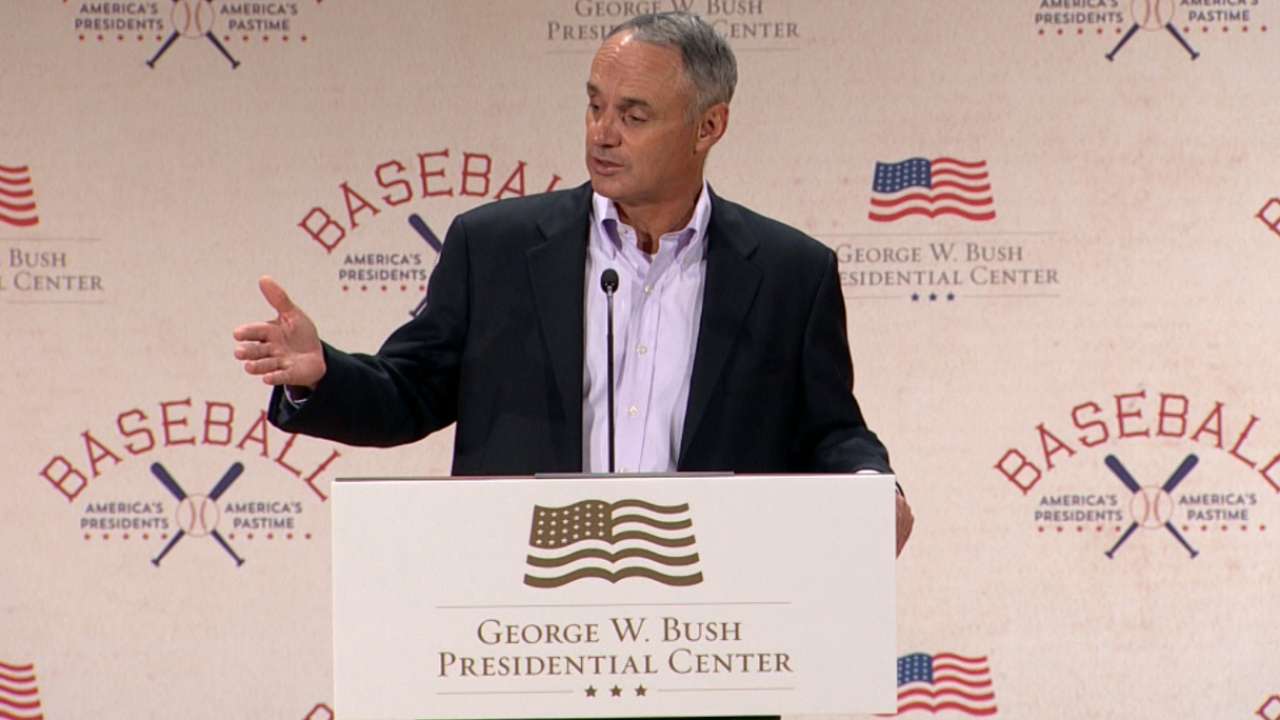 "I'm often asked this question," Bush said. "Should Barry Bonds -- or someone like Barry Bonds -- be in the Hall of Fame?"
Manfred said the current Hall of Fame voters seemed unlikely to vote players associated with steroids into the Hall of Fame. His problem, he said, was with the guessing game used against some players who've never been linked to steroids in a tangible way.
When Bush pressed Manfred on whether he would vote for a steroid user for the Hall, he got an answer.
"Somebody who was proved to be a steroid user, I think I would have to discount the numbers based on that fact," Manfred said.
Along the way, there were lighthearted moments. Manfred said one reason umpires went along with Instant Replay was that they got tired of seeing their mistakes aired over and over on ESPN.
"I had to watch my mistakes on NBC," Bush shot back.
Bush asked if Manfred had always been a baseball fan.
"I grew up a Yankee fan," Manfred said.
When the crowd booed, Bush said, "Good, Rob. Welcome to Texas anyway."
Manfred, asked about his agenda, said began with engaging younger fans, increasing diversity and quickening the pace of play. Regarding drug testing, Manfred said, "I think there's been a massive cleanup of the game in terms of steroid use."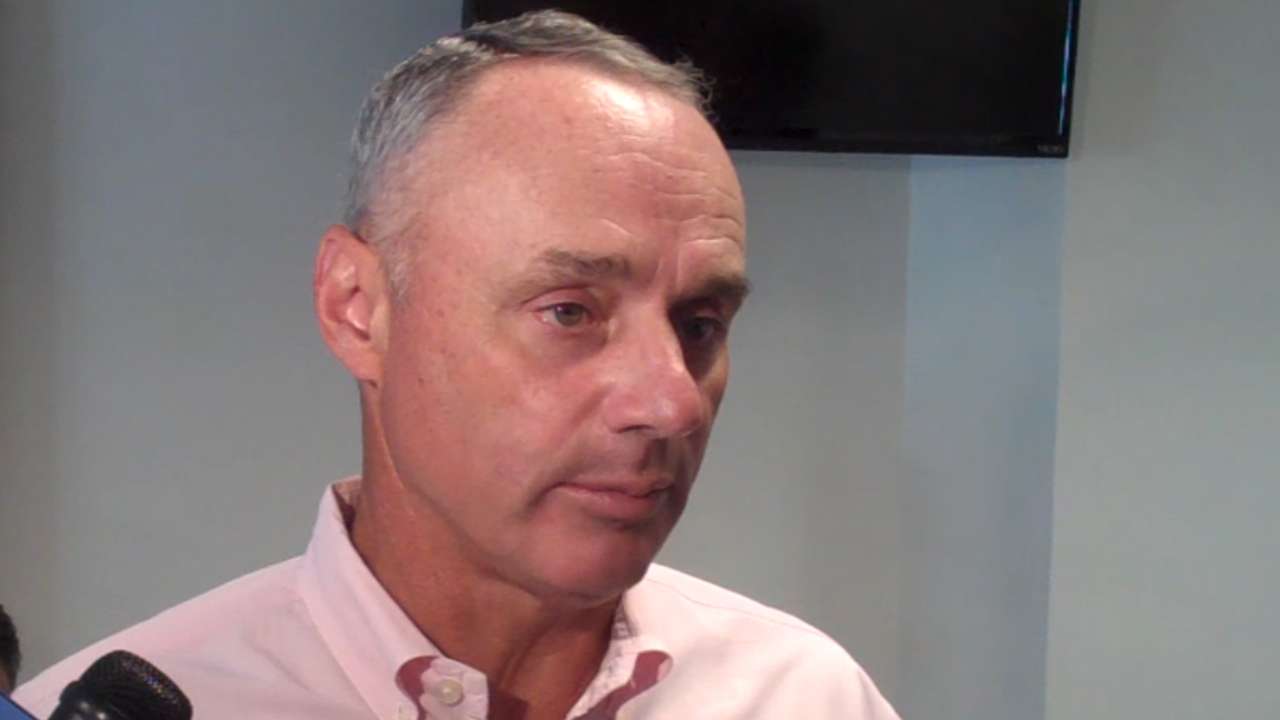 When Bush wondered about the possibility of a Major League team in Mexico, Manfred said, "I think you will see a time when there's a franchise in Mexico. I think it presents a great opportunity for baseball. I don't think it's a next-week issue. But I do see it happening."
It was an evening when both men seemed relaxed, each clearly holding the other in high regard.
"It's a thrill for me to share the stage with the Commissioner," Bush said. "I really believe the owners made a really wise choice in picking Rob as the new Commissioner of Baseball."
Richard Justice is a columnist for MLB.com. Read his blog, Justice4U. This story was not subject to the approval of Major League Baseball or its clubs.