Smoother delivery working well for Lorenzen
Reds prospect embracing project to eliminate pitching pause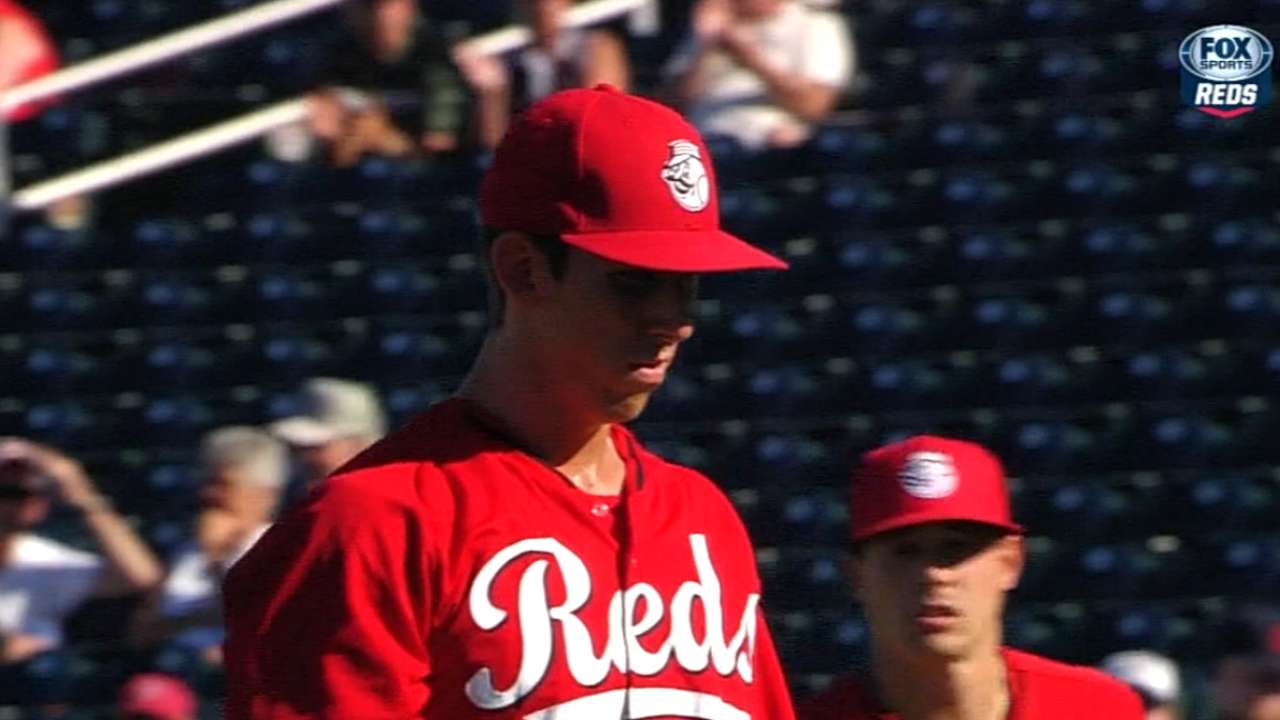 GOODYEAR, Ariz. -- In his brief time with the Reds organization, prospect Michael Lorenzen has certainly shown he knows how to pitch. This spring as he has put himself into contention for a 25-man roster spot, Lorenzen has also shown he knows how to make adjustments and take advice on how to get even better.
Coming into camp, Lorenzen realized he needed to make a mechanical adjustment with his delivery.
In his old way of delivering to the plate, Lorenzen would make a slight pause and stab the ball downward in his hand before throwing. He worked to eliminate it, feeling the subtle change could prevent an injury down the road.
"It's tougher on the shoulder when you stop and pause," Lorenzen said. "I jerked and completely stopped my arm. I had to generate more from my arm to get everything out of it."
Without the pause, Lorenzen's delivery is more of a fluid motion.
"And it's not as hard and it feels really good, really easy and very smooth," Lorenzen said. "It just feels a lot easier to repeat. As pitchers, that's one of our biggest goals -- to be able to repeat every single pitch and make them all look the same. When you're doing that, you're going somewhere."
You can see the difference between the two deliveries here:
Lorenzen worked with former Reds pitching great Mario Soto, a special assistant to the general manager, to eliminate his pause.
"I've always known that I've had it. I just never knew how to fix it or if I should fix it," Lorenzen said. "It didn't take much because I wanted to fix it. I was going to do whatever it took to fix it."
Lorenzen, 23, also had to make the adjustment while pitching from the stretch. Pitching coach Jeff Pico and assistant pitching coach Mack Jenkins helped in that area.
"I got used to it in the stretch just like that because Mack and Pico both gave me the same [advice]," Lorenzen said. "When two different minds like that are giving you the same thing at different times, you should listen. I ran with that. I feel amazing from the stretch. Every time I pick up a ball, I repeat it and get used to it -- muscle memory."
Lorenzen has had a meteoric rise through the Reds system, since he was the 38th overall pick in the 2013 Draft. A center fielder and closer in college for Cal State Fullerton, last season was his first full year as a starter. At Double-A Pensacola, he was 4-6 with a 3.13 ERA in 24 starts.
Until Friday, Lorenzen had six scoreless innings over his first three games. Against the Giants, however, he issued six walks over his two innings, including four straight one-out walks that forced in a seventh-inning run.
The No. 4 prospect in the organization according to MLB.com, Lorenzen could make the Reds' bullpen while still being groomed long term as a starter. He already could throw in the mid-to-upper 90s before. His new delivery hasn't appeared to have sapped his velocity.
"If anything, it might go up," he said.
Mark Sheldon is a reporter for MLB.com. Read his blog, Mark My Word, and follow him on Twitter @m_sheldon. This story was not subject to the approval of Major League Baseball or its clubs.