Haren's first walk of spring proves costly
But Marlins starter happy to work his kinks out now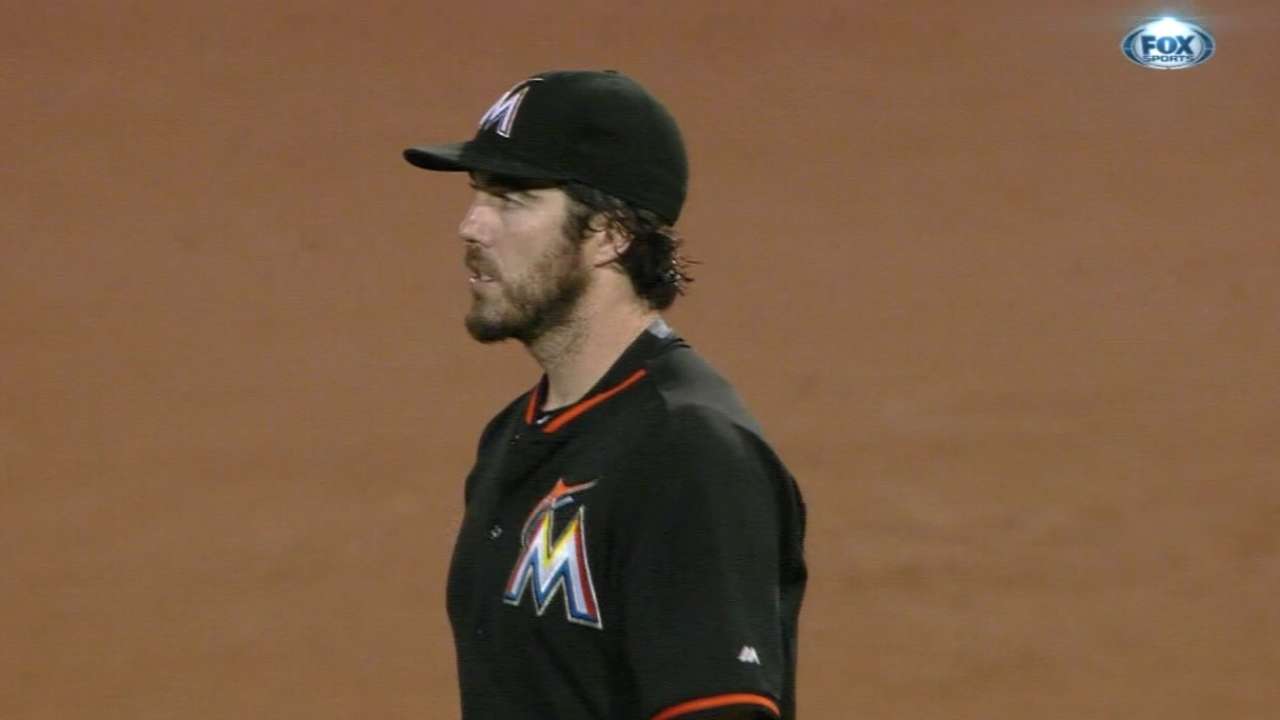 JUPITER, Fla. -- The first time this spring Dan Haren had a glitch in his command, it came back to haunt him. A leadoff walk to Freddie Freeman in the fourth inning led to the lone run the Miami right-hander allowed on Friday night.
Otherwise, it was an encouraging outing for Haren, who keeps tracking nicely towards being regular-season ready.
In four innings, Haren gave up one run on four hits, and he struck out four in the Marlins' 5-1 win over the Braves.
Until the fourth inning, Haren had not issued a walk in his first 12 innings of Grapefruit League play. That string came to an end when Freeman drew the free pass.
"No good," Haren said. "Leadoff walk, obviously, I can't be doing that during the season. I have to be close to perfect the way I pitch. I was able to minimize the damage there. It's frustrating, but it happens."
Without an overpowering fastball, Haren relies heavily on command. For the most part, it's been on point in his four Grapefruit League starts.
"I was keeping them off balance for the most part," the veteran said. "A lot of ground balls again. Things keep going in the right direction. I'm happy with it."
After 75 pitches, Haren's night was over.
"I definitely started getting a little tired there at the end," he said. "I've got a few starts left. I'll probably put it in neutral here for a little while because otherwise I'll be throwing 130 pitches the first time out."
Atlanta broke through in the fourth inning off Haren, and scored on Chris Johnson's RBI single to left, which scored Freeman.
The pitch Johnson hit was a poorly executed cutter. It was a pitch that the right-hander wanted to experiment with at this point of spring, and he consulted with catcher Jarrod Saltalamacchia before throwing the pitch.
"Real bad pitch," Haren said. "I had talked to Salty right before the pitch. I wanted to actually try something. It was really stupid. Front-door cutter.
"I hadn't thrown one all spring. He was leaning out toward the plate. I told [Saltalamacchia] let's try it here. If it doesn't work we'll go to something else. Then, of course, I gave up a hit there. Probably not something I would do during the year. He put a good swing on it."
Joe Frisaro is a reporter for MLB.com. He writes a blog, called The Fish Pond. Follow him on Twitter @JoeFrisaro. This story was not subject to the approval of Major League Baseball or its clubs.