Giants looking internally for left-field options
Belt could return to outfield; Perez also in mix while Pence, Pagan sidelined
SCOTTSDALE, Ariz. -- Hoping to find an adequate outfield contingent while right fielder Hunter Pence is sidelined, Giants manager Bruce Bochy said Friday that he and general manager Brian Sabean have discussed using regular first baseman Brandon Belt in left field, a option that has been mentioned in recent years but never fully executed since 2011.
Bochy cited several other potential candidates for left field, which stands out as a gaping hole as long as Pence's fractured left arm renders him inactive and center fielder Angel Pagan deals with back pain. With both of them unavailable -- Pence could return by the end of April; Pagan's status is uncertain -- Nori Aoki and Gregor Blanco probably will occupy center field and right, respectively.
Asked about the possibility of Belt playing left field, "period," Bochy breathed life into the issue by saying, "I wouldn't say 'period.' More of a comma. It's currently being discussed. We've talked about Brandon. We've done it before."
Approached by reporters following batting practice and Bochy's chat with the media, Belt anticipated their questions.
"I just got off Twitter," he said.
Belt long has been regarded as a potentially moveable part, despite his scant outfield experience. He started 34 games in left field and one in right as a rookie in 2011. The following year, he made four starts in left. Otherwise, he has played exclusively first base. But he sounded willing to switch spots.
"I'm here to do whatever they need me to do. If that's go to the outfield, I'm ready to do it," said Belt, whose lone caveat was receiving time to refresh his defensive technique if necessary.
Pagan will need at least a little more time to heal. He recently had two injections in the facet joint in his back, which required surgery for repair of a bulging disk last September. Bochy expressed hope that Pagan could perform some type of baseball-related activity Sunday.
Meanwhile, Bochy said he would continue to consider multiple outfield candidates. Every outfielder remaining on the spring roster is in the mix, including Juan Perez, Gary Brown and Justin Maxwell.
Bochy regarded Perez highly enough to start him twice in last year's World Series and routinely installed him late in the 14 postseason games Travis Ishikawa started to bolster San Francisco's defense.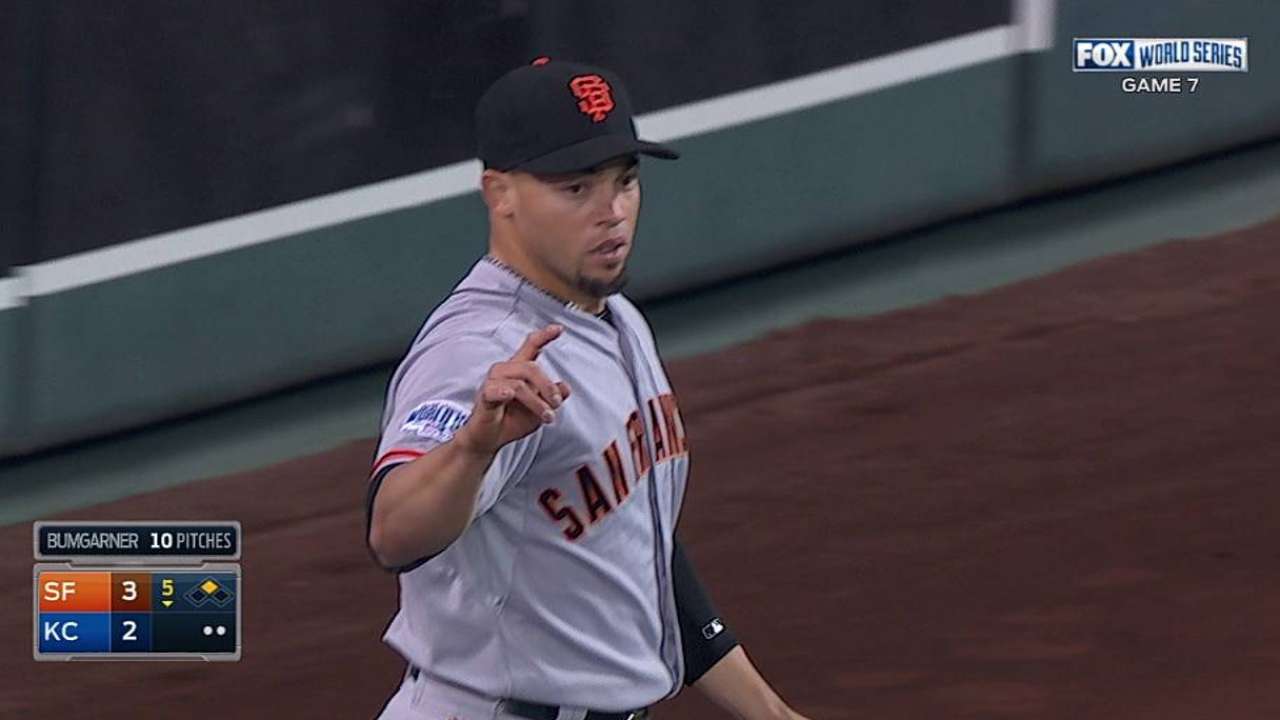 "We've seen what Juan can do when he's comfortable and relaxed," Bochy said. "He's a good athlete and a plus-plus defender. He's got a good bat. It's not proven in the Major Leagues yet, but as the postseason went on, he got more and more comfortable. The at-bats got better. You look at Triple-A and what he's done, and there's no reason he can't handle it."
Bochy reiterated that Ishikawa, primarily a first baseman, is regarded more as a pinch-hitter but could receive some action in left. In fact, he started Friday night's exhibition against Cincinnati and made a nice running catch of Jay Bruce's second-inning drive.
"If we feel we need more offense and he's swinging well, we'll put him out there more often," Bochy said. "A lot depends on where we're at with Angel."
With Pence temporarily sidelined, the Giants were counting on Pagan, formerly the leadoff hitter, to bat lower in the order to bolster the offense.
Bochy even mentioned infielders Matt Duffy and Adam Duvall as left-field possibilities he and Sabean have pondered. Duffy has displayed a handyman's potential, given his ability to play second base, shortstop and third. He also has been one of San Francisco's best hitters this spring, entering Friday with a .385 batting average. Duvall has prompted the Giants' concern with his defense at third base but is among the few legitimate power hitters on the 40-man roster.
Asked about the outlook for a trade, Bochy said, "You don't know what's out there and available. The only choice we have is to look internally at the guys we're throwing out there now."
Chris Haft is a reporter for MLB.com. Read his blog, Haft-Baked Ideas, and follow him on Twitter at @sfgiantsbeat. This story was not subject to the approval of Major League Baseball or its clubs.