Manfred eyes Hamilton resolution by opener
Commissioner addresses status of Angels outfielder, Rose, pace of play, among other topics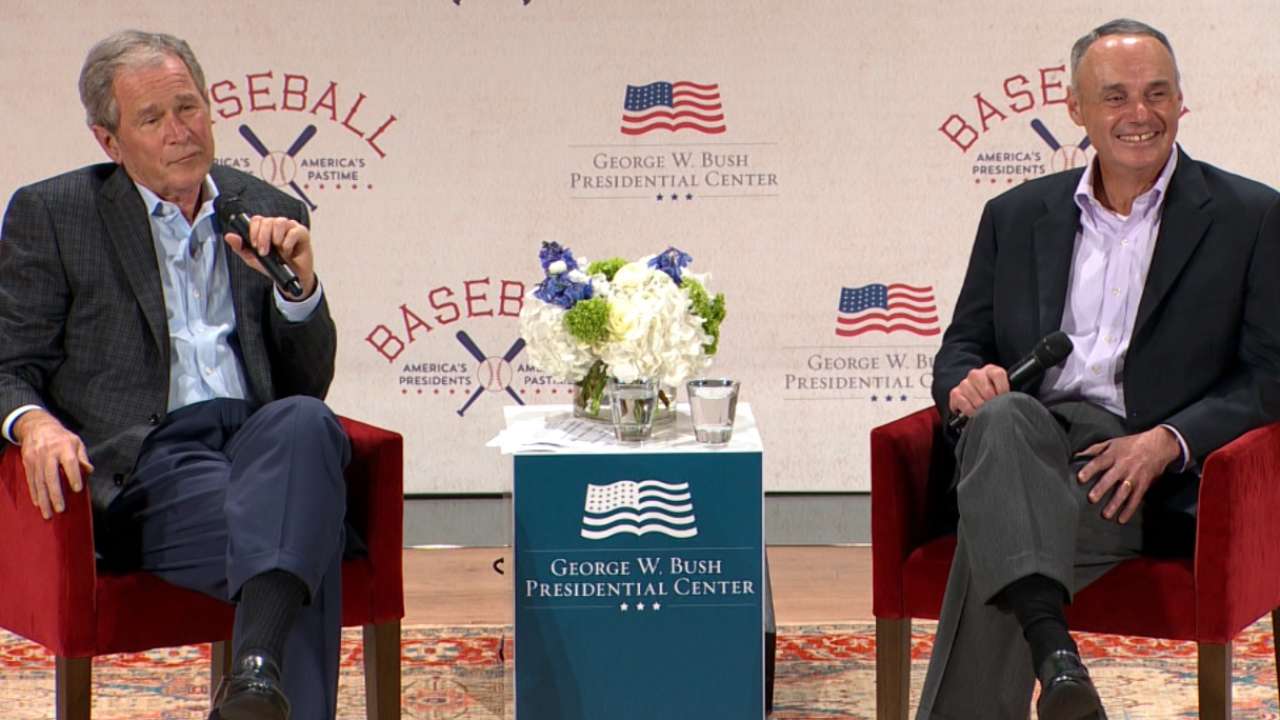 DALLAS -- Major League Baseball Commissioner Rob Manfred said Friday he hopes to reach a resolution regarding Angels outfielder Josh Hamilton's status by Opening Day. Hamilton has admitted to a drug-related relapse, according to various media reports. He's also recovering from shoulder surgery.
"With Josh recovering from surgery, it has allowed the luxury of some time in the process," Manfred said before an appearance with former President George W. Bush at the Bush Presidential Center. "There was no need to address the issue quickly, because he's not going to be on the field either way. We are working toward a resolution, and I think it will be done by Opening Day."
Sources have told MLB.com that Hamilton suffered a drug-related relapse during the offseason.
At issue is the length of a possible suspension and the impact on the three seasons and $90 million remaining on the outfielder's contract.
Manfred touched on a variety of other topics during a news conference and during a question-and-answer session with Bush, including: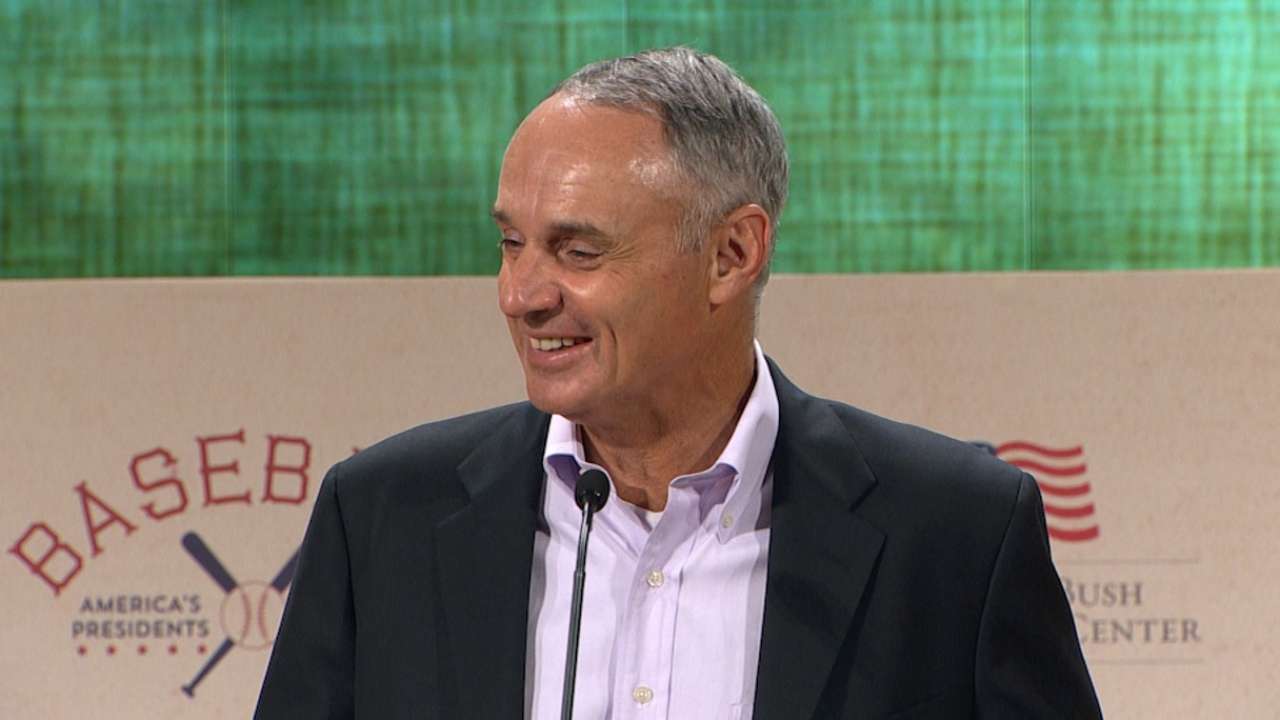 • He has no timetable in mind for Pete Rose's application for reinstatement.
"I'm going to reach out to Mr. Rose and his representatives and talk about the process," Manfred said, "and the timetable will follow from the discussions that we have about process. I know from my perspective, the Rose matter was one of the few things still active in the game that I was not involved in when it originally happened. So I do intend to go back and review the Dowd Report thoroughly. I want to review the agreement that was reached with [late] Commissioner [Bart] Giamatti. I expect that I will talk to [former] Commissioner [Fay] Vincent, who was involved at that time. I would expect that Mr. Rose would want to have an opportunity to come in and chat. We will sequence those things and develop a timetable once we have a firm agreement on process."
• Rule changes related to pace of play have received positive early reviews.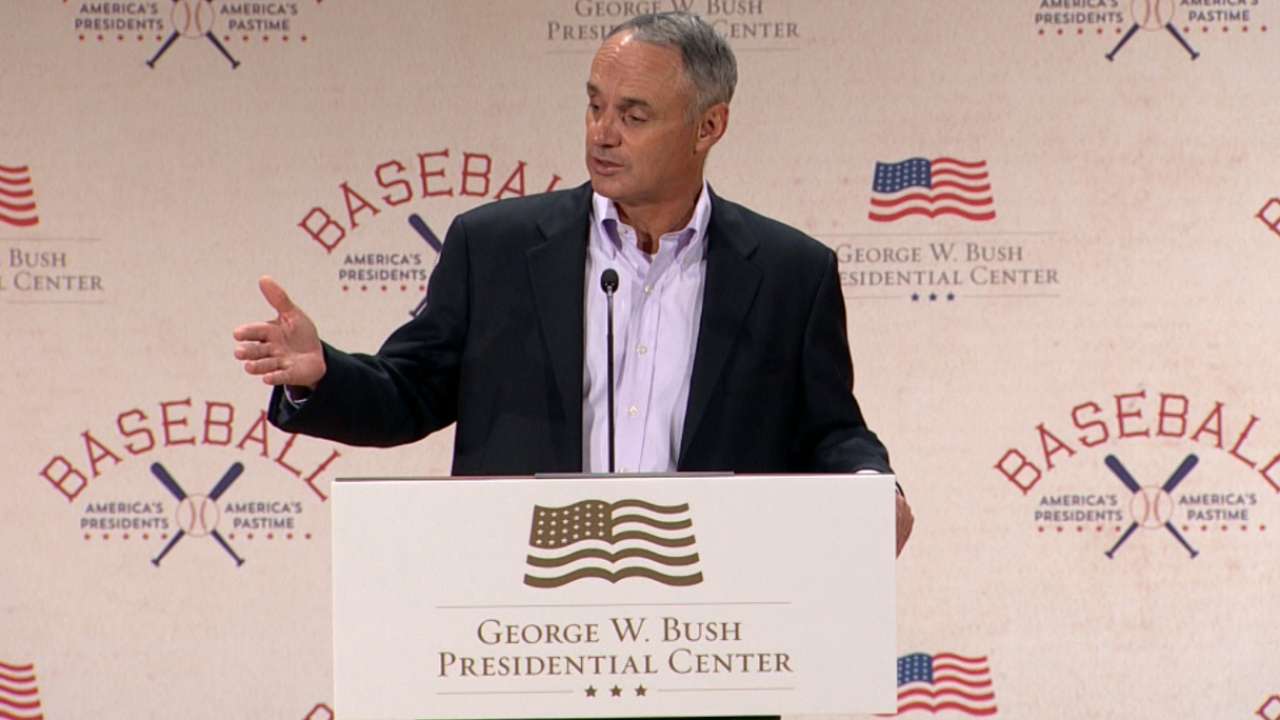 Among the changes is having the game begin more quickly after between-inning commercial breaks and limiting the number of times a hitter can step out of the batter's box.
"We picked a couple of initiatives that we thought were important and not too disruptive," Manfred said. "We've got them out there in the spring. Spring Training games are different. It's hard to draw kind of interim judgments on them. But the early returns -- from club people, mostly anecdotal, and from players; I've been out talking to players -- are positive, that the game is flowing a little better. We're hopeful that continues on into the season and fans walk away thinking we've been responsive to their concerns."
• Drug testing is working.
"I think there's been a massive cleanup of the game in terms of steroid use," Manfred said. "I remember a decade ago the World Anti-Doping Unit routinely criticized us for the state of our programs. Now they've said publicly over and over that we're the best of the professional sports. I was talking with one of the lawyers that worked [on the Mitchell Report], and he worked with us on the Alex Rodriguez case. He called me and said, 'The most amazing thing is not how much better your programs are' -- because they are -- 'your culture inside the game has changed so much since the time that the Mitchell Report was done.' I feel good about where the game is. Having said that, this is one of those issues you always have to be vigilant. The temptation, the economic motivation to use drugs of this type, is very strong."
• Baseball is working to correct the issues that prompted many inner-city kids to stay away from playing baseball.
"It began with a problem of facilities in the inner-city," Manfred said. "Baseball is not the easiest game to play. However, you do need adequate facilities to attract people. I think the competition from both basketball and football is fierce. We get hurt because for both basketball and football, you have the opportunity to get a full scholarship. Parents look at that and see it as an opportunity. We get hurt in that space."
• Baseball likes the idea of the All-Star Game deciding home-field advantage in the World Series.
"This is one of those controversies that I don't understand," Manfred said. "I really do try to understand it. The All-Star Game, if you watched it over a period of years, had changed. Major League Baseball decided that we didn't like where it was headed, directionally. We wanted the players more invested in the game and try to make the game as competitive as possible, in order to keep the All-Star Game as the best all-star game in professional sports. We made the home-field advantage change.
"Whatever else you say about it, two things are true: It can't be worse than the old rule, when we just flip-flopped league to league. I mean, it was completely random, right? No. 2, and more importantly, the way that game has been played in recent years has changed, and it's changed in a way that's better for the fans."
Richard Justice is a columnist for MLB.com. Read his blog, Justice4U. This story was not subject to the approval of Major League Baseball or its clubs.