Angels see potential in Snodgress as lefty bullpen piece
Prospect increased velocity after converting to reliever role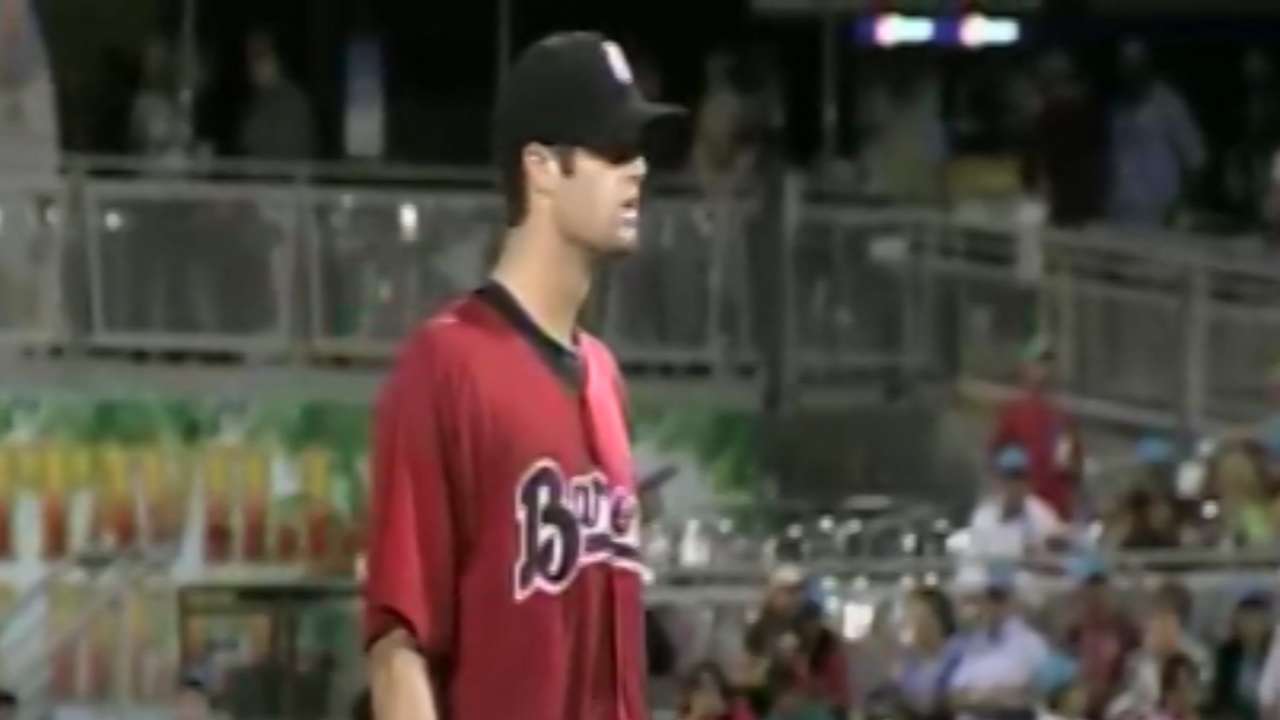 GOODYEAR, Ariz. -- Scott Snodgress joined the White Sox as a September callup last season, struggled, got lost in an offseason numbers crunch, slipped through outright waivers and elected Minor League free agency on Dec. 2.
Angels general manager Jerry Dipoto was on the phone with his agent within the hour.
"He's opportunity," Dipoto said. "This is a team that, for the most part, has gone through the last year and a half without a consistent presence on the left-handed side of the bullpen. From Day 1, we've talked about bullpen being a role, and I think that intrigued him."
Dipoto scouted Snodgress as a starting pitcher at Stanford University, and that's the role he stayed at after the White Sox drafted him in the fifth round in 2011. Until last August. The White Sox transitioned Snodgress to the bullpen upon moving him to Triple-A and the Angels were immediately intrigued. They noticed how the fastball velocity jumped to 95 mph, how good it looked coming out of a 6-foot-6 frame and how much more effective Snodgress could be if he only had to focus on two pitches.
Despite qualifying for Minor League free agency, Snodgress is only 25 and is easily the best left-handed relief prospect in the Angels' system.
"It's just intriguing," Dipoto said. "We have not had a hard-throwing lefty in our bullpen as long as I've been here."
The Angels have taken a lot of steps toward building starting-pitching depth and acquiring right-handed bullpen pieces over the last few years, but they've been shutout in the lefty-relief department ever since Scott Downs left in the middle of 2013. Sean Burnett and Brian Moran were both lost to Tommy John surgery, Michael Roth didn't really pan out and Joe Thatcher struggled upon coming over from the D-backs last July.
Snodgress is different, simply because he's a left-handed bullpen piece who throws hard.
"There's not a lot of them in the world," Dipoto said. "If you look around the league, most of the left-handers in bullpens are quirky."
Snodgress still needs some work, which he'll likely get in Triple-A to start the season. He needs to get more consistent with his breaking ball and he needs to stay tall in his delivery, so that he actually plays up his size and gets the necessary downhill plane on his fastball.
"He may not be quite there yet, but he's 25 years old," Dipoto said. "We're not swimming with 25-year-old, 6-6 lefties who throw low- to mid-90s."
Alden Gonzalez is a reporter for MLB.com. Read his blog, Gonzo and "The Show", and follow him on Twitter @Alden_Gonzalez. This story was not subject to the approval of Major League Baseball or its clubs.