MLB.com Columnist
Tracy Ringolsby
Kershaw gives Dodgers scare, but not for long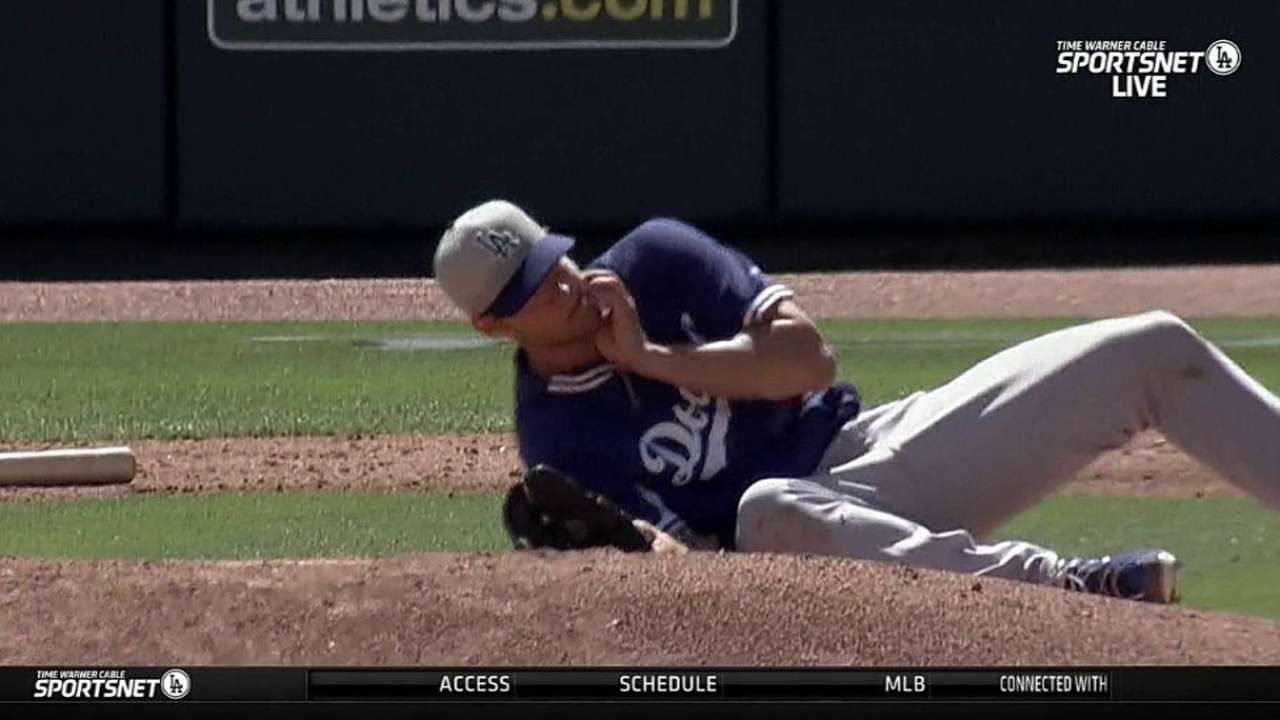 MESA, Ariz. -- OK, Clayton Kershaw's left bicuspid was chipped.
But his arm felt great. And he got his work in.
And all was well in Dodgerland on Friday night.
So much for that hold-your-breath moment in the bottom of the third inning of the Dodgers' 3-2 loss to the A's earlier in the afternoon, when A's third baseman Andy Parrino's broken-bat line drive hit the lower left part of Kershaw's jaw.
"It scared all of us a little bit," said Dodgers manager Don Mattingly.
But not for long.
"Scared?" Kershaw said, repeating the question. "I guess so. It didn't hit me that hard. It kind of caught me on the jaw.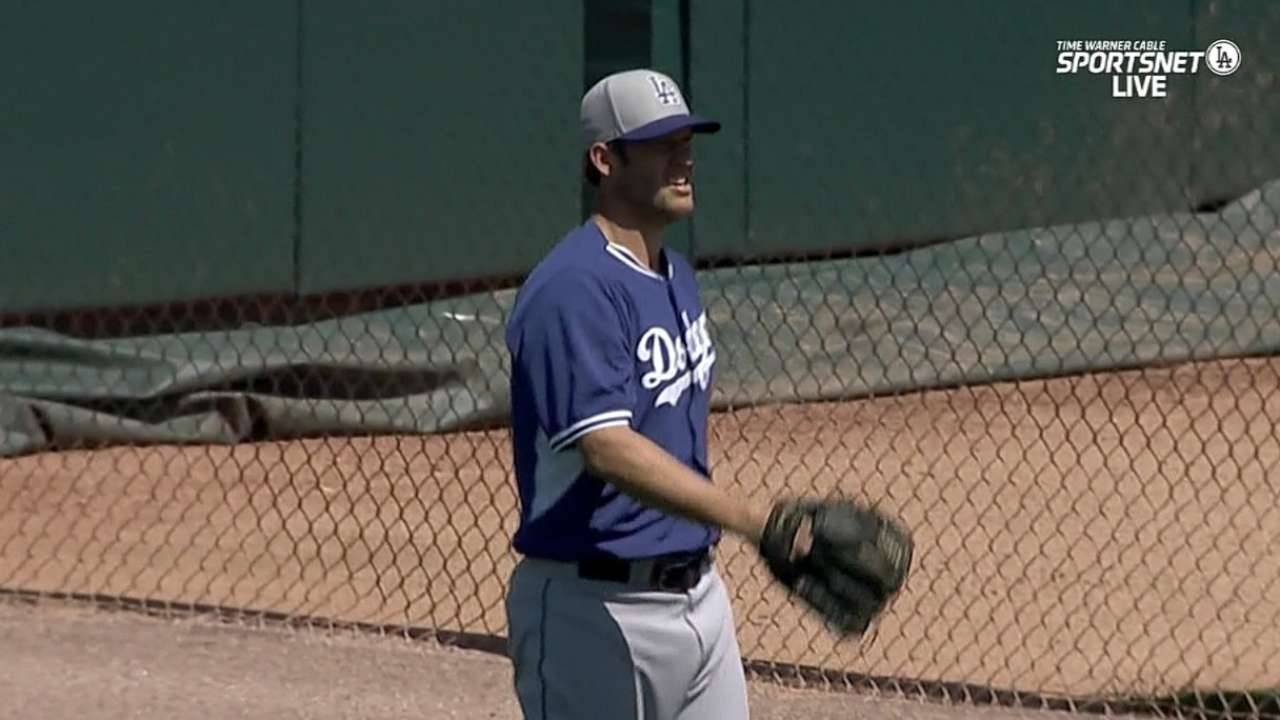 "I overshot it [in an attempt to catch it]. I thought it was coming harder than it was. .. It felt like getting hit by a pitch. Nothing serious. I don't think I panicked too much."
There was a tinge of panic among the Dodgers and their fans. Kershaw is the ace of the Dodgers' rotation, arguably the best left-hander in baseball and right up there with Mariners right-hander Felix Hernandez in discussions of the best starting pitcher in the game.
It's 17 days until the regular season opens, and it never has been a question that Kershaw, who turned 27 on Thursday, will draw the starting assignment in the Dodgers' regular-season opener against the Padres at Dodger Stadium the afternoon of April 6.
That is, never a question if he is healthy, which is why as casual as the Dodgers were in the aftermath of Friday's game, there were definitely some anxious moments with one out in the third when Kershaw went to the ground.
"I felt fortunate for sure," said Kershaw. "It could have been worse."
It could have been a lot worse, and Kershaw has two new teammates with the Dodgers who can testify to that.
Bullpen candidate Juan Nicasio was struck by a line drive off the bat of Nationals' shortstop Ian Desmond on Aug. 5, 2011, in the righty's rookie season with the Rockies. The ball hit Nicasio in the forehead, knocked him backward and left him with a fracture vertebrae in his neck.
Fellow starter Brandon McCarthy was pitching for the A's on Sept. 5, 2012, when he was hit in the forehead by a line drive off the bat of Angels infielder Erick Aybar. He suffered an epidural hemorrhage, brain contusion and skull fracture, resulting in a two-hour surgery.
Kershaw?
He finished up his scheduled five innings of work, retiring eight of nine batters after he was hit. Then he went to the bullpen to get in some extra work. And then he met with the media while riding a stationary bicycle in the visitors' clubhouse at Hohokam Stadium.
"If it was serious, I wouldn't have stayed in," said Kershaw. "It's not worth it in Spring Training. At the same time, there are only a couple more [starts this spring], and I need to build up the pitch count. That's kind of an important reason to stay out there."
And it's real important to the Dodgers in their bid to win a world championship for the first time since 1988 that Kershaw is out there and is healthy. He has, after all, been an All-Star each of the last five seasons. He has a career 2.48 ERA, leading the NL in ERA each of the last four years, and compiling a sub-2.00 ERA the last two.
He was the NL Cy Young winner in 2011, '13 and '14. He was a 21-game winner in both '11 and '14.
Kershaw leads Major League pitchers with 72 wins the last four seasons, and a 2.11 ERA. Only five other pitchers have even won 60 games over that span, and only six others have an ERA of 3.00 or lower.
So when the medical staff gave Kershaw a clean bill of health, and Kershaw made it clear he wanted to stay in the game, Mattingly never had a second thought.
"We're not going to keep him in a glass house," said Mattingly.
Can't do that, not with a big league pitcher.
"We take it for granted sometimes, but then you get a reminder of how close 60 foot, six inches is," catcher A.J. Ellis said in reference to the distance from the mound to the plate. "There are inherent risks in playing the game of baseball."
There are seemingly more risks today than ever, because athletes are bigger, strong and quicker. That means they can do more damage.
"Guys are not going home in the winter and getting another job," Ellis said. "They are lifting weights, working with professional trainers, getting stronger. We are blessed financially that we can work out year-round, as opposed to the players of yesteryear, who had to find jobs to supplement their income."
On Friday, the Dodgers were blessed most of all that Kershaw was relatively unscathed.
Tracy Ringolsby is a columnist for MLB.com.Tracy Ringolsby is a columnist for MLB.com. This story was not subject to the approval of Major League Baseball or its clubs.