Cahill's quest to recapture magic, earn back rotation spot continues
Right-hander allows three runs in four innings in latest spring start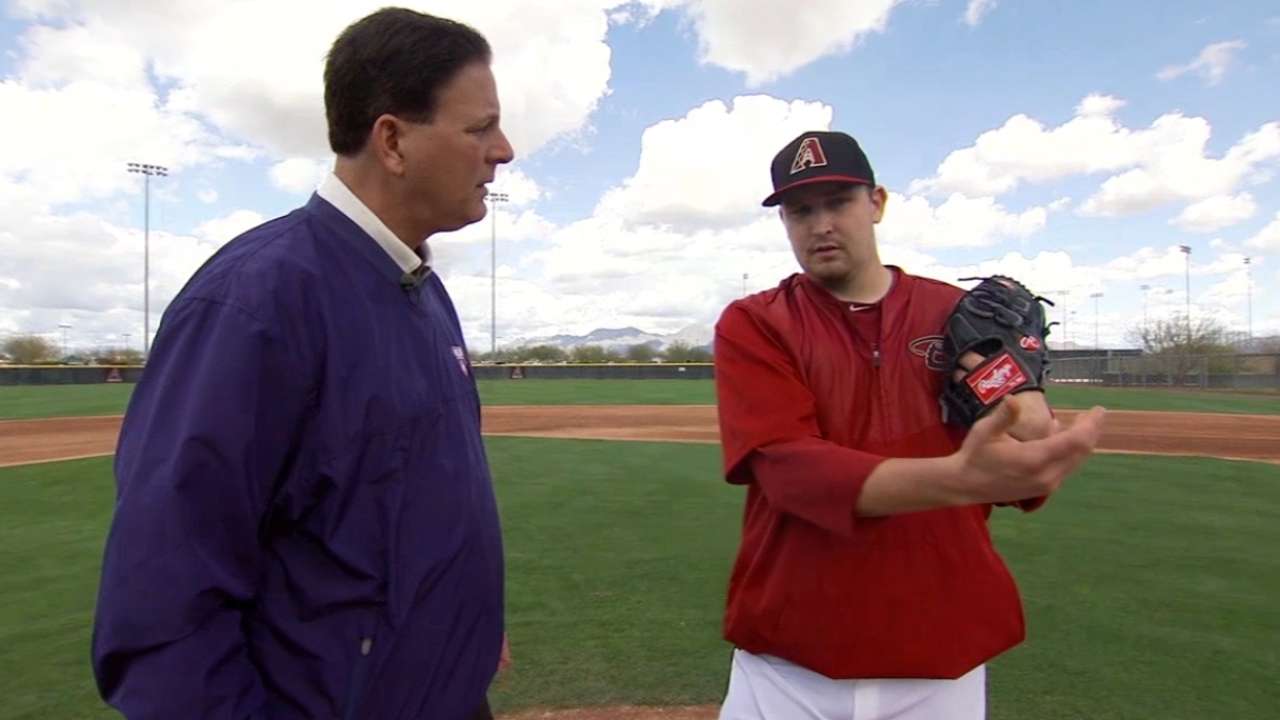 PHOENIX -- Trevor Cahill was an All-Star pitcher and 18-game winner for the A's in 2010. Now he's simply trying to crack the D-backs' starting rotation, which is wide open behind Josh Collmenter and Jeremy Hellickson.
After a harrowing 2014 season, during which he was demoted to the Minor Leagues to fix some mechanical issues in his delivery, Cahill is simply trying to recapture some of the magic of his youth. That quest continued on Friday in Arizona's 5-3 loss to the Brewers at Maryvale Baseball Park.
"I've been [trying to recapture] that for the last two years, but at the same time you have to progress," said Cahill, who pitched the first four innings and allowed three runs on seven hits, walking two and striking out three. "I was also a lot younger and probably threw a little bit harder. You always try to find a way to get better and reinvent yourself."
Cahill is 27 now and has won only 11 games for the D-backs during the past two seasons. He was 3-12 with a 5.61 ERA with a WHIP of 1.61 last year. The D-backs tried to trade him, and even considered releasing him before sending him to the Minors, where he pitched seven games, six for Triple-A Reno before being recalled to the D-backs on July 14.
The complicating factor is his contract. After his 18-8, 2010 season, the A's signed Cahill to a five-year extension worth $30.5 million through the 2015 season. They then traded Cahill to the D-backs one year into the deal.
But here's the rub: It's a back-loaded contract that reaches top single-season worth this year. The D-backs are on the hook for $12.3 million, $12 million for this year and a $300,000 buyout of a $13 million club option for 2016. There's also another club option for 2017.
It would seem, then, that one of the club's open rotation spots is invariably going to go to Cahill.
"He's in there. He's right in the middle of that," new D-backs manager Chip Hale said after the game. "He's experienced. He's done it before. As long as we can trust that he can maintain that delivery, which he has. I don't want to mention any names, but we've got a pretty good battle here right down to the end."
Cahill has been working consistently on keeping his hand up and coming over the top. He said when he had trouble on Friday, he was falling back on old bad habits and dropping his arm toward the three-quarter mark. Cahill started the Brewers' half of the first allowing a pair of base hits and walking Ryan Braun to load the bases. Immediately, he was in big trouble.
When he keeps the ball down he induces ground balls and Aramis Ramirez smacked a tailor-made double-play ball down to Yasmany Tomas, the Cuban rookie who has had all kinds of trouble learning how to play third base. He booted it, allowing the first run to score.
"It was a double-play ball," Hale said. "The one thing you know about Cahill is he's going to get you double-play balls even when he gets in trouble. I thought that was a play that should have been made. He just didn't make it. That's the way it goes."
Double-play grounders got Cahill out of trouble in the second and third, and he was able to bounce back, but he didn't take much solace in that.
"I think if I had thrown five perfect innings it would have been better," he said.
Barry M. Bloom is a national reporter for MLB.com and writes an MLBlog, Boomskie on Baseball. Follow @boomskie on Twitter. This story was not subject to the approval of Major League Baseball or its clubs.