House takes mom's advice to heart in offseason
Indians left-hander puts travel on hold to focus on preparation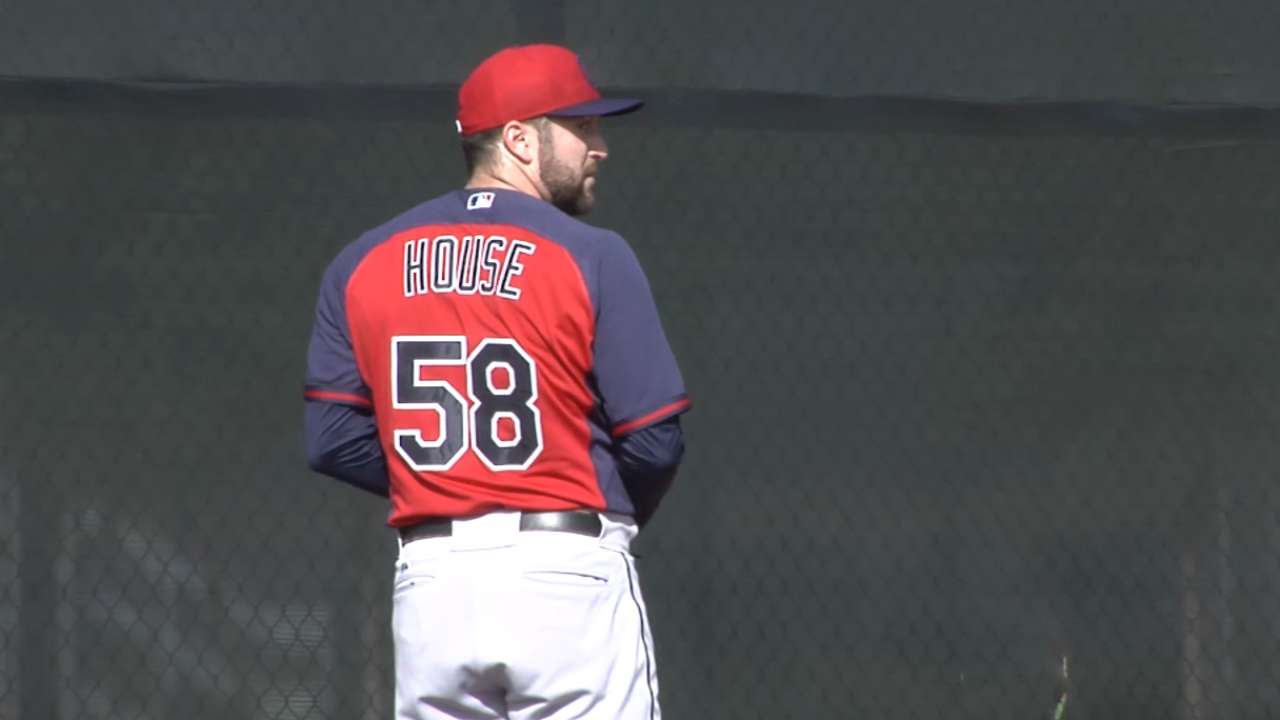 GOODYEAR, Ariz. -- When last season ended, Indians left-hander TJ House had a lot of plans for his winter. Traveling around Europe was at the top of his list -- a list he wound up throwing away not long after returning home for the beginning of his offseason.
House -- one of Cleveland's candidates for one of the two open spots in the rotation this spring -- realized that recreation could potentially get in the way of preparation.
"The whole reason I signed was to play Major League Baseball," House said on Friday. "My mom reminded me very quickly when I got back. She was like, 'You only get one shot at this. Don't waste it on trying to go have fun now. You have the rest of your life to have fun.'
"That kind of caught with me a little bit and I realized that this was more important. When you go and evaluate it, this is a lot more important. So, traveling wasn't needed. [I needed to be] getting ready for the season."
That decision impressed the Indians, and pitching coach Mickey Callaway said it was immediately clear how much House had worked over the winter months.
"He's been really good," Callaway said. "He looks great, Last year coming in, he wasn't quite prepared throwing-wise and he made a nice adjustment there. He came in in really good shape and in really good arm shape. I think he's going to be good to go."
In a three-inning outing against the Mariners on Thursday night, the 25-year-old House had to shake off some rust. In play, however, were some outside factors: It was the Indians' first night game, House had an afternoon start in a Minor League game rained out and he had to enter the game in the fifth inning.
House struggled with his mechanics in his first inning, during which he threw 28 pitches, faced eight batters and allowed three runs on four hits. He quickly determined that his wrist had slipped around the ball, leading to more cut than sink on his pitches. House told Callaway about the problem and made an in-game adjustment for his final two innings.
"He's actually the one that kind of diagnosed it when we were talking between innings," Callaway said. "That's good."
House said he has become increasingly aware when things go awry in his delivery, helping the lefty make changes on the fly during an outing.
"I've found a place in my career where I kind of know my mechanics," said House, who went 5-3 with a 3.35 ERA in 19 games for the Tribe last season. "Me and Mickey have worked very hard to get it to where I'm at now, and we've kind of created a guide system for ourselves, for what certain things cause me to do. I definitely have a better understanding."
Jordan Bastian is a reporter for MLB.com. Read his blog, Major League Bastian, and follow him on Twitter @MLBastian. This story was not subject to the approval of Major League Baseball or its clubs.