Gonzalez saw greatness early in Stanton
Braves manager admires outfielder's work ethic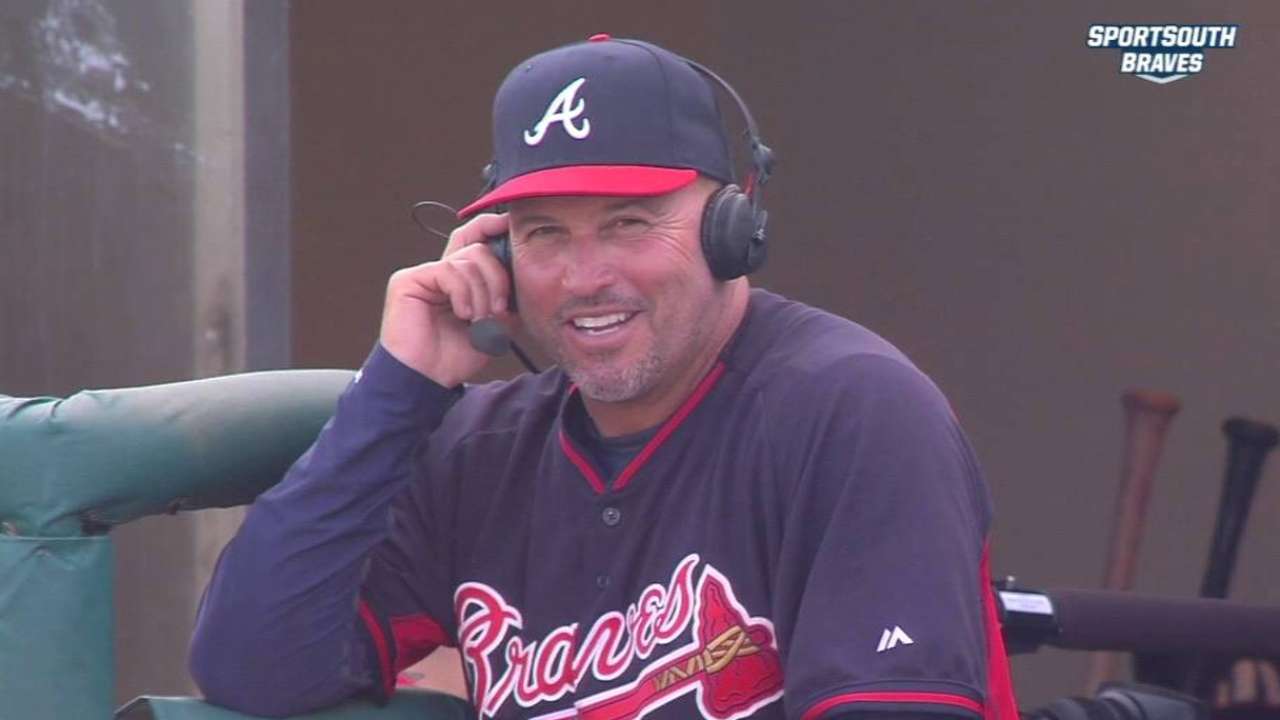 JUPITER, Fla. -- Fredi Gonzalez was let go by the Marlins in 2010 right about the time that Giancarlo Stanton made his Major League debut, and prior to the Braves game Friday night against Miami, Gonzalez reflected on Stanton before he became the mega star outfielder he is today.
"He was so impressive," Gonzalez said of Stanton. "He came up for a couple of Spring Trainings as a Minor League kid and I had an opportunity to watch him play, and I always figured out a way to get him in a game."
The Braves manager said that Stanton's work ethic at such a young age is what impressed him the most.
"He would do stuff in the cages to prepare himself that you would see from a 10-, 12-year veteran, and he was just what, 18, 19 years old at the time," Gonzalez said.
Gonzalez sat in on discussions about when to bring up Stanton, who made his debut on June 8, 2010.
"Somebody in the room said, 'Hell, he'll hit 25 home runs just figuring it out in the Major Leauges," Gonzalez recalled. "He's a special guy, he really is."
It's Stanton's offensive prowess and power that garner most of the attention, but Gonzalez said that Stanton is not just a one-tool player.
"I will tell you that watching him from afar, his defense in right field is unbelievable. He is pretty darn good," Gonzalez said of the Marlins' star, whom the Braves will face 19 times during the regular season. "It gets overshadowed by his offense. I was really impressed with the way he played right field last year, and he just keeps getting better. For a guy who is a big man and who is a slugger, he can really, really play some outfield."
Worth noting:
• Markakis feels 'great' after BP: Gonzalez said that right fielder Nick Markakis, who underwent neck surgery on Dec. 17 to repair a herniated disc, participated in batting practice with a group of Braves who did not make the trip to Jupiter on Friday.
"I asked him how he feels, and he said 'I feel great. I feel like it's the first day of BP,'" Gonzalez said. "The timing wasn't there, but he felt great, and tomorrow he'll do it again. As far as health-wise, he's good to go. It's just a matter of him getting in some games, getting him some at-bats. He told me, 'I don't care how many road trips I make, I don't care where we go, play me.'"
• Teheran gets Minor work: Braves right-hander Julio Teheran, the anticipated Opening Day starter, threw five innings Friday in a Minor League game for the Class A Carolina Mudcats against the Potomac Nationals.
Teheran faced 22 batters, allowing two runs on six hits and one walk. He recorded two strikeouts. In three Grapefruit League appearances this spring, Teheran has allowed nine runs (seven earned) on 13 hits over 8.2 innings of work.
• Bethancourt update: Braves catcher Christian Bethancourt did not make the trip to Jupiter as he is recuperating from flu-like symptoms, but Gonzalez said there is a "50-50" chance that Bethancourt might be cleared to play Saturday.
"He was supposed to catch today (in Jupiter)," Gonzalez said. "He came in (Friday) morning for a 1:30 bus, our trainer checked him out and said he was running a little fever, so we left him behind (as a precaution)."
Steve Dorsey is a contributor to MLB.com. This story was not subject to the approval of Major League Baseball or its clubs.