Goldschmidt doubles up, but early error costs D-backs
Cahill bounces back after rough first, fans three in loss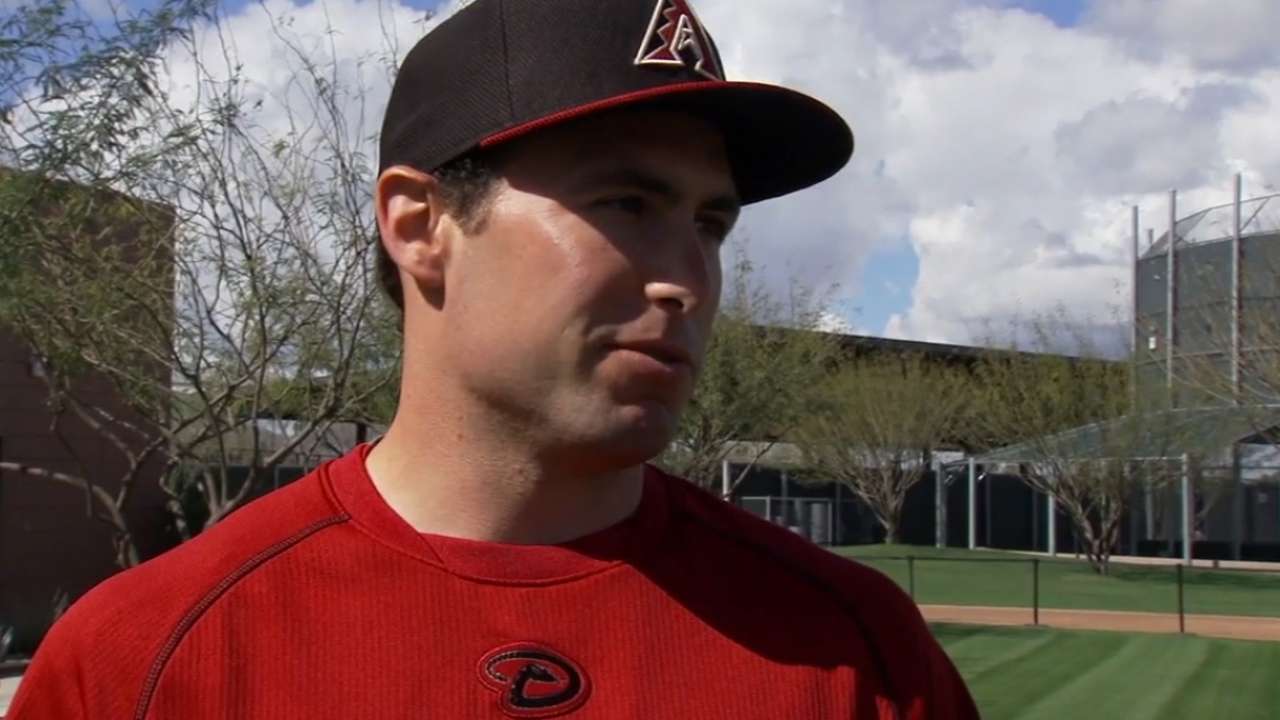 PHOENIX -- A day after logging his first spring hit, Ryan Braun hit his first home run in Friday's 5-3 Cactus League win over the D-backs at Maryvale Baseball Park.
Braun's solo homer off Arizona's Vidal Nuno gave Milwaukee a 4-3 lead in the fifth inning. He'd been 0-for-13 in the Cactus League before singling a day earlier against the Giants.
"I think the biggest challenge is just rhythm and timing early," Braun said. "The more at-bats I get, the better my timing is getting, the more comfortable I feel. I'm headed in the right direction."
Braun also walked and scored a run in the first inning, when the Brewers scored three runs before making their first out on the way to batting around against Arizona starter Trevor Cahill. Aramis Ramirez, Khris Davis and Gerardo Parra logged an RBI apiece for the Brewers during the rally, with Davis blooping a single to center field for the first of his three hits, boosting his Cactus League batting average to .435.
Cahill settled in and followed with three scoreless innings, finishing with the three runs allowed and three strikeouts in four innings. "It was a rough beginning. Any time you have the bases loaded for about six hitters, it's a little rough," Cahill said. "The game situation gives you more of a regular-season feel. Get that extra adrenaline behind it."
The Diamondbacks scored one run against Brewers starter Jimmy Nelson in the first inning and two more in the fourth to briefly tie the game at 3. Mark Trumbo, Yasmany Tomas and Tuffy Gosewisch drove in a run for Arizona. Paul Goldschmidt had two doubles and scored two runs. Nelson was charged with three earned runs on five hits in 3 2/3 innings, with no walks and three strikeouts. He's been able to avoid overexertion, and estimated he threw with 80-percent effort on Friday.
"I feel like each outing has gotten a little better," Nelson said. "You can't look at results. You can't look at the final line. As far as executing my pitches and being where I need to be effort-level-wise and mechanically, this was a lot better than my last outing, and my last outing was better than my first. The final line can be deceiving. I feel good about where I'm at right now."
Up next: The D-backs travel to Peoria, Ariz., on Saturday to face the National League West rival Padres at 1:05 MST. Rookie right-hander Archie Bradley is scheduled to make the start. Bradley is still in the running for one of the three open spots in the starting rotation.
Adam McCalvy is a reporter for MLB.com. Read his blog, Brew Beat, and follow him on Twitter at @AdamMcCalvy. This story was not subject to the approval of Major League Baseball or its clubs.