Dodgers go deep in heart of Texas to top Rangers
Five home runs highlight LA's win in San Antonio exhibition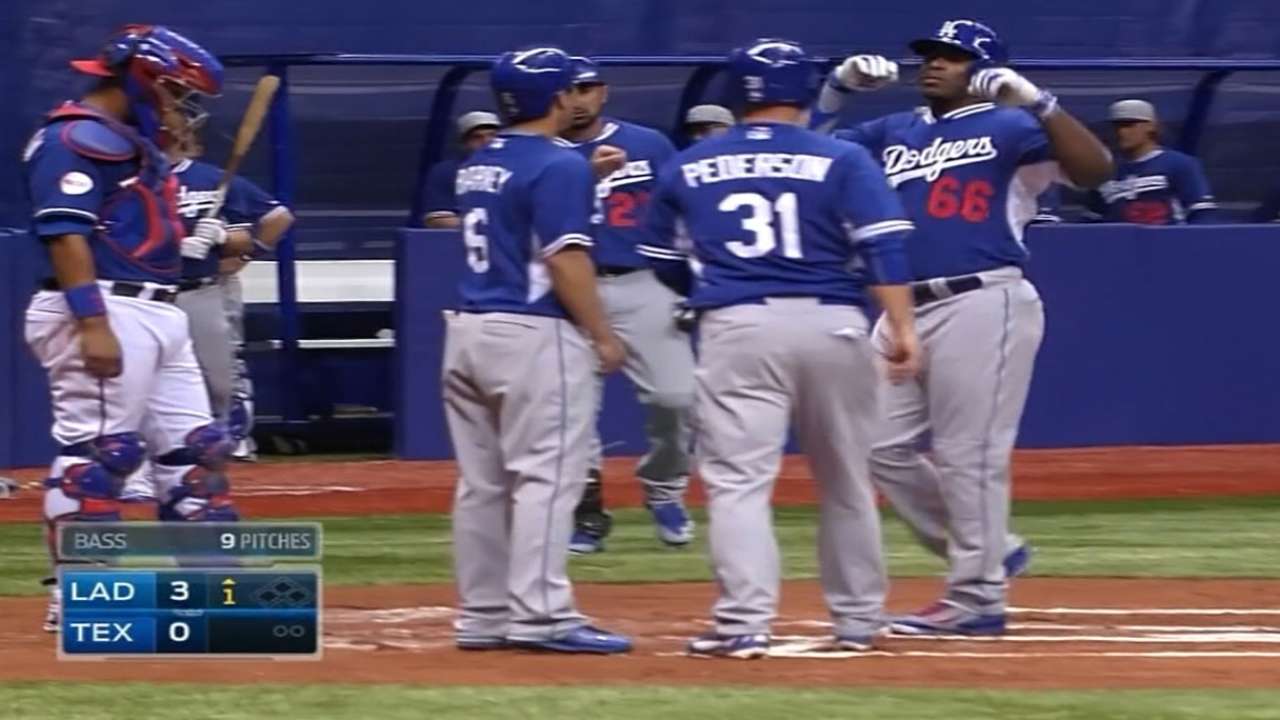 SAN ANTONIO -- In a venue that is mostly a football field, occasionally a basketball court and almost never a baseball diamond, odds are, something unusual may happen when it's used for the latter.
It took six days to convert the Alamodome in San Antonio into a baseball field, and only about 20 minutes for the Dodgers and Rangers to make it a memorable experience for the 20,591 fans in attendance on Friday night. The Dodgers walked away the victors in the first installment of this year's Big League Weekend, beating the Rangers, 11-6.
The two-game exhibition series is an annual tradition that began in 2013. The Rangers have played in all three, hosting three different teams -- the Padres in '13 and the Astros in '14 before this year's edition. Big League Weekend has had its zany moments over the three years, but nothing compared to the oddities of Friday night.
The story really begins and mostly ends with the first inning. Right-hander Anthony Bass, gunning for a spot in the Rangers' rotation, faced 11 batters and retired only two of them. The Dodgers were already ahead by three runs before they made an out, due to a home run hit by the biggest name on the Dodgers' travel roster, right fielder Yasiel Puig.
"I watched some of the balls that were hit off of me [on video afterward], and they were up in the zone," Bass said. "I think if they were executed where I wanted them to be, it would have been a different story. Thankfully, right now, it's not game one of the regular season, but then again, I'm fighting for a spot on the team. So I'm definitely disappointed in the result."
The temporary conditions, including a makeshift mound, didn't factor into the outing, Bass said.
"No issues," he said.
Same goes for the quirky dimensions.
"I don't really think about the dimensions or the environment I'm pitching in," said Bass. "All I do is go out and pitch my game. Today, I wasn't executing my pitches the way I should have. Good team, good hitters, they're going to hit them."
Four batters hit twice during that first inning, contributing to a six-hit, eight-run frame that was somewhat aided by poor defense on the Rangers' side. The inning could have ended on two different occasions if not for errors by shortstop Elvis Andrus and second baseman Rougned Odor, helping add two more unearned runs to Bass' line.
Still, this inning was mostly about the Dodgers' offense, which slowed considerably after that initial outbreak.
"I know both teams in that first inning were thinking, 'Uh oh, did we bring enough pitching with us?'" said Matt Carson, who contributed a three-run homer in the first. "Everybody else is still in Arizona. Both sides settled down a little bit. Usually, when you try to hit homers, you don't, and when you're not trying to hit homers, you do. Maybe that's what happened. I don't know. But it was nice to see the game flow a little bit."
Playing in the gigantic, air-conditioned, 60,000-plus-seat Alamodome, the Rangers and Dodgers could not have been in a more opposite environment from their cozy Spring Training facilities in Arizona. Soft, somewhat plush AstroTurf covered the entire field, with the exception of dirt cutouts on the mound, at home plate and all three bases (a requirement by Major League Baseball).
Much of the pregame talk surrounded the 275-foot right-field wall, but that didn't factor much into the game, save for Carlos Corporan's two-run shot to the right-field seats for Texas in the third frame.
Several other Alamodome oddities, however, were front and center.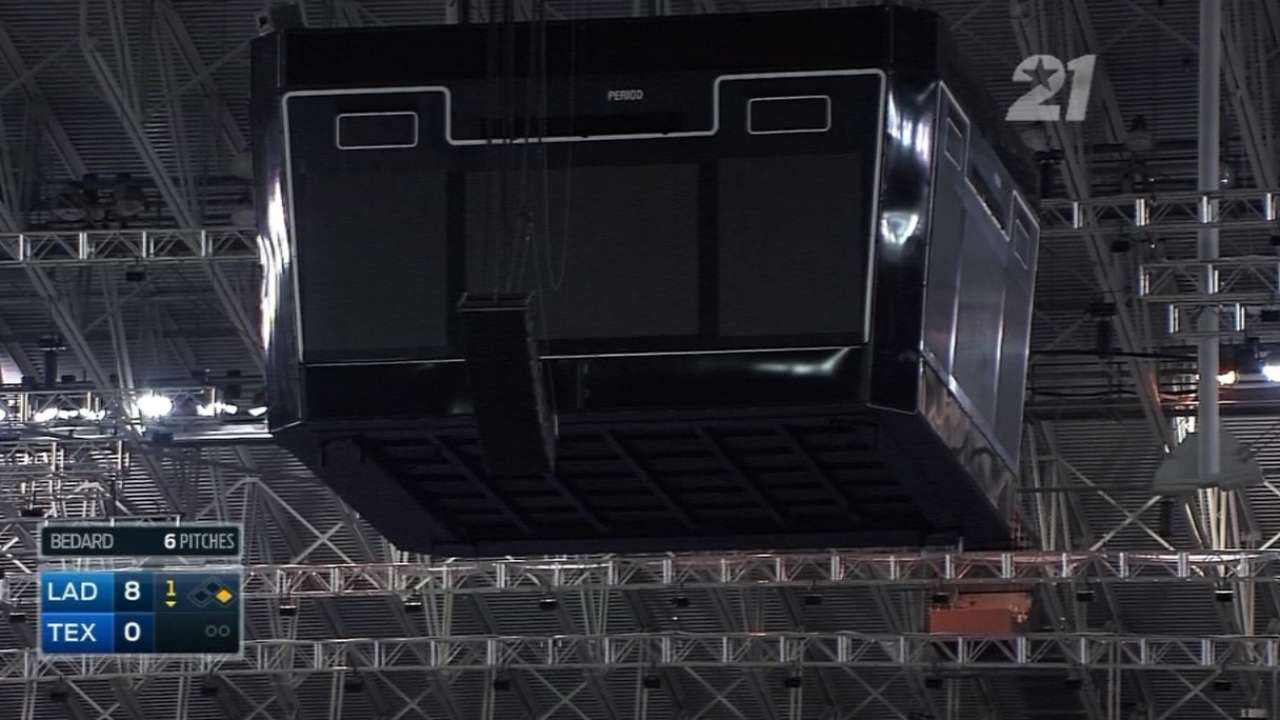 Officially, Rangers leadoff hitter Leonys Martin reached in the first on a hit to shortstop. What actually happened? Martin lifted a fly ball so high that it bounced off the basketball scoreboard hanging from the ceiling above the first-base side of the field. The ball, considered in play, bounced somewhere near shortstop territory. Base hit.
In the third, Joc Pederson was thrown out at second on an anything-but-routine 4-6 play. It actually was a longish fly ball that hit the rafters high above an area in left-center and bounced near second, where it was fielded on a hop by Odor. He threw to Andrus, who beat Pederson to the second-base bag by a half step and applied the tag. Pederson was credited with a base hit.
Andrus' reaction after the game -- a shrug and good-natured chuckle -- was similar to his reaction as it was happening.
"You have to make adjustments," Andrus said of the odd dimensions. "You have to give credit to the guys that make this happen in such a short amount of time. It's different. It's turf.
"It's the same thing we play on in Toronto or [St. Petersburg]. Your hamstrings get a little tired, your lower back gets a little tired, but all around, it's good. It's all about putting a good show out there, and for the fans to have fun, too."
Pederson, Justin Turner and Enrique Hernandez also went deep for the Dodgers, while Corporan's homer was Texas' lone long ball.
Up next: Zack Greinke is the starting pitcher for the Dodgers against the Rangers in their split-squad game in San Antonio at 11:05 a.m. PT on Saturday. Chad Gaudin leads the other L.A. contingent against the Rockies at Talking Stick in Scottsdale, Ariz., at 1:10 p.m. Watch both games live on MLB.TV.
Alyson Footer is a national correspondent for MLB.com. Follow her on Twitter @alysonfooter. This story was not subject to the approval of Major League Baseball or its clubs.